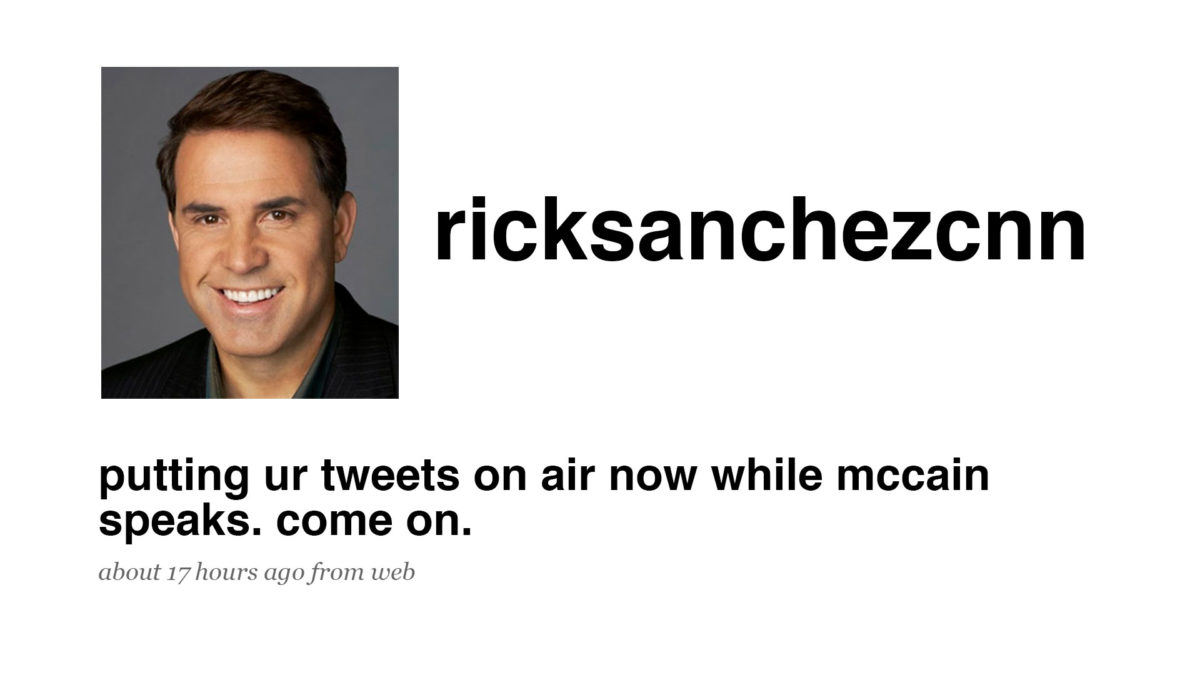 Media's Awkward Obsession With Social Media
October 7, 2008
I was watching Rick Sanchez's coverage of Hurricane Gustav on CNN a little over a month ago when something awkward happened: he looked down at a strategically-placed laptop and began reading "tweets" from readers who were responding to his news coverage in real time on Twitter.
Seconds later, proof that he was active on Twitter—@ricksanchezcnn—was projected onto a white screen behind him in the form of a word doc that his 18-year-old intern no doubt pasted together to reinforce the fact that a social media revolution is indeed taking place over at CNN. As this went up, Sanchez announced that, "We're utilizing all the social networks here: MySpace, Facebook, Twitter dot com." This made me suddenly uncomfortable-and glad that no one else was around because it would've felt icky, like watching a love scene with your parents.
I went to bed disturbed, cursing to myself, "It's 'twitter', Rick, not 'twitter dot com'." And I couldn't help but think of that mommy prototype who, in effort to insert herself into her kid's life, tries to use the same words as him and his friends, but instead ends up using words like "hip" and "groovy." Nails on a chalkboard, I tell ya.
The next day I went over to Online Marketing for Marketers where the perennially-positive contributor Aaron Kahlow was commending CNN and Rick Sanchez for their use of social media. He'd been watching the same broadcast as me, but was obviously a lot more impressed than I was. He even gave CNN props for clicking on links…on live TV! Seriously:
"Take the actual use of the CNN website live on TV where the announcer actually clicked on the links on the website to show people where to go to get information or to link to sites like the Red Cross."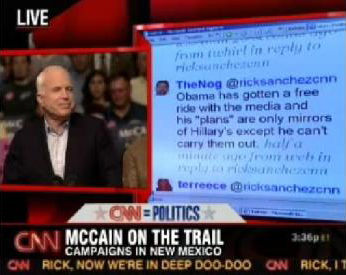 Best. News. Ticker. Ever: "Rick, now we're in deep doo doo"
[Image via Gawker]
While I'm pretty sure this shouldn't annoy me, I have a good idea of why it does. Let me backtrack for a minute. We have a client who told us that when he meets a VP of a big company, he/she will often cite their "defining moment" within the first five minutes of the conversation. "Yeah, I introduced the happy meal." Or, "I was the brains behind the Payless BOGO campaign." Whatever this is, it's what propelled their leap from a mere department head to a top exec. Upon hearing this, I immediately recognized what my "defining moment" is-or at least, what it is that I throw on the table within five minutes of conversation about social media. "Yeah, I was responsible for two viral* blogs a few years ago." I know it's tacky, but I can't help myself. I'm a proud mother. And at the point that I was gaining this impressive (to me at least) amount of online popularity (albeit anonymously), networks like CNN were still accusing bloggers of being losers in pajamas and cursing their existence within the media at large.
We-my loser blog friends and I-all laughed as we watched the New York Times and other respected publications gradually introduce more first-person accounts, blogs, comments and opinions. NBC then invited a bunch of New York-based bloggers to a "blogger summit" where they encouraged us to give them our stories and tried to make sense of this whole crazy thing. Now, news networks are even asking viewers to send in tips…as does your average blog.
So, while some think that news networks' entrance into social media is great because it reinforces a practice we've all been engaging in for years, I think it's safe to say that we don't need their reinforcement. I do believe we're the ones setting the trends here. It is, however, gratifying to watch newscasters such as Rick Sanchez-who isn't so bad otherwise-fumble ever so slightly with the kids' lingo. After that initial discomfort, it's even kind of fun.
Oh-but what was just downright painful was when, just the other night, Larry King told his audience to check out CNN's "interactive comments." I'm still trying to figure out how an interactive comment is different from a regular ol' comment. Any takers? Interactive takers?
*Yes, I'm one of those who can't say the word "viral" without making quote marks with two fingers. But to say it without an air of irony would be even worse.