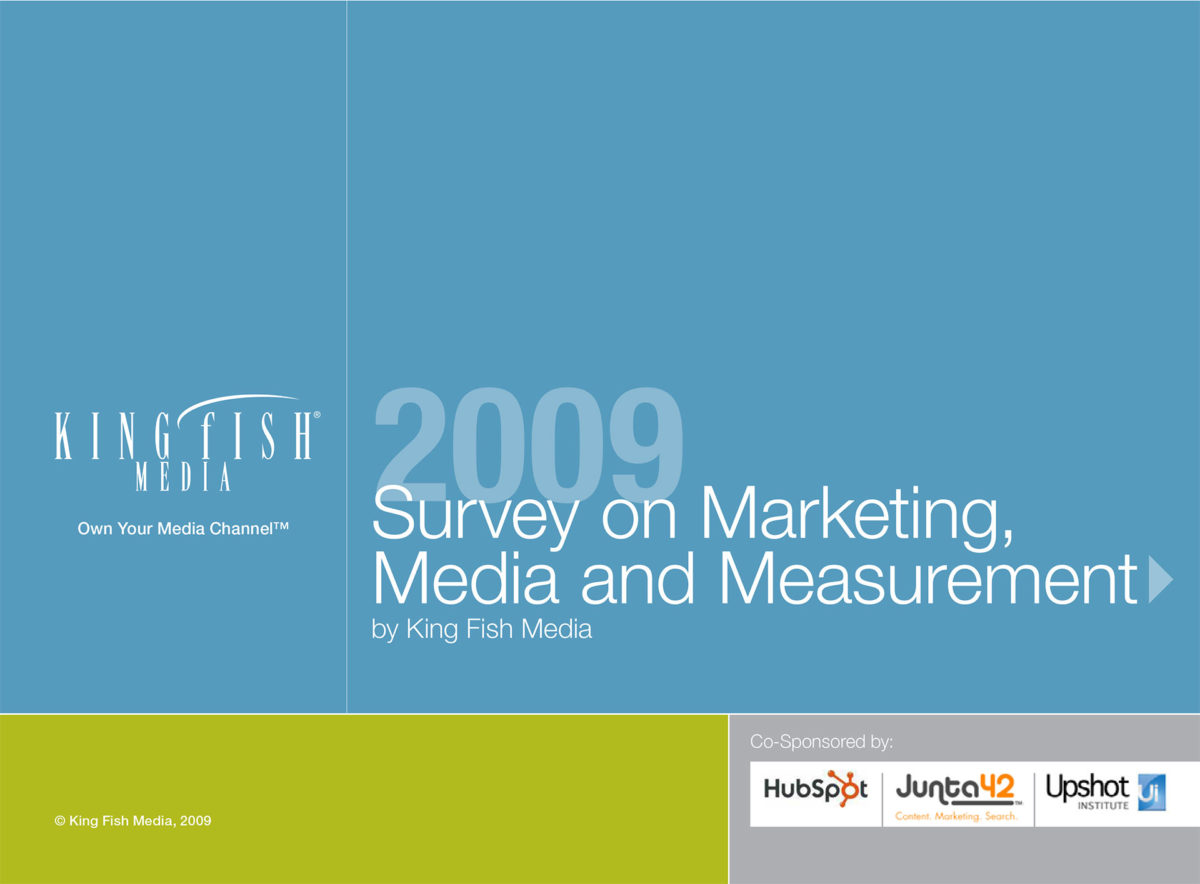 New Study Confirms That a Shift to Social Media and Content Simply Means a Shift in Focus
October 14, 2009
Need fuel to get the green light on a social media or content marketing project you've been pitching? Or maybe you're looking for backup in your plea to increase your customer retention budget. A new marketing survey conducted by King Fish Media, in partnership with HubSpot, Junta42 and Upshot Institute, might be exactly what you're looking for.
The 2009 Survey on Marketing, Media and Measurement offers hard data that confirms our collective hunch that companies are focusing on communicating directly with existing and prospective consumers with methods made ubiquitous by the social media and content craze. At the same time, it shows that traditional advertising is alive and well…but that its usefulness is limited to certain initiatives. And if you're wondering how to gauge "usefulness" in the first place, well, the study's got an entire section on metrics and how they're being used by marketers to make important budgeting decisions.
As recently as a year ago, companies were diving into social media and content not always because they wanted to or believed it was effective, but because they thought they were supposed to. According to this study, however, nearly two-thirds of marketers-in-house and agency-believe that content from a brand or company is perceived as having the same or more value than content from a media brand. Also, they're moving dollars toward direct-touch platforms such as company Web sites and social media.
But traditional advertising does still have a part in the overall marketing mix; the difference now is that it, just like any other marketing platform, has been assigned a specific purpose(s). For instance, advertising is seen primarily as a tool for reaching prospects, but is used far less to talk to customers. Custom content and media are used by over 70% of marketers to communicate with current customers, and 70% use custom media to attract prospects. Social media is used heavily for both.
Among the key findings of the 2009 Survey on Marketing, Media and Measurement:
44% of respondents' are increasing their customer retention budget over the next 12 months.
50% of people can't get funding for a marketing project if it doesn't have metrics built into it.
86% of respondents' companies are currently creating or plan to create original content for their customers and prospects in the coming year.
81% believe that brands and companies can create content that is as engaging and informative as content created by media companies.
74% feel that original content and media are most effective for generating marketing ROI.
70% are spending more today to reach customers and prospects directly with branded content than they did three years ago.
About the survey: The survey was created by King Fish Media and hosted online from June 15, 2009 to August 25, 2009. King Fish Media and its three co-sponsors-Hubspot, Junta42 and the Upshot Institute-attracted participants through a number of different media, including newsletter blasts, multiple blog posts, twitter, Facebook, LinkedIn and personal email invitations. The survey was completed by 230 respondents primarily split between corporate management and marketing/sales management.
To download the complete study, please visit: www.kingfishmedia.com/2009research/index.php