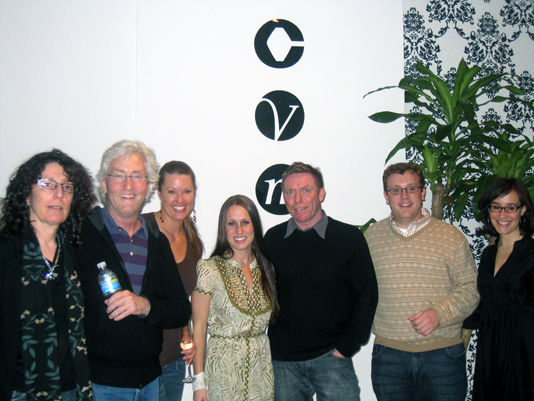 The Photographic Evidence: A Year Gone By Largely Unscathed
February 13, 2009
Last night we celebrated our one-year anniVersary with clients and friends, not to mention champagne and cheese. The photo evidence follows. Somehow Genna and Mafalda managed to escape the camera's wrath, and we didn't think to take an aerial shot, although we were able to capture Jason's back.
But first, a toast from Simon Kelly, COO of Story Worldwide. (As a quick background, Story Worldwide is our charter client–a large company that took a chance before we even opened our doors…and has lived to tell the story! Take it away, Simon…
Here are three things you may not know about Channel V:
People ask what the V stands for. Go to the website and check out their blog…it says monologues.
Kate and Gretel don't shower much. Especially on Fridays.
You'll never guess who hung the wallpaper. (Hint: It was me.)
In other news, I wanted to toast you both and acknowledge why it is you've been spectacularly successful during the worst recession in recent memory and at a time when all others are struggling (all others except Story, that is). You have both been fearless since day one. You work as hard, if not harder, than anyone I know. You're passionate about your clients and the people you work with–to the extent that you sometimes make sacrifices to avoid hurting those you care about. Your intelligence and guile keep you on top of the fast-changing post PR world you inhabit and will firmly anchor you in the lead pack as others get left behind.
Your clients love you for your intelligence, charm, wit, guile, hard work, passion and authenticity, and those qualities are exactly what you'll need to continue your thrilling success in the future. It is really exciting to be able to witness, and occasionally take part in, the birth and growth of such a fabulous venture, with all of the victories and challenges along the way that are necessary in forming a brilliant organization. Here's to the next chapter: I can't wait to see how it unfolds.