Public Relations
How to Build Relationships with Journalists?
Journalists and PR professionals alike will agree that there's a distinct difference between interacting with journalists and building meaningful relationships with journalists. The best way to build relationships with journalists is to know who is relevant to you, and what topics are important to them.
Some journalists receive more than 50 pitches a day, all from different companies vying for their attention. This means that they simply don't have time to spend on news or topics that aren't useful for—or worse, distract from—their work. Their job is to uncover stories, and they will be more inclined to work with individuals and organizations that make that job easier.
Too often, PR becomes a game of throwing every news item or accomplishments a company has at the proverbial wall in hopes of getting something to stick. But this approach doesn't just work against a company's ability to create lasting relationships with journalists. It can ultimately burn bridges—or in other words, earn you a spot on their 'do not call' list.
Looking to create a network of journalists that intimately understands your brand and its offerings, communicates with you frequently about your upcoming news and announcements, and looks to your executives for on-the-ground insights and expert analyses?
Follow these seven steps:
– Find the Right Journalist for Your Industry
– Network When Possible
– Do Your Research & Prepare
– Put Together a Compelling Story
– Create an Attention-Grabbing Subject Line
– Follow Up With Journalists
– Maintain Your Relationship
1. Find the Right Journalist for Your Industry
Companies venturing into media relations for the first time are often surprised to learn that finding the right journalists for their news often takes significantly longer than actually communicating with those journalists.
Without significant investment on the front end into researching your company's areas of interest, the media outlets that publish content in those areas, and the journalists that write for those publications, go ahead and take building relationships with journalists off the table.
In the same way that most individuals aren't interested in getting hundreds of cold calls a day from someone selling a product or service that has no relevance to them, journalists aren't interested in hearing about news or topics that aren't in their coverage area.
One of the biggest benefits of having a PR agency is that it gives companies an entire team of media experts whose job is to study the media landscape and find the right journalists for their clients.
For those who aren't in this position, start by identifying the publications that are read not only by your company and its executives, but by the decision-makers within the companies or markets that you want to reach. From there, start building a list of the journalists that write for those publications who have published articles that are relevant to the news or story that you're planning to send to them.
2. Network When Possible
Building relationships with journalists over phone and email can be done, but face-to-face interactions will always take you further. Especially when spokespeople and executives can be involved for an in-person meeting over coffee or at an event, journalists can get a better sense of their personality and have conversations that wouldn't come up in a Zoom meeting.
Here are some of the best ways to foster networking with journalists—even in remote-first environments.
Attend Industry Events, Tradeshows and Conferences
Events and tradeshows can seem overwhelming due to the sheer amount of competitors vying for the same journalists' attention as your company. Journalists' time at these shows is limited, so companies need to book time on their schedules in advance. Reach out to media attendees a few weeks before the show to share any news and offer in-person sit-downs with company executives. Typically these events will have a list of media attending that they'll share with attendees and sponsors in advance. And if journalists' time slots are already filled, offer a follow-up conversation after the event.
Join Journalist-specific Networking Groups
More often than not, journalists are willing to work with PR professionals and companies directly to help build out the stories that they are already planning. One way of doing this is through journalist-specific networking groups where journalists can post about the content they are planning, and where they may need an additional perspective or two to help round out the piece. This presents a golden opportunity for companies to go straight to the source and provide their expert insights on topics that they already know journalists are interested in.
Take Advantage of In-person Travel
Is your company based in a big city like New York City, Los Angeles or San Francisco? Even if not, many corporate executives often have to visit these cities for work (or play), and can make use of their time there to build relationships with journalists. Research which journalists are based in these cities, and then filter through the ones that are relevant to your organization, and have your PR team (or the executive themself) reach out to offer a brief meet-and-greet over coffee or at an office.
Inviting local journalists to any events your company is hosting that are relevant to the media (and won't divulge any information or work you aren't yet ready to share) is another good strategy. The key here, as with any media strategy, is knowing who you are reaching out to and that they're in proximity to you.
3. Do Your Research & Prepare
Even once a thorough list of journalists has been created and it's time to start reaching out, additional research is needed. Companies will have a much better chance of getting their foot in the door with a particular journalist if they're intimately familiar with what that journalist has shown an interest in recently—and perhaps more importantly, what they're not interested in.
Putting this additional level of thoughtfulness into every communication with journalists is often what leads to building lasting, meaningful relationships that companies can revisit time and time again.
Review Their Previous Work
In addition to reading journalists' articles regularly, it's a good idea to follow them on social media to see what they're talking about outside of their published work. Most journalists use Twitter as a way of promoting their content and sharing related thoughts. LinkedIn is also a useful place to learn about journalists' background, education and other topics that may not be listed in their professional biography.
While phone and email are two of the most common ways to communicate with journalists, engaging with their content on social media and other platforms can also be the start of a positive journalist relationship.
4. Put Together a Compelling Story
Storytelling is the heart of journalists' work, and should therefore be at the heart of every communication with journalists. Instead of positioning your company through the lens of features and functions that other companies might be focusing on too, spur people's imaginations by painting a picture of the potential for a larger audience.
To put together a compelling story, ask yourself these questions: What value does your product create for users? How will it make lives easier or better? How does it tie into conversations your audience is engaged with right now?
When communicating this way, even the most mundane corporate announcements can be transformed into a much larger story.
Tailor Your Pitch to Match Journalist's Interests
Media pitches are not like mass email blasts that send the same generic content to every recipient. Companies that take this approach often have to dedicate more time following up on hundreds of pitches to get a single response. By investing this time in individually tailoring each pitch to journalists on the front end, companies will see a much better response to their outreach the first time around.
To do this, keep in mind that journalists don't spend their entire day reading emails. Respect their time and deadlines by keeping pitches concise and getting straight into the story. If the lede is buried, chances are that the journalist won't read far enough to find out what it is.
Highlight the Relevance and Uniqueness of Your Story
Pitches are not a request to journalists to cover your story. They're a way to offer valuable information and insights to journalists, showing why your company is uniquely positioned to provide a story that no one else can. Leverage the research put into finding what is important to the journalist you're pitching in order to make your media pitch a direct reflection of why the journalist should care about your story.
5. Create an Attention-Grabbing Subject Line
Consider the feeling of sorting through your email inbox on a Monday morning, and how you determine what you're going to read, and what will be deleted right away. Chances are, you've made that decision in a split second based on the subject line of the email. Now consider that this is what journalists go through every day.
The subject line of an email offers somewhere between 5-7 words to communicate your story, before the rest of the content gets cut off by the email preview window on a computer or phone screen. This is the first thing journalists will see before deciding whether or not they will even open your pitch, much less read all the way through it.
Pitch subject lines should provide a clear, concise and captivating idea of the story that will follow in the pitch. Are you offering the CEO of a major company for an interview? Providing an exclusive look at a new product? Announcing a funding round or an exit strategy? Offering new research? Communicate that—quickly—in the subject line.
6. Follow Up With Journalists
Your work is not finished even once pitches have been sent out. Just as important as it is to master the art of creating a media pitch is to master the art of the follow up.
A good rule of thumb is to wait at least three business days, if not a full week, before following up on an unanswered pitch. Again, keeping in mind that journalists have a limited amount of time to spend responding to emails, follow ups should be concise and to the point.
If there are advancements to your story since your last communication, the follow up is a good place to offer that information. Otherwise, keep your message brief, quickly reiterating what you're providing to the journalist, and then wrap it up.
Keep in mind that if your initial media pitch follows the guidelines above, the need for a follow up will become less and less frequent.
7. Maintain Your Relationship
Like any relationship, staying in good standing with journalists requires nurturing. Treat journalists like you would any colleague that you value and respect—for example, following up with them after an interview to thank them for their time and close the loop on any outstanding items they may have asked for.
Another way of maintaining relationships you've built with journalists is to stay in touch with them by sharing future, relevant announcements from your company before they happen. Journalists need time to write a story before they can publish one, so giving them ample notice and respecting their deadlines as much as possible will help keep your relationships on positive terms.
Be Responsive and Timely in Your Communications
Always assume that journalists are working on a deadline and need information as quickly as you can get it to them. Sometimes, they will communicate what this deadline is, but that's not always the case. To make your journalist interactions as enjoyable as possible, and increase the likelihood of them working with you again, ensure timeliness in all of your communications.
Provide Accurate and Helpful Information
Any information that is shared with journalists has the potential to be made public. With this in mind, ensure that both you and your company's executives always provide accurate information to the best of your ability in order to avoid going back to the journalist and asking for a correction or a reprint.
Be a Valuable Resource by Offering Insights, Data, or Exclusive Access
Another way to build mutually-beneficial relationships with journalists is to offer them access to information that no one else has. This can be done by giving them the right to a "jump", or exclusive, on a story, meaning that they can publish it before everyone else—say, the day before the news is made public via a press release.
Offering executives for in-depth interviews, or providing them with an exclusive set of data, is another way to do this without having to provide a jump on a story.
When taking this approach, always be wary of how it might affect relationships with other journalists you work with frequently who aren't getting the same treatment. Sometimes, a relationship on its own is strong enough to get journalists' buy-in on a story without offering the kitchen sink.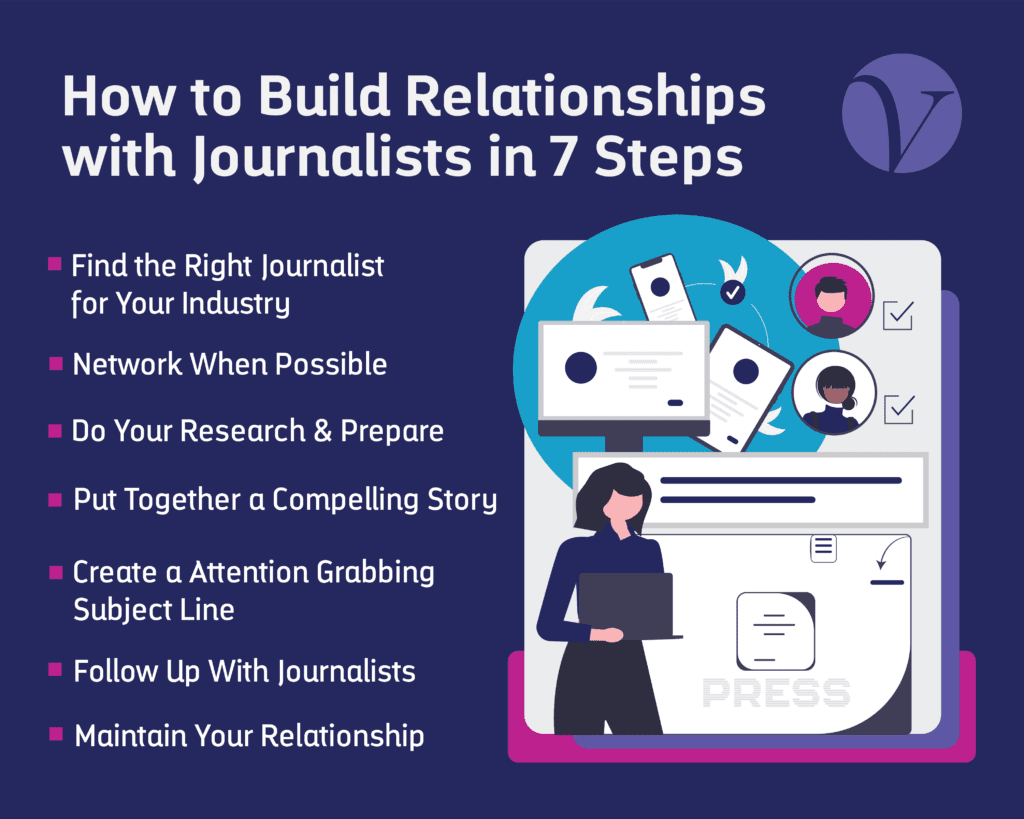 What Not To Do:
Journalist relationships are delicate and can be jeopardized with the wrong approach. PR agencies can be helpful in this regard to serve as a liaison between a company and a journalist, and ensure that all communications are routed through an expert first who is intimately familiar with the ins and outs of media relationships.
Here are a few best practices.
Being Too Pushy and Aggressive
After one pitch and a follow up, it's usually safe to assume that a journalist isn't interested in your news. Sending additional communications pushing them to provide an answer will often result in a severed relationship. Treat journalists as you would any valued relationship with a customer, colleague or supervisor by respecting their boundaries and being polite in all of your communications.
Overwhelming Journalists with Irrelevant Pitches
Repeatedly sending journalists irrelevant pitches is one of the fastest ways to get yourself—or your entire organization—blocked. Not only does this waste journalists' time, but it's a poor reflection of the pitch sender and shows that they aren't knowledgeable about their field and the journalists within it. Investing in the front-end research discussed above, as well as putting a sincere level of thought and effort behind pitching efforts, will help avoid this.
Ignoring Journalist's Preference and Schedules
Consider journalists' time zones and working hours before pitching them. Most journalists prefer to receive pitches beginning around 9 a.m. in their time zone. This is also the most common time for press releases to go out because it gets the news into reporters' hands before the market opens at 9:30 a.m.
Pitching through mid-morning is also a common practice, but the later it gets in the afternoon, the less likely journalists will be to respond. Many journalists also have to file their stories before lunch, so any information that is being shared with a journalist ahead of their story being published should be delivered before close of business the day prior.
Ignoring these preferences and pitching journalists around the clock, seven days a week can lead to frustrations among journalists.
Our Approach at Channel V Media
Turning media relations into media relationships requires knowing what you want to say, what media outlets want to cover, and what audiences want to hear about. We know where these three things intersect.
We've spent the past 10+ years carefully crafting and nurturing relationships with journalists for our clients to benefit from. We use these relationships to build rapport directly between journalists and our clients' spokespeople, so that journalists come back to them time and time again for insights.
Want to know more? Drop us a line.