A New York Martech and Adtech PR Agency
We create strategic PR programs for Martech and Adtech companies looking to go from another tool in companies' tech stack to marketers' and advertisers' go-to technology in the U.S. and internationally.
We create PR programs that deliver media coverage and drive demand.
We transform companies like Albert, Bluecore, Grapeshot and Innovid into Martech and Adtech industry leaders, and carve their place in larger business conversations.
Media Outlets for Martech and Adtech PR
We transform companies' business goals into media stories that shift perceptions of them in the market and drive high‑value audience behaviors. These stories appear in a mix of marketing, advertising, technology, business and industry outlets.
Case Studies
Our Martech and Adtech PR Work
Shifting Media Perceptions

Shifting Media Perceptions

Bluecore's technology evolved from point solution to holistic enterprise platform, but the media's perception of it remained the same.

CVM methodically transformed the way the media covered Bluecore by changing how the company talked about itself.

We evolved its narrative in the media to match its new identity.

Read More

AI Enters the Marketing Chat

AI Enters the Marketing Chat

Israel-born Albert Technologies was eager to gain visibility in the US for its AI marketing tech ahead of rumored competitors, Salesforce and IBM Watson.

Albert called on CVM to help it introduce a new category in the marketing space and generate interest among marketers before its competitors emerged.

Read More

Preparing Advertisers for a Cookieless World

Preparing Advertisers for a Cookieless World

When GDPR went into effect, companies across the EU were scrambling to find compliant technology, and martech and adtech companies like Grapeshot were simultaneously trying to reach them.

Grapeshot tapped CVM to help it enter these crowded GDPR conversations and drive demand among a new audience of advertisers.

CVM worked with Grapeshot to not only enter these conversations, but rise to the top through thought leadership articles and commentary that provided a unique POV on GDPR and its impact in, and out, of the EU. 

We then extended the conversation beyond Grapeshot's ability to achieve GDPR-safety. We educated the market on contextual intelligence, which helps advertisers to avoid unsafe content that will damage brand equity and allow them to reach target audiences with the most relevant content.

We grew awareness of contextual intelligence and Grapeshot's platform in the market, and ultimately drove demand among advertisers.

Oracle soon after acquired Grapeshot to add the dimension of Context to Oracle Data Cloud.

Read More

Making Digital Video Do More

Making Digital Video Do More

With some early clients already secured, INNOVID challenged Channel V Media with educating an already crowded market on the benefits of its video advertising technology.

Founded in 2007, Zvika, Tal, and Zack came together with a big dream: make digital video do more. Digital was on the rise, and Innovid filed their patent to insert interactive objects into video.


Channel V Media focused on validating the, then unknown, Israeli-based company in the North American market. 

We put a heavy focus on thought leadership and leveraging client stories in the media to not only create credibility–but drive leads and new business.

Placements Include:
The Wall Street Journal, Techcrunch, New York Times, Bloomberg, Adage, AdExchanger, New York Business Journal, Cmo.com, Mediapost, Adotas, AdWeek, Fast Company, Crains NY, Crunchbase News, CMS Wire, Mobile Marketer, Cynopsis, eMarketer, Video Nuze, Engadget, MMA Smart Briefs, Digital Trends, Yahoo! Tech, Huffington Post, Martech Advisor and the New York Business Journal.

Read More
Some of Our Martech/Adtech PR Clients
How we turn your stories into headlines.
Carve your spot in the industry.
The stories that companies tell in the media–when told the right way–can shift the perspective of entire industries. 
We help Martech and Adtech companies move away from industry jargon and technical product speak, and instead paint a picture of how they can change their customers' businesses–and consumers' experiences–with their solutions.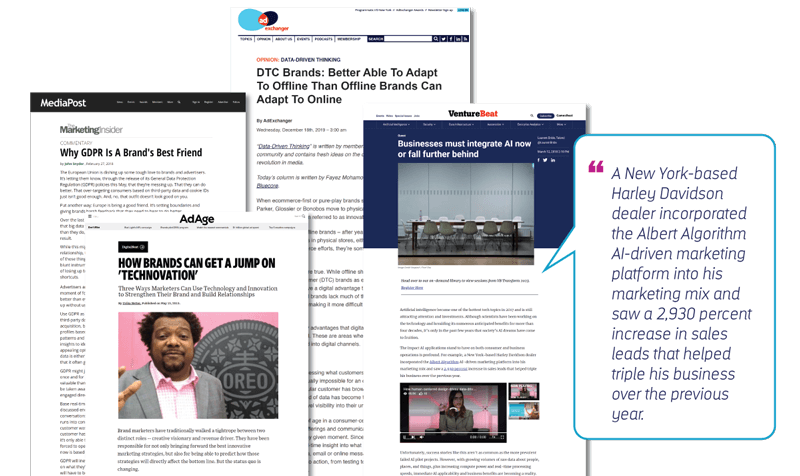 Go from vendor to visionary.
When companies can influence important market narratives, they become seen as visionaries rather than vendors.
We transform Martech and Adtech companies' expertise into industry-defining insights. As a result, customers and prospects see them as market leaders who can transform their entire business, rather than just another technology in their stack.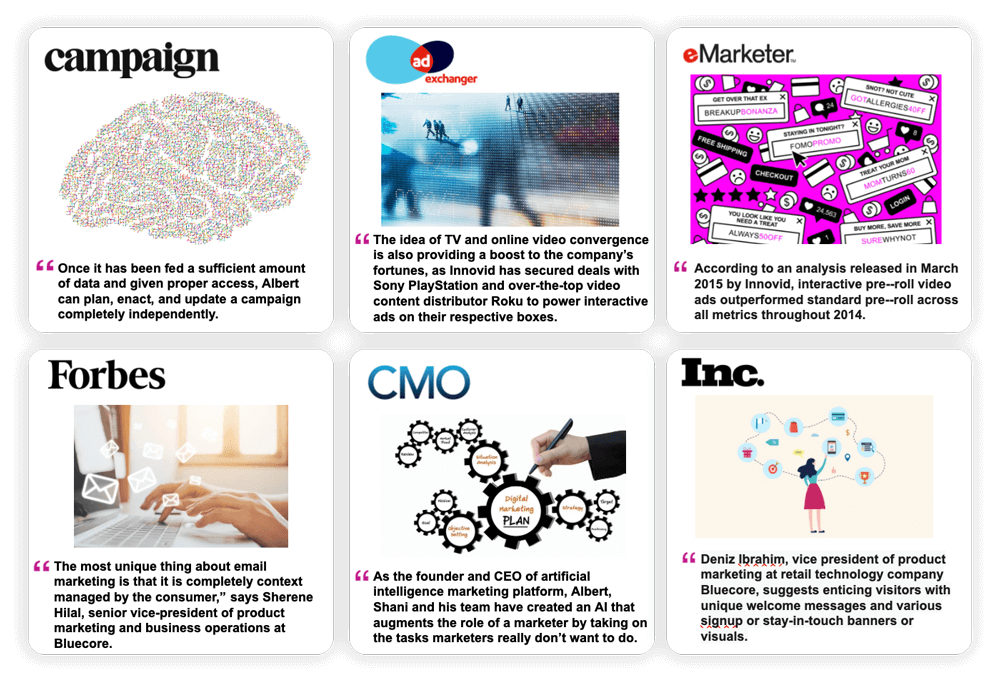 Stand out in crowded markets.
There's no shortage of companies in the Martech and Adtech industry. No matter how differentiated your company is, there's always going to be another company competing for your same budget, with similar sounding technology.
We develop your unique positioning to help you go beyond basic awareness and to the top of the market.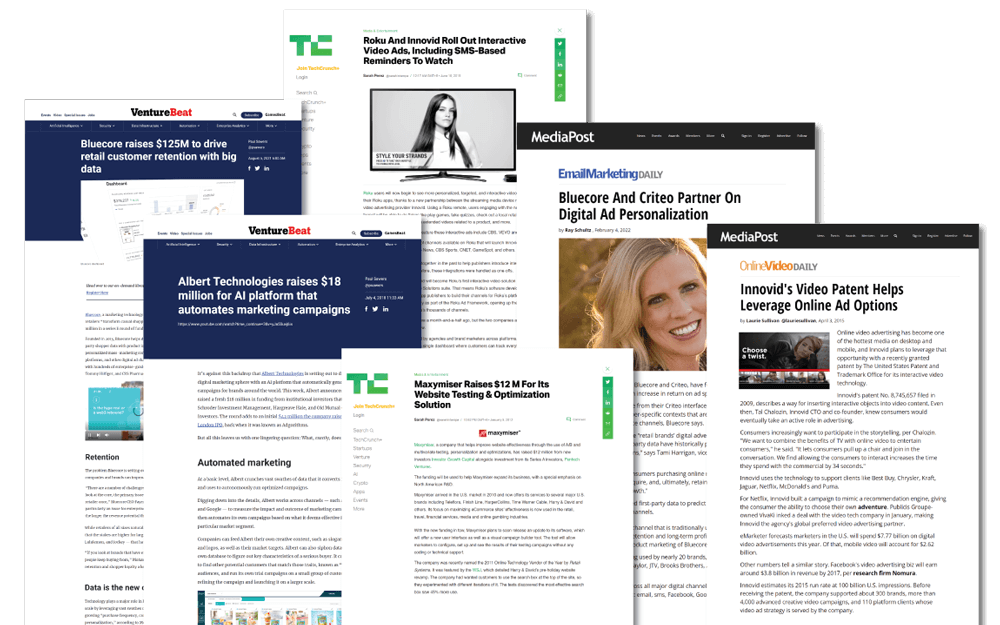 Evolve with your technology.
As your technology evolves, we'll evolve how the media talks about you, too.
And because we know that change is constant for Martech and Adtech companies, we'll position you for media success — and do it over and over again — as your technology, prospects, buyer types and competitive set continuously evolve.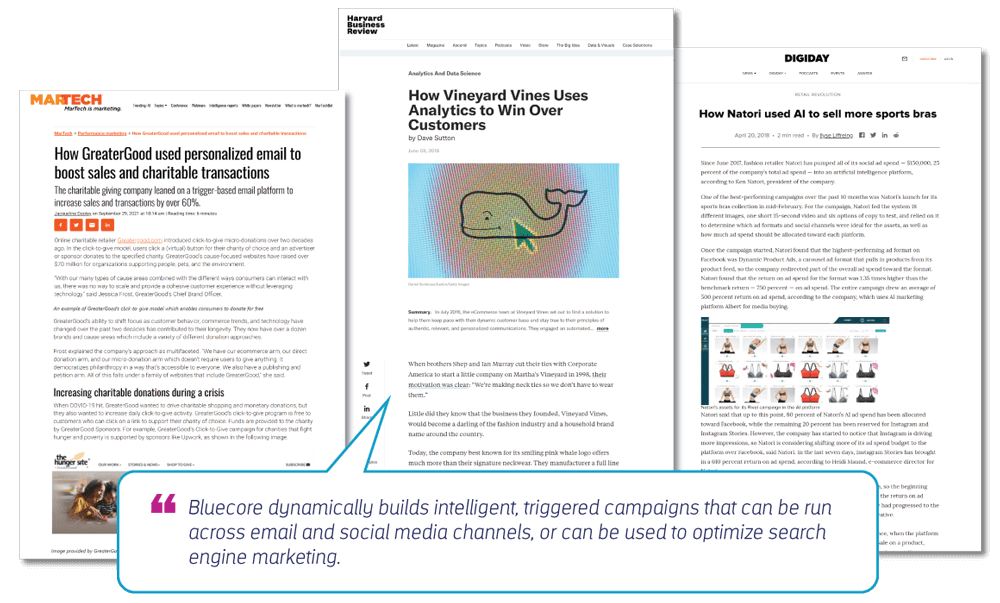 Showcase your value through the lens of customers.
We transform Martech and Adtech companies' work with their customers into business stories that illustrate high-value use cases, innovation and business impact.
This kind of media coverage not only validates your technology and paints a picture of its benefits–it drives demand among your target audiences.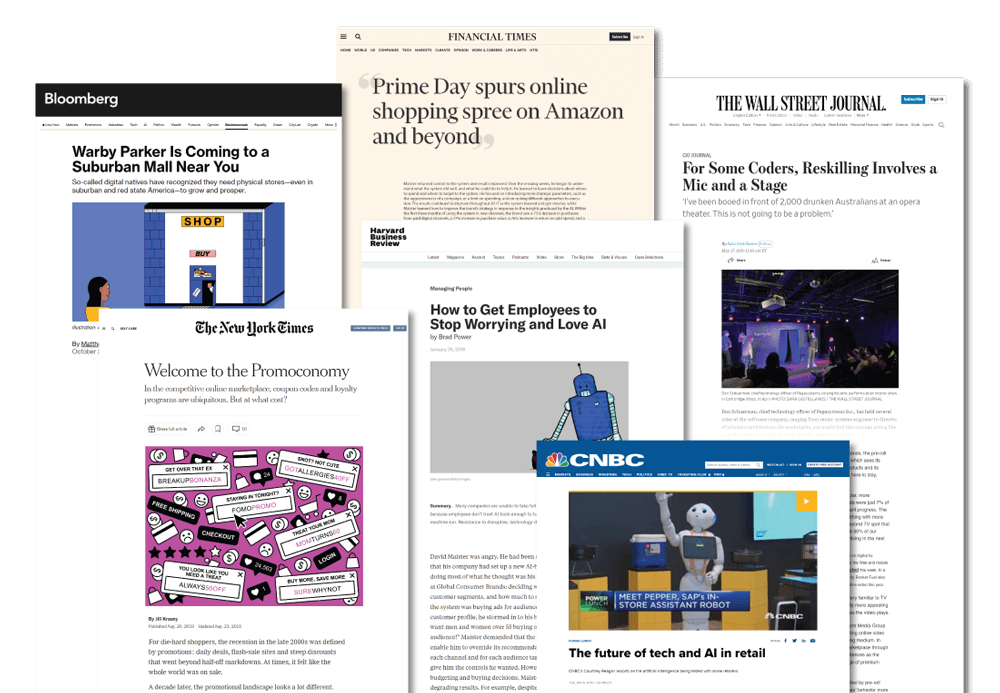 Enter larger business conversations.
Your target audience is advertisers and marketers across specific industries. But your long-term business ambitions will likely require recognition from a bigger audience.
We'll break you into bigger business conversations that directly align with your narratives, to validate your company among business communities.
Channel V Media has delivered and exceeded our goals every single year. We've hit more than 100 pieces of coverage per year, ranging from commentary to media interviews in tier one business outlets and retail trades. Reporters have also expressed interest in the stories they tell on our behalf. They seek us out proactively because of the way CVM has portrayed us.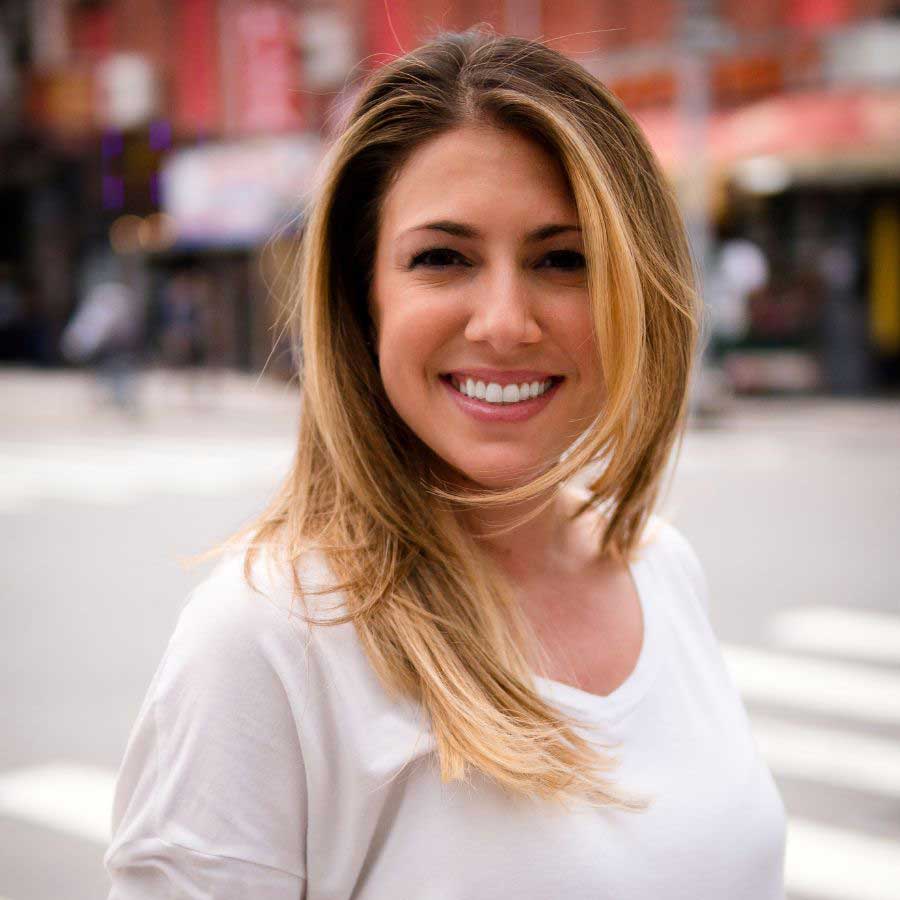 Sarah Cascone, VP of Marketing
Bluecore
Martech PR and Adtech PR Tactics We Use to Get You Coverage
Analyst Briefings

Data Stories

Data Stories

Media Briefings

Profiles and Q&As

Trend Reports

Award Entries

Contributed Articles

Human Interest Stories

Speaking Submissions

Topical Pitching
PR Moments Martech and Adtech Companies Should Capitalize On
Product Launches

Fundraisers

Mergers & Acquisitions

Growth and Adoption Milestones

International Expansion

New Customer Wins

Successful Client Use Cases

Events & Tradeshows

Key Hires

Research Reports
Questions that Companies Ask About Martech PR and Adtech PR
What is Martech PR?
What is Adtech PR?
Why do Martech and Adtech companies need PR?
What can I expect from my Martech and Adtech PR program?
Tell us your goals.
Why we collect your information
This form collects your information so we can contact you to assess if our service would be beneficial for your company.
Why we collect your information
This form collects your information so we can contact you to assess if our service would be beneficial for your company.
Sign up for our Newsletter
Get our new industry reports, case studies, podcasts, articles and events sent straight to your inbox.