Award‑Winning Consumer PR Firm
We work with brands that have a compelling story to tell — even if they haven't unearthed it yet.
We increase brands' visibility among consumer and business audiences.
Our consumer PR experience spans lifestyle, food and beverage, CPG, fashion, travel and hospitality. We launch brands from the ground up, as well as revitalize established brands to make them relevant to new consumers.
Case Studies
Consumer PR Case Studies
Breaking into the Crowded U.S. Market

Breaking into the Crowded U.S. Market

UK‑based Meatless Farm had become a household name in Europe after selling its meat‑free patties and ground into EU grocery stores, but it was completely unknown in the United States–Until CVM came in.

When Meatless Farm secured a contract with Whole Foods Market stateside, CVM leveraged the company's debut in the grocer's 450 store locations and built out a multi‑touch program to make the company's presence known to U.S. audiences.

Read More

Turning Fortune Cookies into Media Gold

Turning Fortune Cookies into Media Gold

Before Fortune & Frame was the well-known brand it is today, it not only had to break into the fashion and jewelry market as a newcomer, it also quickly stake its claim to a whole new jewelry category: fortune-holding lockets.

The NYC-based brand is known for its handcrafted fortune-holding lockets and fortune cookie pieces. Before embarking on an awareness campaign to tell the world about it, CVM first established the company's brand identity, online store and packaging.

Read More

Spanx, Skims… Shapermint?

Spanx, Skims… Shapermint?

Before Channel V Media, Shapermint was relatively unknown by the media. Now it's part of the shapewear trilogy.

DTC intimates marketplace Shapermint has customer acquisition down to a science, but wanted to become a known entity among retail and business audiences.

To make this happen, Channel V Media defined the narratives that Shapermint needed to communicate in the market, and created an ongoing stream of media coverage and industry recognition.

CVM viewed Shapermint's unique business model‑which resulted in more than $250M in sales and 4.5 million customers in just over two years‑as a roadmap for an ongoing PR program. Our strategy has transformed each of the moments that have led to its success into opportunities for media coverage and market awareness.

Not only has Shapermint gone from unknown to known among business audiences, the company now tops nearly every respected DTC retail industry growth list and is viewed as a leading growth brand by retail's foremost media authorities.

Read More
Channel V Media's strong dedication, hard work and support have made Shapermint the known brand it is today.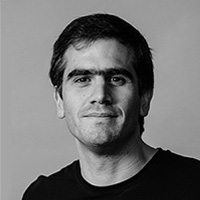 Santiago Zabala, CEO
Shapermint
How We Turn Brands Into Media Stories–and Lifestyles.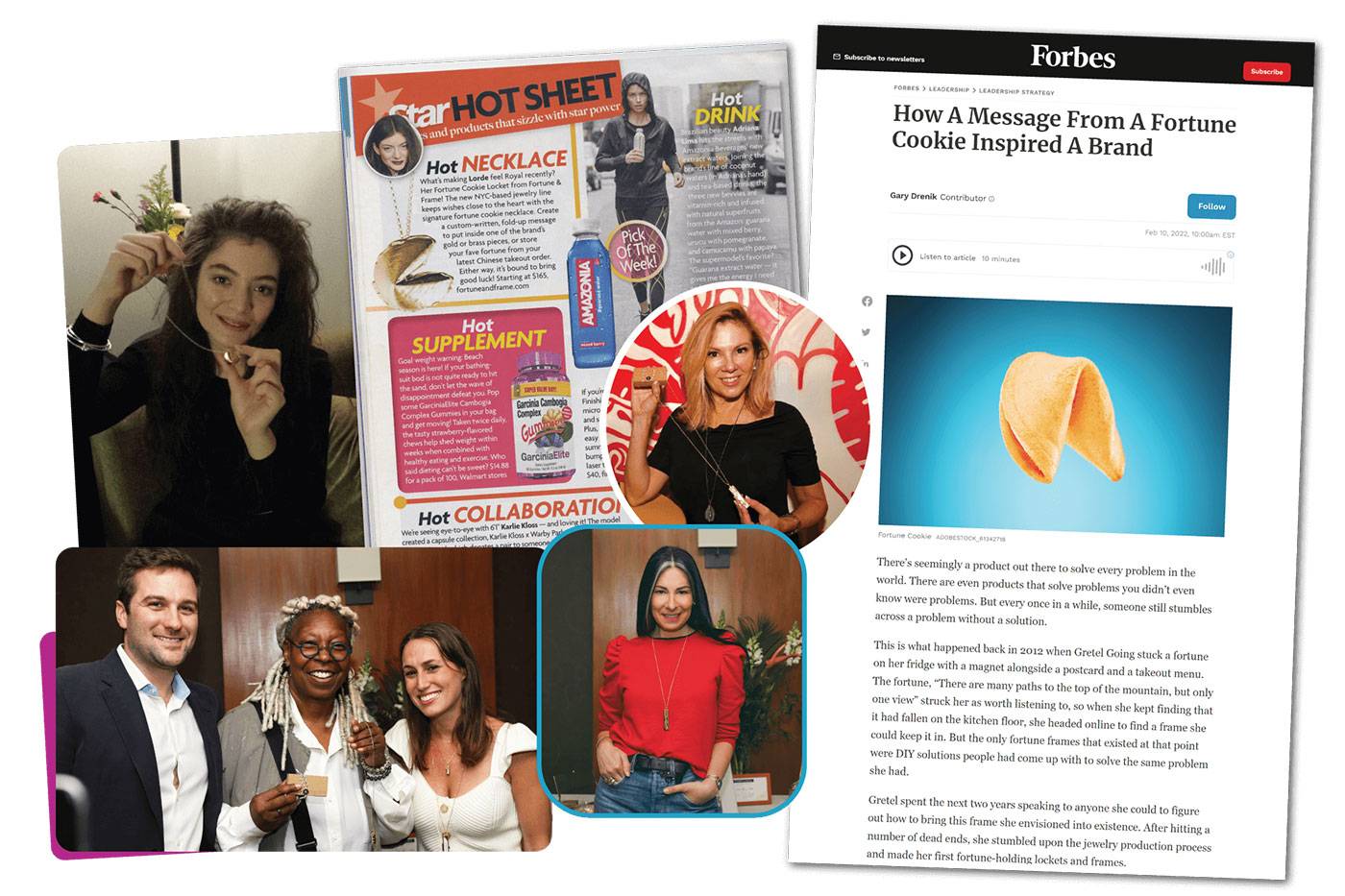 Be everywhere your customers are.
There are a million ways to talk about the exact same product, property or experience. 
We work with brands to understand the different reasons customers buy from or engage with them, and where those customers are. From there, we map out nuanced stories and messages that speak to different buyer types, and determine which media outlets and channels we need to be on to reach them.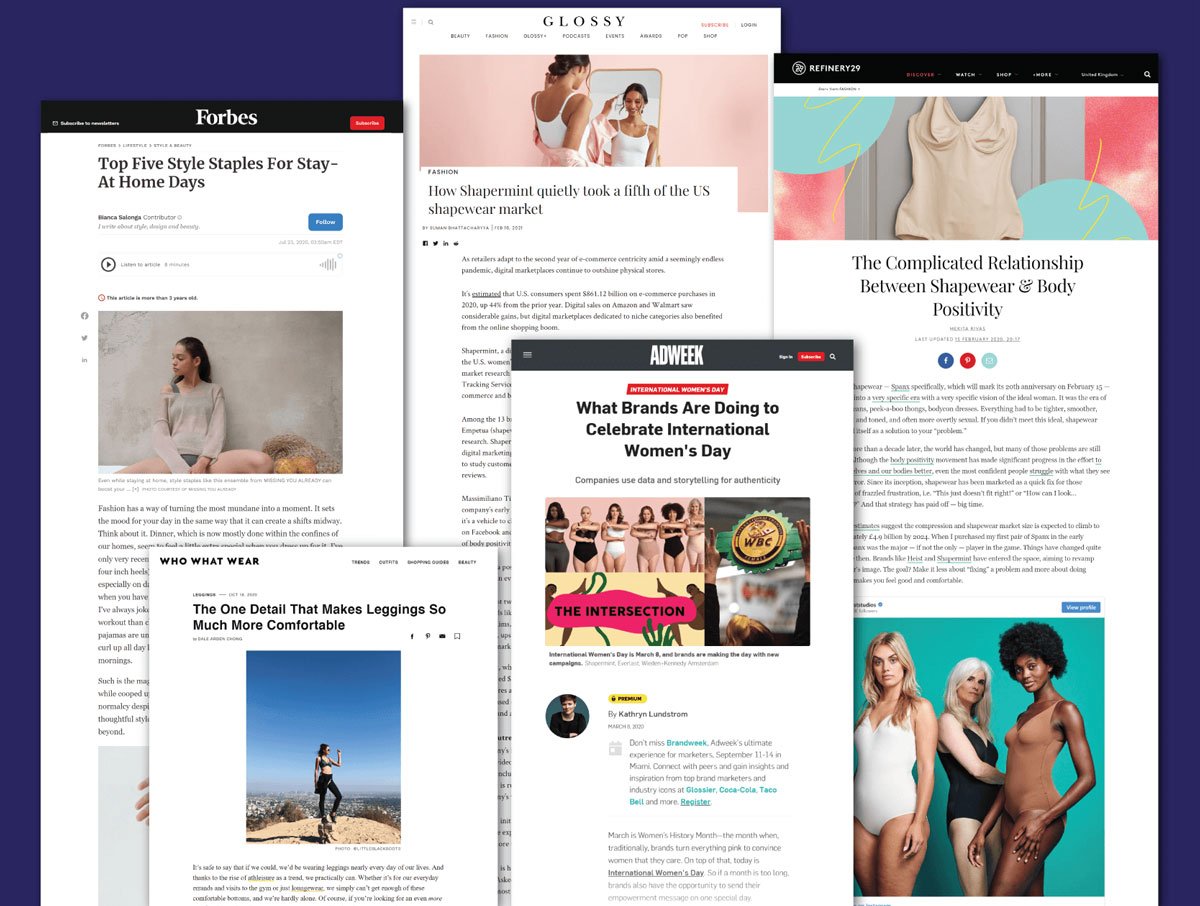 Refresh your brand narrative to become hyper relevant.
Having a good product, experience or offering isn't always enough. Consumers need to understand why what you bring to the table makes their lives better, and why they should choose it over everything else out there. 
This often comes down to the intangibles you communicate with them. That's where we come in: creating immediate relevance to consumers' lives and turning brands into lifestyles.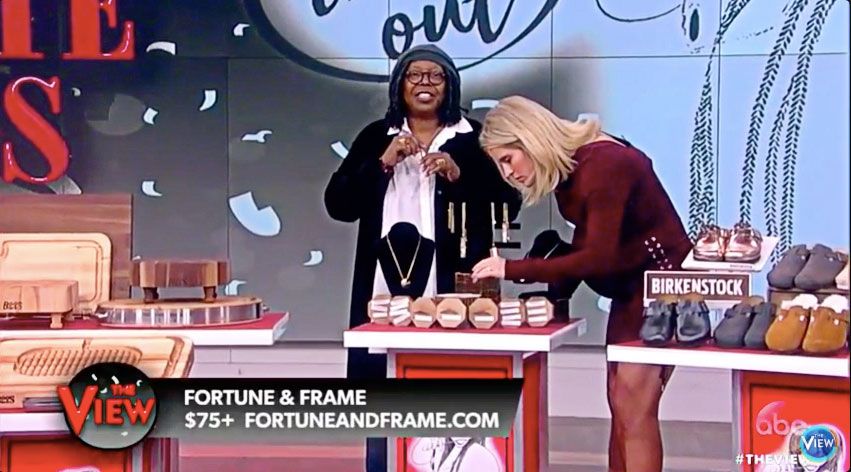 Drive consumer demand.
Creating visibility among consumers is only part of the puzzle. You don't just want to be known; you want consumers to buy from or engage with you again and again. 
We work with brands to create media strategies that not only create awareness, but drive high-value behaviors that affect the bottom line.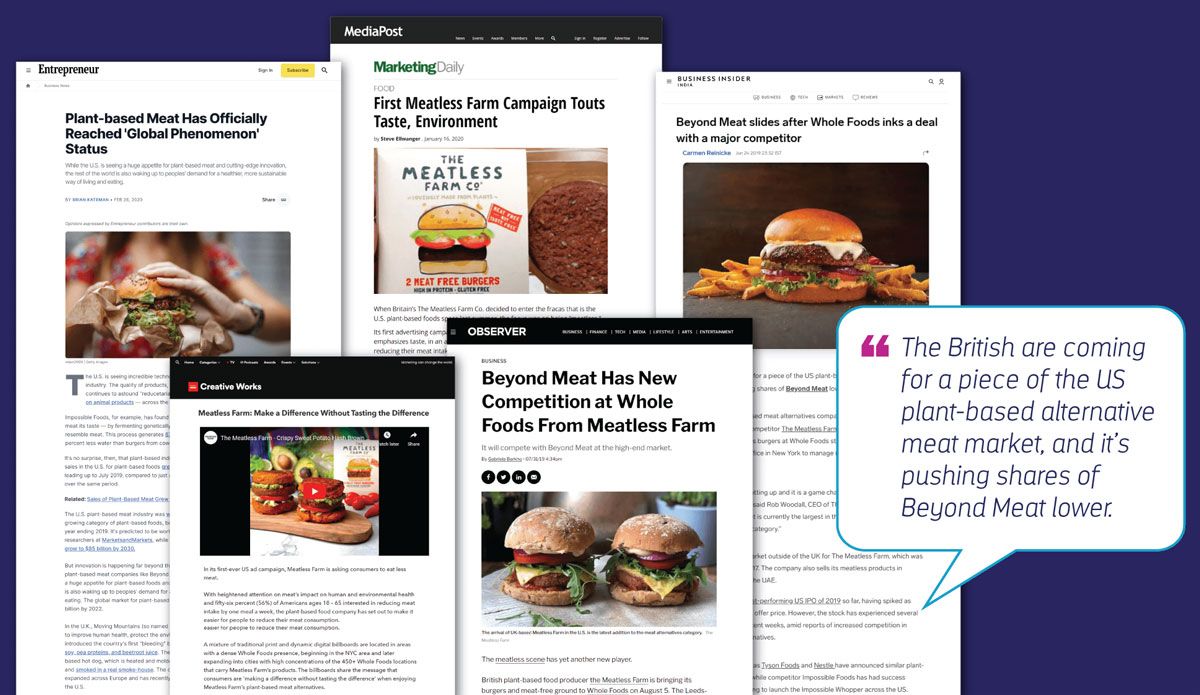 Launch into the U.S. Market
Some brands get their start overseas and then want to replicate their success stateside. We love helping them do that.
We start by developing narratives that speak to U.S. consumers and then quickly work to validate them with U.S. media. From there, we get laser focused on outpacing their domestic competitors.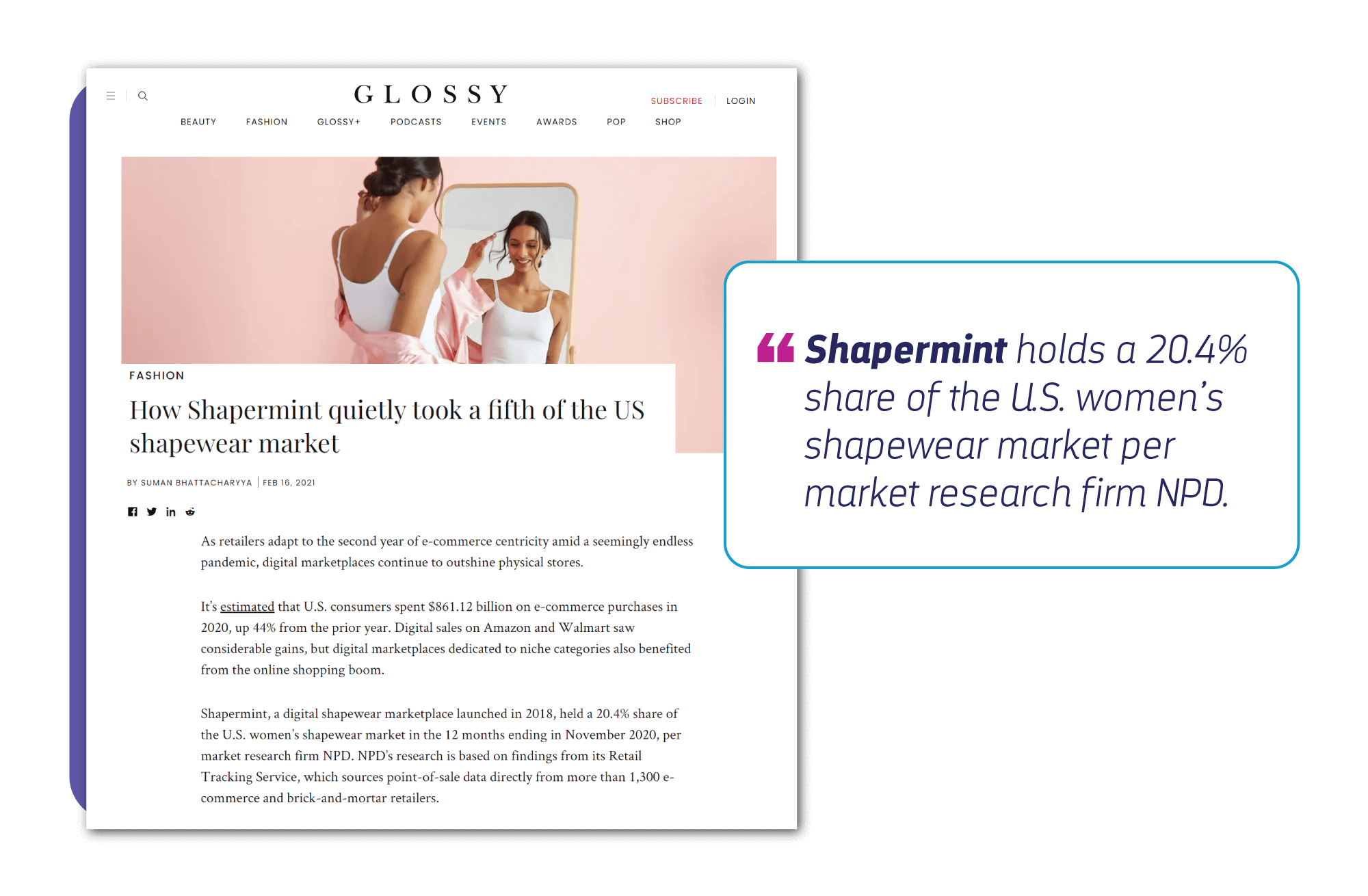 Create industry growth opportunities.
We directly influence the way our clients' scale their growth. Whether you're looking to increase wholesale distribution, get attention for a franchise model, expand into new regions, drive in-store traffic or attract interest from potential partners, we'll develop the media relations strategy that supports these bigger-picture business goals.
Some of the Consumer Brands We've Worked With
Consumer PR Tactics We Use to Get You Coverage
Brand Campaigns

Commerce Editor Outreach

Consumer Trend Reports

Events

Events, Pop-Ups & Tradeshows

Gifting

Human Interest Stories

Influencer Events

Influencer Relations

Media Briefings

Product Roundups

Product Samples

Product Launches

Profiles & Q&As

Speaking Opportunities
Consumer Brands Have a Lot to Talk About
Brand Collaborations

Business Growth Milestones

Celebrity Endorsements

Consumer Trends

Creative Packaging

Distribution by Market

ESG Efforts

Events, Pop-Ups & Tradeshows

Founding Stories

Gifting Occasions

Influencer Moments

National Ad Campaigns

Partnerships

Philanthropic Efforts

Product Design & Creation

Product Launches

Seasonal Moments & Trends
Questions that Consumer Brands Often Ask:
What is Consumer PR?
Why do brands need Consumer PR?
How Does Consumer PR Work?
What is the goal of consumer PR?
Tell us your goals.
Why we collect your information
This form collects your information so we can contact you to assess if our service would be beneficial for your company.
Why we collect your information
This form collects your information so we can contact you to assess if our service would be beneficial for your company.
Sign up for our Newsletter
Get our new consumer reports, case studies, podcasts, articles and events sent straight to your inbox.