Breaking Meatless Farm into the Crowded U.S. Market
135+

Pieces of business and consumer press coverage in the first 6 months

Meatless Farm was cited as the reason for a drop in Beyond Meat's stock shares after CVM publicized its entry into Whole Foods.

Gold Stevie

Channel V Media's work won a Stevie for the "Communications Campaign of the Year" in the Food & Beverage category.

Press coverage about the brand drove the interest of major U.S. grocery chains, QSR chains, meal kit companies and airlines.

Skipping to the Front

Meatless Farm regularly appeared side by side in media coverage with the 2 U.S. category leaders: Beyond Meat and Impossible Burger.

Traffic to Local Stores

Local and national media stories increased in-store demand at the 450 Whole Foods Market stores that sell them.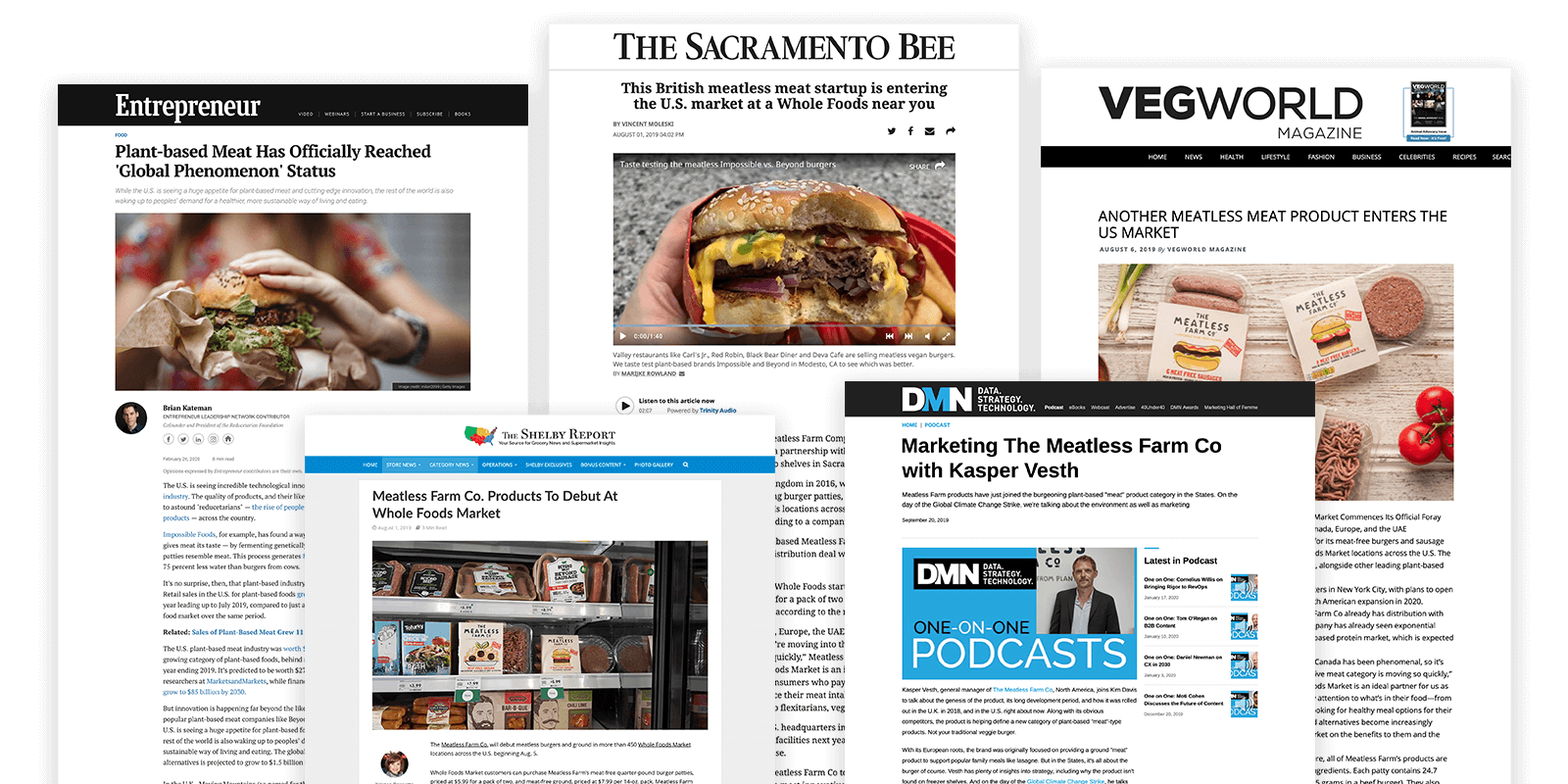 Taking Meatless Farm to Market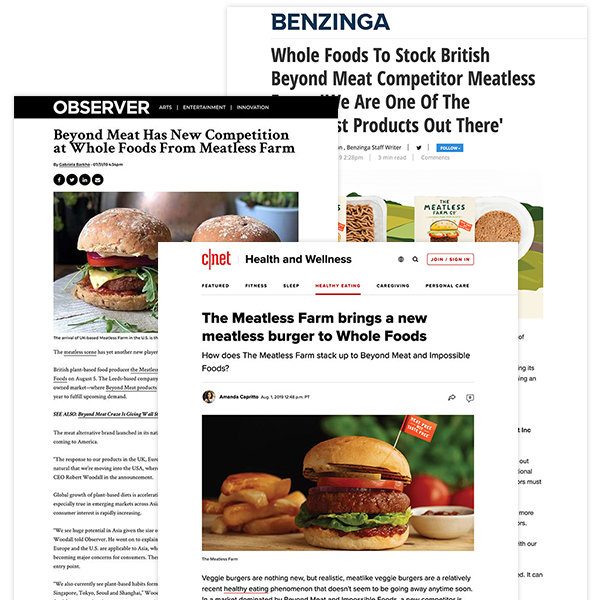 Entering U.S. Media Conversations — and Staying in Them
Meatless Farm had recently secured a contract with Whole Foods Market stateside. We leveraged the company's debut in the grocer's 450 store locations to make Meatless Farm's presence known, both to U.S. consumers and other grocery retailers and restaurants who might carry its products in the future.
We maintained market momentum by reinforcing the company's expansion into the U.S. with news of its new CMO, a former executive at Coca-Cola.
We then transformed every other business initiative, no matter how big or small, into an opportunity to speak to a now attentive media.
This fast-follow strategy officially transformed the market newcomer into a brand to watch.
In a market dominated by Beyond Meat and Impossible Foods, a new competitor is setting up shop.
The British are coming for a piece of the US plant-based alternative meat market, and it's pushing shares of Beyond Meat lower.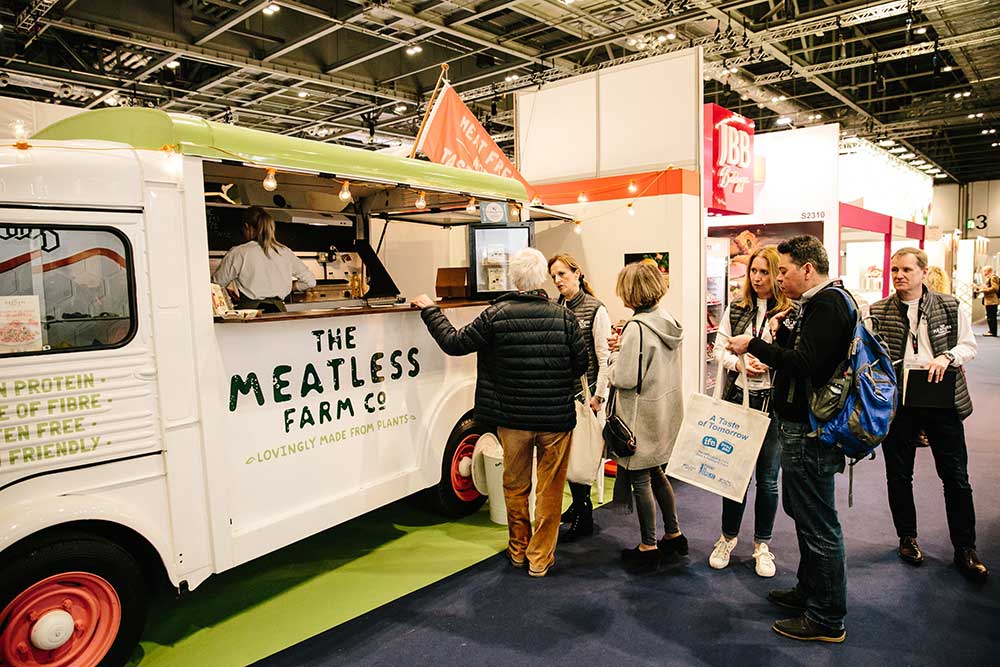 Positioning for Widespread Adoption
The Meatless Farm narrative needed to be far larger than simply, "an unknown UK company enters the U.S. market."
Instead, we positioned the company as a tried-and-tested UK brand that had already seen immense success overseas.
While its competitors were positioned as technological marvels, we highlighted Meatless Farm's role as a family friendly brand, building on the company's founding story of a father creating a product that could be enjoyed by a family with varying dietary restrictions and preferences.
We also differentiated the company's products based on taste profile. While other products played up their distinctly meaty taste, Meatless Farm's products had a flavor profile that let families season the meal to their liking, making it easier to incorporate into any meal.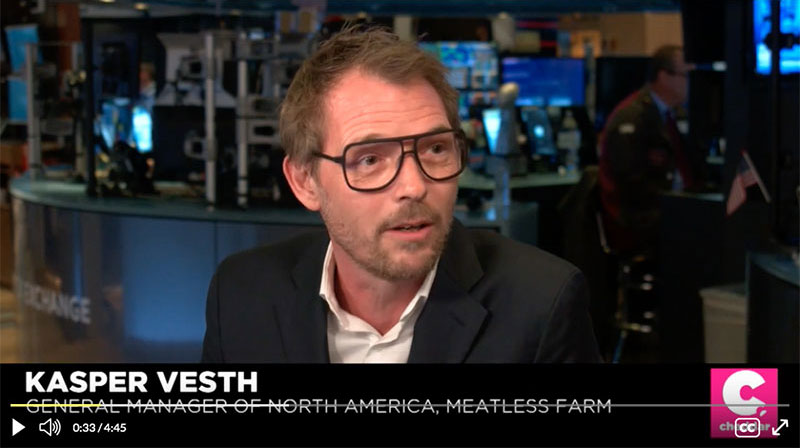 Should the Meat Aisle Become the Protein Aisle?
Meatless Farm's products are available in the refrigerated meat aisle, rather than in the frozen section, where many of its competitors' products live.
We helped Meatless Farm reinforce this differentiator by posing an open-ended question to consumers via media outlets like Cheddar.
One day you could be walking down the 'Protein Aisle' instead of the 'Meat Aisle' at the grocery store thanks to the rise in plant‑based meat alternatives. The Meatless Farm is one company pushing for the change.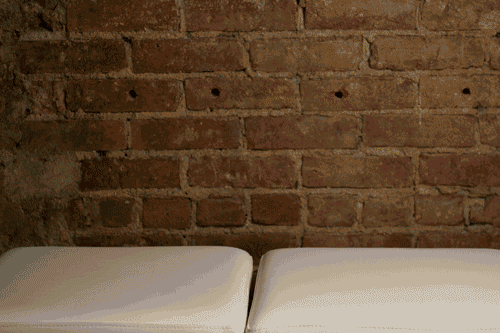 Creating Consumer Demand at Home
To get Meatless Farm product directly into the hands of more than 100 media and influencer contacts, we dreamed up BBQ-inspired Labor Day kits.
This press mailer received rave reviews from editors and producers at The TODAY Show, The Rachael Ray Show, Live with Regis and Kelly, Cheddar, Eater, VICE, Thrillist and many more.
Own the conversation, don't just join it.
Learn how we transform companies into market leaders by changing the way they position themselves in the media and among key audiences.
Why we collect your information
This form collects your information so we can contact you to assess if our service would be beneficial for your company.
Why we collect your information
This form collects your information so we can contact you to assess if our service would be beneficial for your company.