News & Announcements
Carrabba's Mobile App Designed for Tasting Tuesdays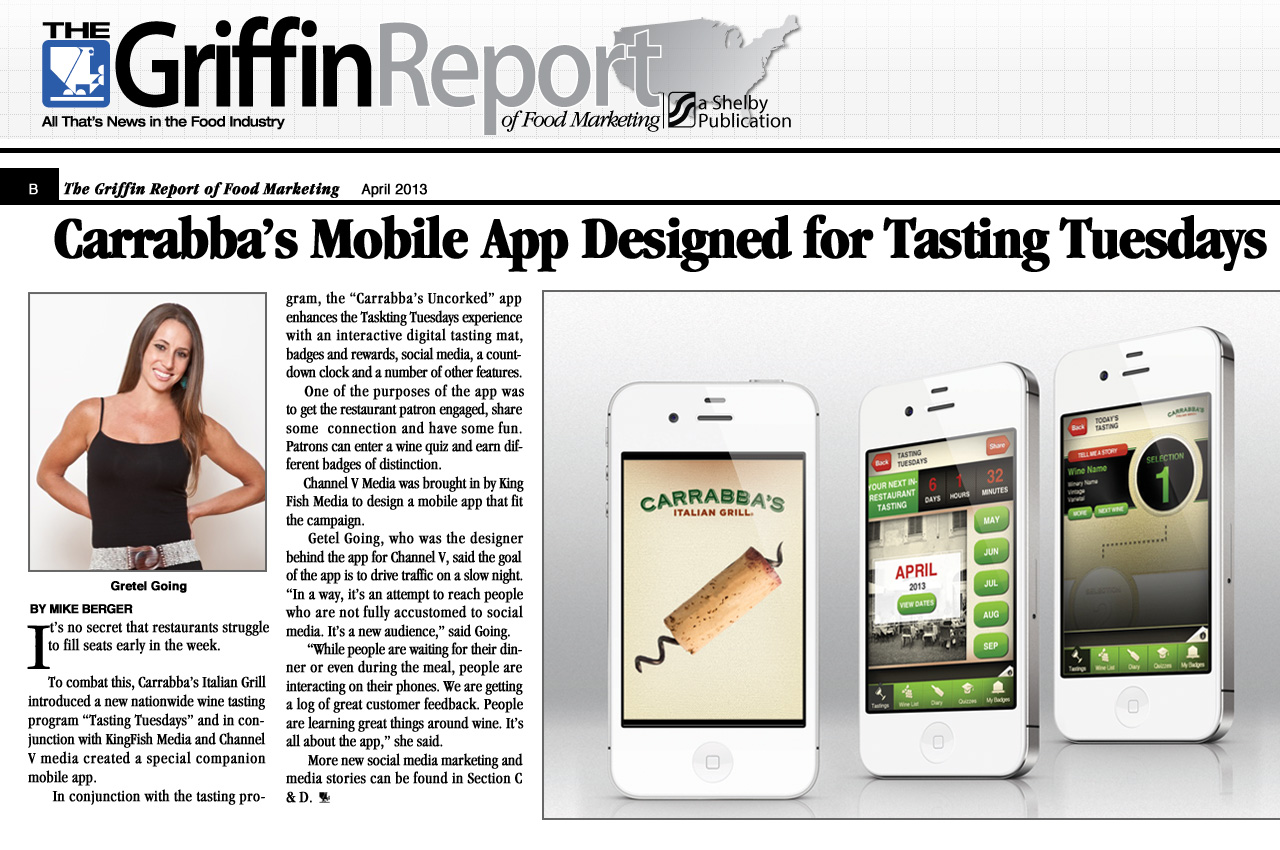 It's no secret that restaurants struggle to fill seats early in the week.
To combat this, Carrabba's Italian Grill introduced a new nationwide wine tasting program "Tasting Tuesdays," and in conjunction with Channel V Media created a special companion mobile app.
In conjunction with the tasting program, the "Carrabba's Uncorked" app enhances the Tasting Tuesdays experience with an interactive digital tasting mat, badges and rewards, social media, a countdown clock and a number of other features.
One of the purposes of the app was to get the restaurant patron engaged, share some connection and have some fun. Patrons can enter a wine quiz and earn different badges of distinction.
Channel V Media was brought in by King Fish Media to design a mobile app that fit the campaign.
Gretel Going, who was the designer behind the app for Channel V, said the goal of the app is to drive traffic on a slow night. "In a way, it's an attempt to reach people who are not fully accustomed to social media. It's a new audience," said Going.
"While people are waiting for their dinner or even during the meal, people are interacting on their phones. We are getting a log of great customer feedback. People are learning great things around wine. It's all about the app," she said.
More new social media marketing and media stories can be found in Section C & D.
About Channel V Media
Welcome to Channel V Media (CVM). We're an award-winning PR and communications agency, founded in 2008.
We build market momentum for Fortune 500 and emerging companies, advising and executing on Communications Strategy, PR strategy, and digital marketing. We specialize in breaking clients into new markets and categories, rising to the top of crowded conversations, and reinvigorating enthusiasm for long-standing companies as they compete in new areas.
CVM builds awareness for companies and their products, develops C-suite leaders into industry visionaries, positions clients to be among the most vocal in high-value conversations, and drives inbound leads.
Some of our clients include Sopra Banking Software, GFT, Penn Mutual, IBM, Bluecore, Grapeshot + Oracle, Fortune & Frame, and others.