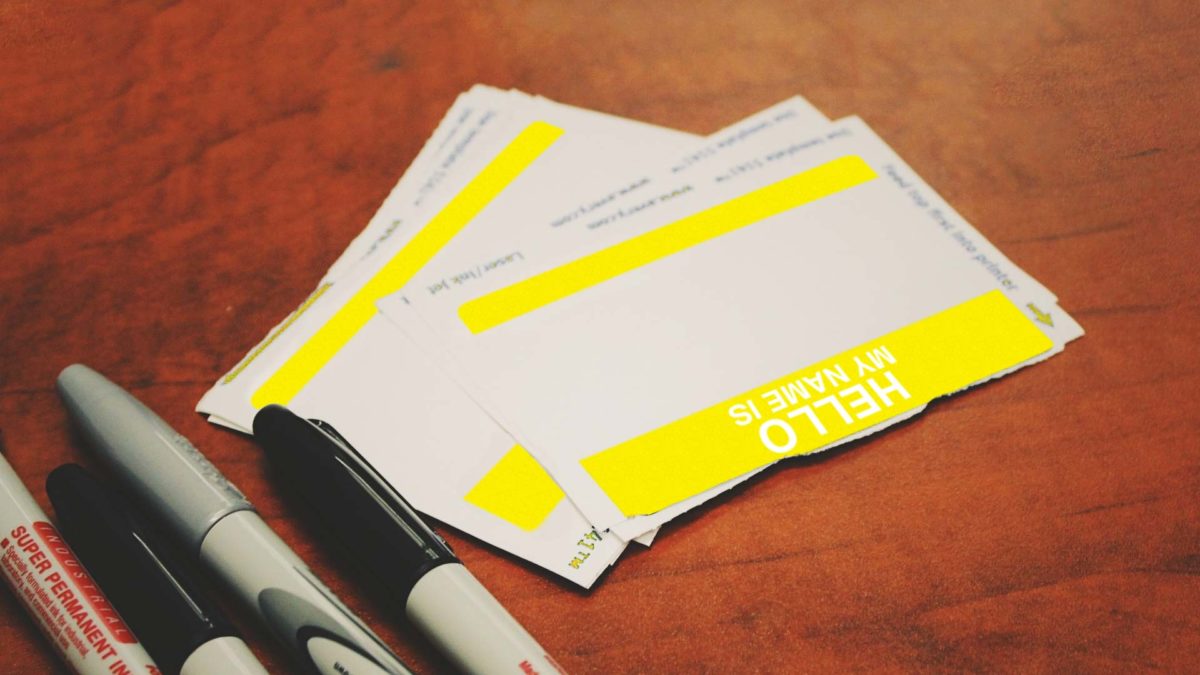 Talk to Me… (Or 10 Ways to Survive the Hideousness of a Networking Event)
November 21, 2008
Last night was one of those nights of networking that come with the small business/public relations/marketing territory. Gretel and I headed downtown to an Inc. event that was filled with entrepreneurs (because the event was for entrepreneurs, duh), and from the moment we walked in the door it was clear that this was going to be a networking session extraordinaire.
After signing in and getting our big yellow name tags (I stuck mine to my thigh since I was wearing a scarf, which, Gretel was quick to inform me, was something she did in, like, junior high.), we made our way to an upper floor of the Scholastic Building. Always eager to network, we made a beeline for the bar and then detoured to the food. If there were people around during this process, we failed to notice. Unless they were carrying trays of food. We have our priorities straight.
Once we'd had plenty of time to get food stuck in our teeth, we set out to talk to our fellow entrepreneurs. And pretty quickly hit a wall. The room, by this point, was packed. Where to even begin? Should we aim for other women entrepreneurs? Those who seemed like they might be in need of our services? The hottest ones? Groups or individuals?
Before we could get very far, we were enlisted as interview subjects for a video for a business school on being an entrepreneur. Networking postponed…
By the time we re-entered the fray, Gretel and I were finally ready. In all fairness, we kind of had it easy since we were a pair-that, coupled with a glass of wine, made networking seem pretty easy.
We took the plunge…
When we came up for air an hour or so later, we had some pretty clear thoughts on the how-tos, dos and don'ts of networking. (You know, because we're never at a loss for an opinion here at Channel V…)
1. I know people always say go to these things alone so that you're forced to talk to others, but quite frankly, I say take an ally. Someone who also wants to meet people-not your best friend-and who makes you feel comfortable. Most people get so stressed out about meeting new people that their anxiety overwhelms everything else. Do what you need to do to feel more comfortable and be yourself.
2. I know there are people who say you should never drink at work events because it takes you out of your professional mode, but I think, great. Within reason, you should do the things that will put you at ease (see #1)-for me that means a glass of wine and a few hors d'oeuvres. Otherwise, I feel like I'm at an interview rather than a social gathering, and I can't help but be stiffer, more formal and less like myself. Which only makes conversation harder, since it does not do much to help put other people at ease.
3. Keep in mind that most everyone else is socially awkward and uncomfortable too. I have yet to come across anyone at an event who has been anything less than friendly or willing to meet someone new. It's not like you're navigating cliques at the country club-everyone is there to meet new people. And if it starts going badly see #6.
4. Do not only talk about your job. Yes, obviously, we're all here for job-related reasons, but surely there are other topics you can cover. For me, the nicest moments at any networking event come when I talk to someone like a friend.
5. Don't undertake a 20-minute monologue on your entrepreneurial history from the moment you started your first lemonade stand in kindergarten. I…don't…care. Unless it's funny. But even then, you're really here to meet people not to talk about yourself. Take a breath. Sip your wine. Ask about the other people you're with.
6. Draw people into your conversation. Once you have to good fortune of being drawn into a group so that you're not standing awkwardly by yourself in your Benetton sweater hoping someone will ask you to dance…oh, wait…wrong memory…. Anyway, once you're in a chatty group, be aware of other people around you who might be looking to join a conversation. Needless to say, they'll be relieved, but they'll also bring a new perspective and voice to your discussion. They also make it easier for you to graciously bow out of your current situation, and meet new people.
7. Stop thinking about how the people you meet can help you. Instead, listen, ask questions, be interested just for the sake of being interested. Not every person you meet is going to be a new client or a helpful connection, and they don't really need to be. Honestly, my most memorable conversation of the evening was with Caroline, a tattoo artist from New Jersey, who is in the midst of trying to figure out how to open an upscale gallery/tattoo shop in the Atlantic Highlands. How cool is that?
8. Don't check your BlackBerry. Gretel….
9. Remember to take plenty of business cards. Note to self….
10. When Inc. reporters come by with a camera and ask to interview you after you've had two glasses of wine, you should probably say no. But I'll save that post for when the video comes out…