Public Relations
10 Advantages of B2B PR
There are a lot of opinions on the benefits of B2B PR out there, but they're usually a mix of tactics and goals. For example, a common goal of B2B PR is to build market awareness of a new product. The benefits however, are much more impactful—such as leveraging that awareness to upsell customers who were previously unaware that the new product existed.
If you've been searching for a deeper dive into the benefits of B2B PR—the answers to, 'what's the ROI?'—look no further.
CVM has been in the business of telling stories for 15 years, working almost exclusively for companies selling to other companies. We can tell you everything you need to know to make a decision as to whether PR should be something you need to invest in.
What is B2B PR?
Whereas consumer-facing PR focuses on communicating a company or individual's value to the individuals that make up the $18.18 trillion global consumer market, and then influencing how and where they spend money, B2B PR (or business-to-business public relations) is focused on communicating companies' value to other companies.
Companies that sell to other companies need to speak to a larger audience than B2C (business-to-consumer) or D2C (direct-to-consumer) companies. This audience is often made up of a diverse group of stakeholders, rather than consumers alone. Because B2B companies are selling thousands of dollars' worth of services, their buyers' decision-making process is also more complex and extensive than those of consumer products, and requires market education, real-life examples of the service at work, and third-party validation. B2B PR provides all of this.
Here are ten of the top benefits companies can expect from a well-executed B2B PR program.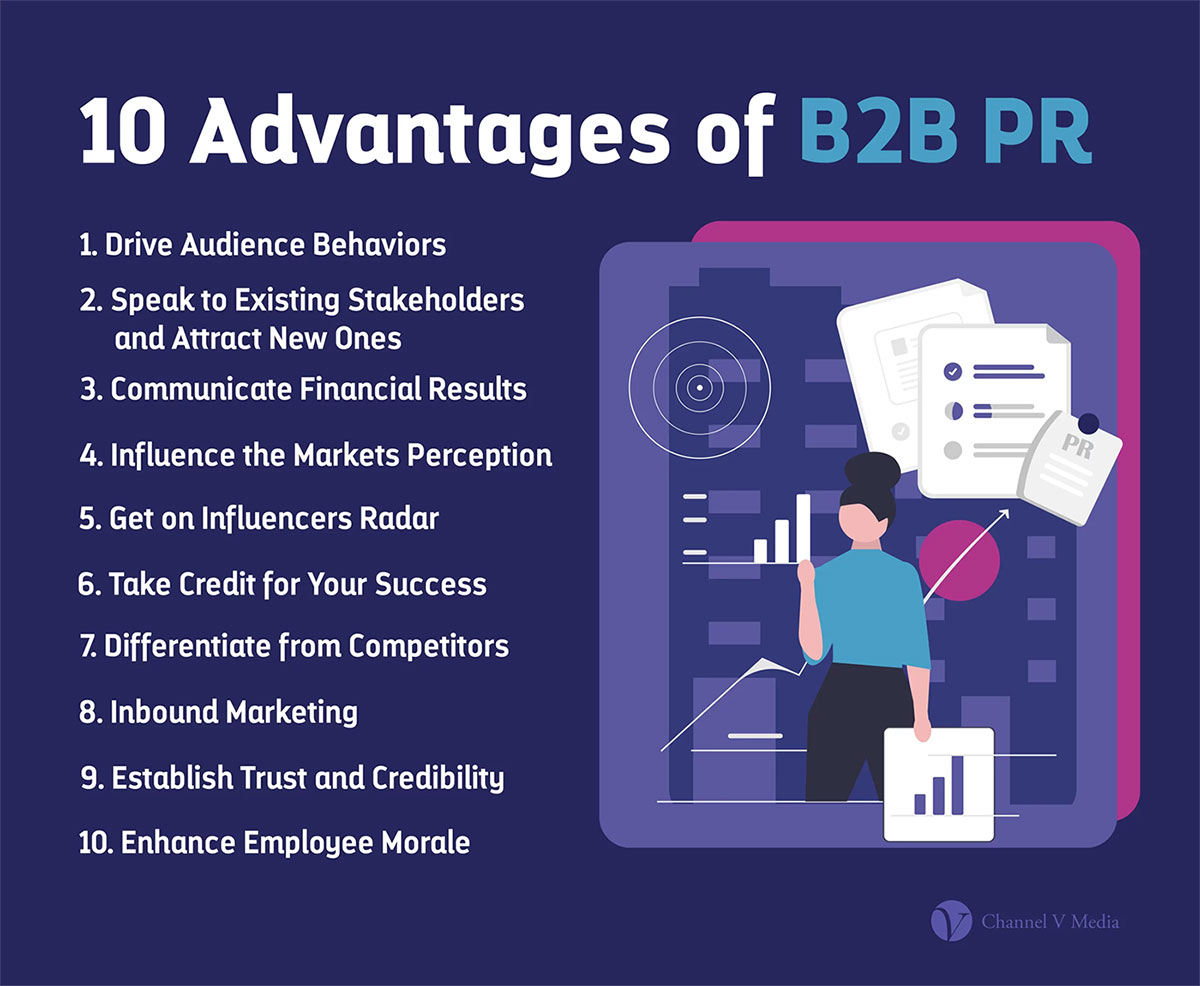 1. Drive Audience Behaviors
Expanding a company's awareness through B2B PR is the first step towards influencing the behaviors they need from the market. These behaviors can include everything from generating new customer leads, to upselling current customers, to attracting new partners or expanding relationships with current ones.
B2B companies should not expect that general awareness of their name or brand is all it takes to drive these interactions, though. In order to directly influence behaviors that impact their bottom line, B2B companies need to take their communications about what they are offering to the market a step further by talking about why it matters to each of their target audiences. With the right messaging and resulting coverage in a tailored selection of media publications, B2B PR can accomplish this in one fell swoop.
2. Speak to Existing Stakeholders, and Attract New Ones
B2B PR provides an added layer of external visibility to internal and external stakeholders that sales, communications and marketing efforts cannot provide on their own. Rather than relying on a company to speak for itself about the benefits of its products or services, B2B PR leverages the opinions of external third parties, such as media or industry influencers, to communicate a company's value to stakeholders.
Priority stakeholders are often made up of C-level decision-makers at prospective clients, which can be reached through media coverage in publications that are specific to those clients' industries. The same B2B PR campaign can additionally garner coverage in media outlets that are read by a larger pool of stakeholders. To name a few: existing and prospective investors, partners, colleagues and potential employees.
3. Communicate Financial Results
For public companies, B2B PR provides a channel to share new financial results, as well as projections for the future. Even when results are less than positive, PR campaigns can provide additional context around companies' financials and earnings through executive commentary, recaps of recent company milestones, and analyses of current industry landscapes that are not available in standalone financial reports. These results can additionally be leveraged to provide a barometer to external audiences for how entire industries are performing.
4. Influence the Market's Perception
Shifting the market's perception of a company is one of the most foundational benefits of B2B PR. This outcome can be achieved through a variety of tactics, including press releases, customer stories and thought leadership. Ultimately, the goal is the same: to elevate a company's position in the market through the lens of their existing work, key differentiators and market knowledge.
When companies aren't seeing direct benefits from these activities, it's often because they need to change the way that they've been talking about themselves to external audiences. In the B2B space, a common scenario faced by these companies is that they've positioned themselves solely as a vendor, rather than an expert on the larger problems faced by their industry, and how to solve those. Shifting this framework tends to be a good place to start shifting entire market perceptions.
5. Get on Influencers' Radar
B2B PR programs can expand companies' awareness outside of traditional media. Building relationships with industry analysts and securing recognition on coveted landscapes provides additional exposure and validation for companies, and can be achieved through direct PR communications, or as a result of media coverage. Gartner Magic Quadrant, The Forrester Wave, Omdia Universe, CB Insights' Retail Tech 100, Fintech 250 and AI 100 are a few of the main industry landscapes for B2B companies.
6. Take Credit for Your Success
In business, showing is often better than telling. B2B PR enables this for companies by leveraging external communications to share success stories about their work with existing customers, in order to speak to prospective customers about the value they can create together.
In many cases, with press releases and media relations, companies can lean into the name recognition of clients they work with that are much larger than they are to share their success.
7. Differentiate from Competitors
Especially in the crowded technology industry where many software and digital products are seemingly alike—and competing for the same market share—it can be difficult for B2B companies to set themselves apart. It's also difficult to break away from overused narratives and meaningless jargon that aren't effective at portraying a company's value and how they are different from the rest of the industry.
PR messaging and positioning programs can provide the tools that B2B companies need to identify their competitive differentiators and how to communicate those to the market. Then, through media relations, companies can reinforce those differentiators to the market with a steady cadence of press releases, thought leadership content and published articles.
8. Inbound Marketing
The resulting press coverage from B2B PR can influence marketing and communications KPIs outside of those that are traditionally tracked for PR-specific initiatives. For example, with a PR program that aims to increase online media coverage by 75%, that increase in online exposure can simultaneously lead to increased SEO.
Compared to outbound marketing efforts that are typically published for a captive audience that has already tuned into a company's messaging, B2B PR provides opportunities to reach new audiences and generate inbound interest.
9. Establish Trust and Credibility
PR is the only proactive communications strategy that enables companies to validate their work through third parties, rather than through their own claims. This is because PR is primarily dependent on earned media recognition, which carries more weight than paid or owned media such as advertisements or internal blogs.
As prospective clients, competitors and other industry participants scan the news and see the same company's repeated exposure and accolades by the press, they'll be more inclined to trust that organization and view it as a leader in their space.
10. Enhance Employee Morale
When a company expresses their excitement about the results of B2B PR—such as having a feature story published in the CEO's dream media publication—it can lead to an increase in employees' overall sense of pride and loyalty to the organization. Employees are also often inclined to share their company's achievements publicly on LinkedIn or other networking platforms—a win-win for organizations. There's also opportunities for PR results to be seen by prospective employees and talent that would not otherwise be aware of a company or their work.
About Channel V Media
Founded in 2008, Channel V Media is an award-winning PR and communications agency.
We build market momentum for Fortune 500 and emerging companies through Communications Strategy, PR strategy, and digital marketing. We specialize in breaking clients into new markets and categories, rising to the top of crowded conversations, and reinvigorating enthusiasm for long-standing companies as they compete in new areas.
Along the way, we develop C-Suite leaders into industry visionaries, position clients to be among the most vocal in their industry, and increase their inbound leads (b2b) and new audience acquisition (b2c).
Some of our clients include Sopra Banking Software, GFT, Penn Mutual, IBM, Bluecore, Grapeshot + Oracle, Fortune & Frame, and others.