Public Relations
The Complete Guide to Publicity Stunts with Examples
Publicity stunts, also known as PR stunts, can make or break a brand. While they have the potential to garner a slew of positive press, they can also easily turn sour.
This year we've already seen our fair share of both from the overwhelming success of Adidas's 3D printed statues of sportswomen and activists to the outrage over Grubhub's New York City free lunch promo.
While the end result of publicity stunts are very…public, the work that goes into them stays behind the scenes. This results in most people, including clients, assuming all it takes to pull off a successful stunt is a big idea.
However, since PR stunts need to be both carefully calculated and perfectly executed in order to make a lasting positive impression, it's essential to guide clients along the way.
It's the PR professionals job to point out what ideas will be valuable to the brand's goals, and which will go nowhere. So if your clients want a publicity stunt, it's up to you to ask the right questions to identify their goal and create a campaign that will achieve the desired impact. This post discusses different kinds of PR stunts, how to create a successful publicity stunt, and whether they work.
In this article:
What is a PR Stunt?
A publicity stunt or PR Stunt is a planned event that marketers and public relations specialists design to attract the public's attention while garnering media coverage for a figure or brand. PR firms, performers, and public figures can professionally organize PR stunts to stand out from the rest.

From the above PR stunt definition, a publicity stunt could be something unusual that sparks interest and catches the public eye. So, it does not have to be a traditional marketing campaign.
For example, Tesla sent one of its models into space in 2018 via SpaceX to create buzz for the two Elon Musk companies. Though it was risky and costly, the PR stunt created an uproar in media coverage, social media buzz, and public opinion. Fortunately, Tesla and SpaceX pulled it off successfully, garnering a lot of positive press and positioning the car manufacturer as a leading modern and innovative carmaker worldwide.
The primary aim of publicity stunts is to raise awareness for your business. The press could be in the form of TV coverage, mentions in magazines, write-ups in newspapers, and social media. Of late, most PR stunts target the internet and social media platforms because they reach many people worldwide, especially when one goes viral, such as social media challenges like the ALS Ice Bucket Challenge.
How to Create a Successful Publicity Stunt?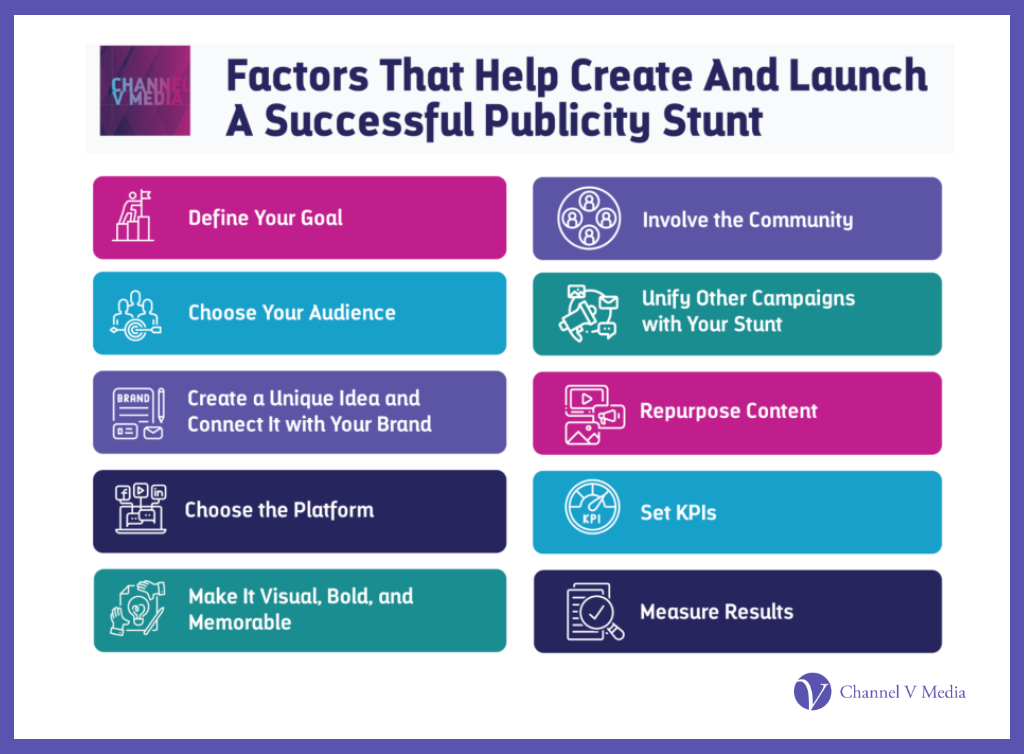 Creating a successful PR stunt is not as simple as having a fun idea and getting the press and social media to recognize, publicize, and take it viral. However, several tried-and-tested methods help your PR stunt get coverage every time.
A good PR stunt is visual, clever, reactive, and well-timed. Furthermore, anything that will photograph well or has excellent supporting video content will help promote the PR stunt's coverage. It's clever because it'll make other competitor brands and marketing professionals stop and think,
"I wish I did or thought of that."
Below are some factors that help create and launch a successful publicity stunt.
Define Your Goal
PR stunts can be relatively fast and simple to execute, but they have risks and challenges. Therefore, before launching one, it's essential to consider the goal or objective of the promo stunt. Don't only focus on the potential positives, but think about anything that could go wrong and how it could negatively affect your brand to help inform a measured viewpoint.
If your goal is to raise money for a project, it's essential to have an exact figure in mind. To generate organic traffic and direct it to your website, you also need to quantify the figure. Without a clear goal, you will not have a way to measure the success of your publicity stunt. Also, even if your PR stunt appears flawless and meets its goal, always have a mitigation plan in place.
Tell us your goals
Contact us to learn more about how we work with companies like your to turn goals into achievements.
Choose Your Audience
You also need to choose your target audience before launching your PR stunt. The stunt should be congruent with your brand and appeal to the target audience. It should also delight and spark interest in the audience without risking your reputation.
For example, if your target audience is Gen Z, you can choose to launch your promo stunt on TikTok by doing a dance challenge starting with a few top influencers in the space.
Additionally, think of the value your target audience will find or derive from the stunt. Successful campaigns consider the future in their planning, so you could aim to raise awareness for a greater good or promote action for change.
Create a Unique Idea and Connect It with Your Brand
A good promo stunt is unique, with undertones of the brand ethos in its PR stunt to make it original and authentic. You want your target audience to feel part of your brand. You leave a lasting impression when you stay highly original and connect your PR stunt ideas to your brand personality. Your stunt will always be original as long as this remains at the core of what you do.
Choose the Platform
Some of the best stunts begin with the end in mind. So by planning out your entire stunt, having an end goal in mind, and identifying the KPIs to track its performance, you can identify the best platform to promote it.
Today, the internet and social media are unbeatable options. However, never overlook traditional media. For example, you can tie a promo stunt to a specific campaign announced through a press release.
Additionally, document your PR stunts to use them as a tactic to advertise or promote a particular marketing campaign. Then, repurpose the content on social media.
Organizations with a large following on social platforms such as Instagram, Twitter, or Facebook can use them quickly and efficiently to promote their message. It works because followers already have an active interest in the organization, and they are a great way to spread your message through word-of-mouth advertising.
Make It Visual, Bold, and Memorable
Every PR stunt campaign needs supplementary video or images on social media or traditional media. It would help if you promoted the campaign to create awareness and attract interest visually. So if a journalist asks for videos or images, you can produce them.
PR stunts should also be bold because people remember the fun and unique campaigns. For example, ALS's Ice Bucket Challenge was bold enough to influence costume companies to make Halloween costumes based on the concept. In 2005, Snapple tried creating the world's largest ice cream popsicle, which failed because it kept melting. However, the bold campaign generated interest in the brand.

Finally, a good publicity stunt is memorable. Some stunts can draw a large crowd in the short term but may not be as successful as one that pulled half the size but was memorable. The aim is to generate interest in the stunt and brand, so you are better off pulling off a PR trick that target audiences will discuss years later and remember fondly. In addition, that can work as a metric to measure the stunt's success.
Involve the Community
Having a few participants in your PR stunt does not make it an automatic failure. However, it's best to involve as many people as possible to tap into the power of numbers. You want to influence as many would-be participants to join and raise the stunt's profile.
Some creators try to be exact with their target audiences. For example, some stunts only target a few donors, while others are a dud if they attract anything less than a huge crowd. People want to belong in communities, whether in person or online, which can help make your stunt viral online.
Unify Other Campaigns with Your Stunt
The most successful PR stunts are part of integrated campaigns with a clear message that you can relay to target audiences and customers succinctly via all your media channels, from in-store to social and online.
Many companies rarely do a one-off stunt separate from broader campaigns because consumers find it confusing if they don't see consistency in their marketing and PR strategies across different touchpoints. Therefore, try and tie your PR stunts into more extensive, long-term brand campaigns or messaging. Successful stunts tied into long-term brand strategies can spike that messaging and take it to a higher level.
Repurpose Content
Repurposing content refers to reusing elements or all of the existing marketing content to expand its reach. Typically, you repurpose content by transforming it into a new format, such as turning a popular blog post into an infographic. Repurposing content is beneficial when promoting tech PR.
Set KPIs
Set key performance indicators (KPIs) to help you measure the effectiveness and success of your publicity stunt. When coming up with your stunt idea, please think of the KPIs you could use to track its performance. Even stunts are measurable if you wish to track their effectiveness. So setting KPIs helps launch successful stunts and put meaning into ideas you pulled out of thin air.
Measure Results
Finally, you need to measure the effectiveness and impact of your PR stunt using one or more of the following ways: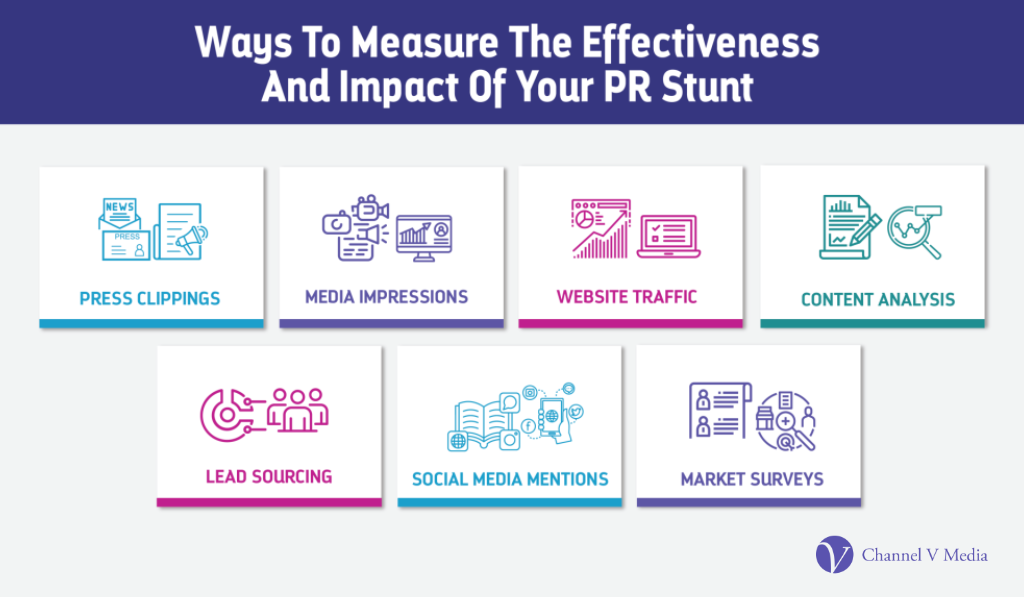 Examples of Great Publicity Stunts
Below are some publicity stunt examples that worked well in the past:
In 2014, ALS held an Ice Bucket Challenge that saw people pour a bucket of ice water on themselves or others to promote awareness of ALS (amyotrophic lateral sclerosis) and raise money for its research. The stunt helped the ALS Association raise over $100 million for research due to celebrities' participation, including then-president Barrack Obama.
Tinder's 2014 Adopt a Dog Campaign
In 2014, dating site Tinder launched a national "Swipe Right to Adopt a Dog" campaign during the National Adopt a Shelter Pet Day. The stunt aimed at connecting ten dogs available for adoption with homes. It generated over 2,700 matches in one week and set the dating company apart from its competitors.
Elon Musk's SpaceX Tesla Launch
In 2018, Elon Musk launched a Tesla Roadster into space on board a SpaceX rocket called the Falcon Heavy. The publicity stunt got over 18 million views on YouTube and helped promote both companies.
Do PR Stunts Work?
Publicity stunts usually have three possible outcomes:
A positive brand lift: Promotes your brand and reaches many people, making it a successful outcome. After launching, all companies who engage in PR stunts aim for this outcome because it promotes the brand and creates awareness.
A negative or mixed brand lift: Here, the stunt may have backfired, causing the brand negative publicity and criticism.
No brand lift: Underwhelming outcome is the most harmful to brand equity.
Publicity stunts can work but under certain conditions. First, you should ensure they are unique, garner attention, and are brand and value consistent. Unfortunately, many stunts fail because the creators engineer them for the shock value alone without thinking about how they fit onto the brand narrative.
Successful PR stunts have the following characteristics:
They are uniquely yours and fit into your broader brand narrative
They are value aligned to your core values
They are shareable and can explain the stunt in 140 characters or less
They are positively perceived and generate goodwill and interest in your brand
Brand aligned and work with what you stand for and value, allowing the audience to connect to your brand
Are you ready for a PR Stunt?
The best advertising stunts work under the right conditions. They have a unique idea, excellent planning, a defined goal, and are memorable. They also involve the community, unify other campaigns, repurpose content, set KPIs, and measure results.
Are you ready to tackle your next publicity stunt? At Channel V Media, we partner with companies and help advance their business goals by creating heightened public awareness and strategic positioning in crowded and emerging markets. We are also an award-winning PR and communications agency in New York City with over 12 years of experience. Contact us today.
PR Stunts FAQs
How do I plan a PR stunt?
Have the right idea and content strategy, align it with your brand, tap into a core emotion, and tie it into other campaigns. You also need to have a defined goal, set KPIs, and a way to measure the results.
How do you spot a PR stunt?
A PR stunt is anything you do to get attention, enhance your brand's reputation, and influence how people think. But, of course, it's also original, interesting, or strange, so it's not business as usual.
How do PR stunts work?
PR stunts work by capturing the target audience's attention to something unique, original, interesting, or strange that is brand and value consistent.
Why do celebrities do PR stunts?
Celebrities do publicity stunts to capture attention, promote their current projects, stay relevant, or just for attention. Some stars believe all publicity (positive or negative) is good publicity.
About Channel V Media
Welcome to Channel V Media (CVM). We're an award-winning PR and communications agency, founded in 2008.
We build market momentum for Fortune 500 and emerging companies, advising and executing on Communications Strategy, PR strategy, and digital marketing. We specialize in breaking clients into new markets and categories, rising to the top of crowded conversations, and reinvigorating enthusiasm for long-standing companies as they compete in new areas.
CVM builds awareness for companies and their products, develops C-suite leaders into industry visionaries, positions clients to be among the most vocal in high-value conversations, and drives inbound leads.
Some of our clients include Sopra Banking Software, GFT, Penn Mutual, IBM, Bluecore, Grapeshot + Oracle, Fortune & Frame, and others.