Marketing Tips & Tricks
Take Advantage of Social Media: A Power Move for PR
What is the Role of Social Media in PR?
Social media can be used in a company's PR strategy to reach target audiences and tap into undiscovered ones. Since the emergence of social media, individuals and businesses have been trying to determine how to take advantage of social platforms in their strategic PR initiatives.
As social media rises in popularity, users have been using the platforms not only to share photos with friends or their opinions on the newest celebrity couple, but also to consume and engage with news. With this engagement, the combination of PR and social media can be used to double the reach of a company's news as well as instill and maintain trust in their business.
How to Establish a Strong Social Media Presence?
To establish a strong social media presence, you have to invest time into deciding what message your company wants to present to their audiences and then build a content strategy that will successfully portray this. Your posts should all have purpose behind them and address some facet of the decided strategy. With this thought-out social media presence, your followers as well as any user that comes across your account will have an inside look at what your company stands for, allowing you to create an understanding and relationship with them. To get to this point however there are a few steps to follow.
Step 1: Identify Your Target Audience and Platforms
Just as you would for any traditional PR strategy, one of the first essential steps for social media strategy is identifying your target audience. This should encompass peers, thought leaders in your industry, journalists, and most importantly those who are most likely to purchase your products or services. Understanding that specific category's niche demographics and buying behaviors will allow you to pin-point what strategies you should use to reach them on different social platforms.
LinkedIn — If you're interested in connecting with companies and executives in a specific industry, LinkedIn can be a great way to gain insights and share relevant information. By sharing opinions on trending topics, company news, and more, leaders from your company can start conversations and establish relationships with other leaders in your industry, as well as with prospective clients, investors, and key stakeholders.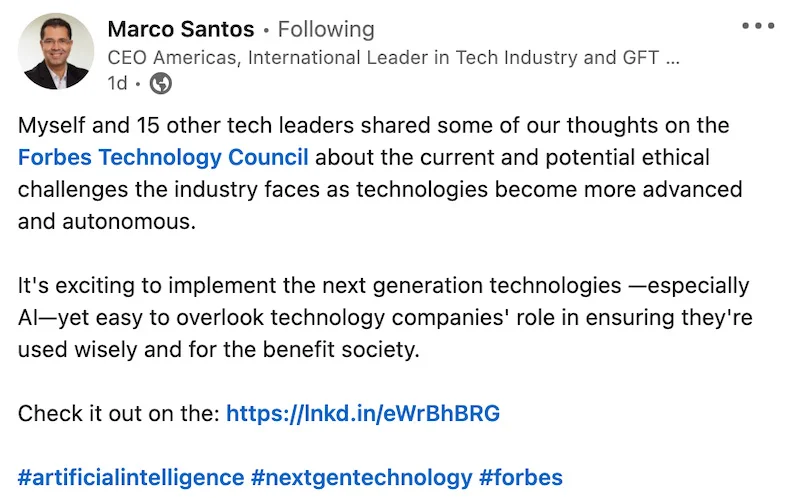 Twitter — When sharing content on Twitter, companies need to get straight to the point. Because of the limited character account, messages should be direct and succinct. To reach users outside of your follower base, companies can utilize hashtags. Twitter is also a popular platform amongst journalists, as they use it to not only share stories, but also to look for sources. Make sure your company is following relevant journalists on Twitter and taking the time to look at what content they are posting and reposting.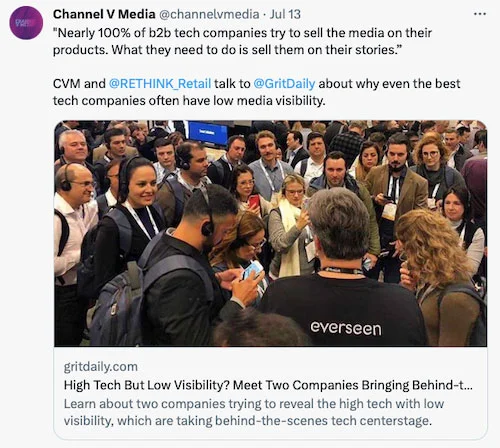 Instagram — While LinkedIn and Twitter rely heavily on the written word to get a message across, Instagram is known for its visuals. For a successful Instagram account, a company should establish a brand image and maintain this throughout all posts whether they be thought leadership quotes, new hire announcements, or revenue gains. In addition to posting on the feed, companies can also utilize stories and reels for an in real-time look at what's happening within your organization whether that be a networking event or a team happy hour.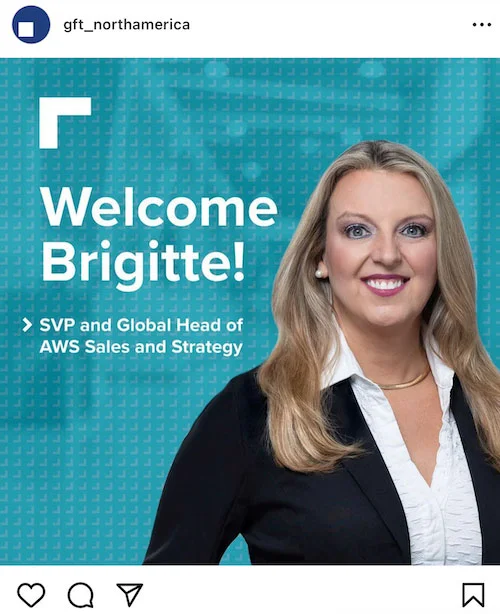 Facebook — If your company likes to be very conversational, Facebook can be used to share more in-depth information. Creating a business page will connect your company with an audience that is interested in going more in depth into your products and services — all of which helps increase website traffic and generate leads.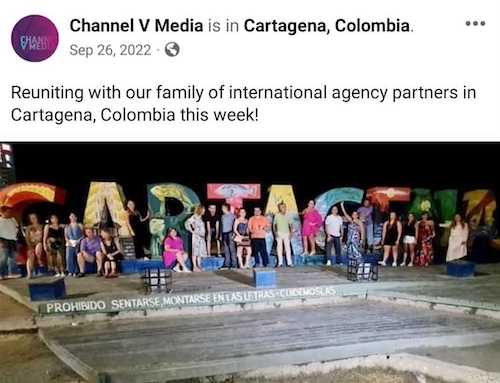 Step 2: Create a Consistent Brand Voice and Message
As mentioned above, in every aspect of PR you need to maintain a consistent brand voice and tone across all platforms. The same holds true for social media. Even though your captions on Twitter won't be as formal as they would be on LinkedIn, they should encompass the same message. Ensure that the words and phrases used in your social media captions, infographics, and comments align with the mission and established brand of your company.
When it comes to branding, it's all about the details. Make sure your content flows across all platforms in terms of colors, logos, and fonts. If you're posting an infographic of a quote, include a small graphic of your company's logo in the corner to remind the viewer that the quote is from a leader at your company. Another detail that contributes to branding is by matching your Instagram highlight covers with your brand colors.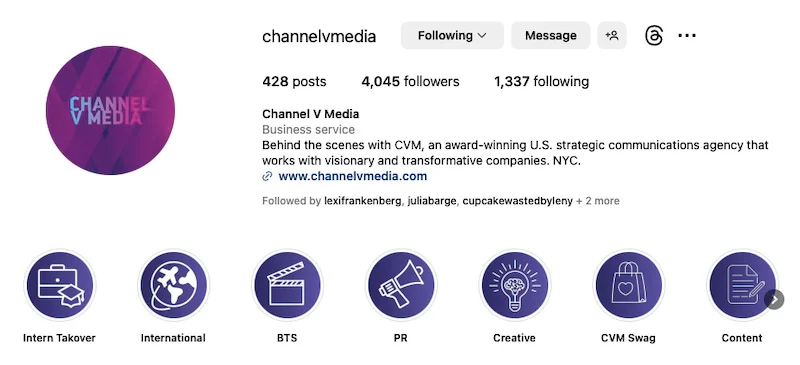 Step 3: Optimize Profile and Bios
Companies and industry leaders should optimize their profile and personal bio features to give viewers a simple and clear understanding of who they are. This can be done in multiple ways from highlighting milestones to dropping your company's slogan. You can also go the opposite route and instead of being transparent, stay intentionally vague so that viewers have to click on other parts of your profile.

Step 4: Develop a Content Strategy
When developing a content strategy, you should first reference what is on the radar for your company so that you include upcoming events, product launches, new partnerships or industry-related news into your social media profile. From there you can fill in the gaps – while staying on brand and true to your company. Your content strategy should provide value for your audience and reinforce your company goals.
Think about where you want your social media presence to be in six months. Utilize social media management platforms so that you not only have a posting plan but you are also sticking to it.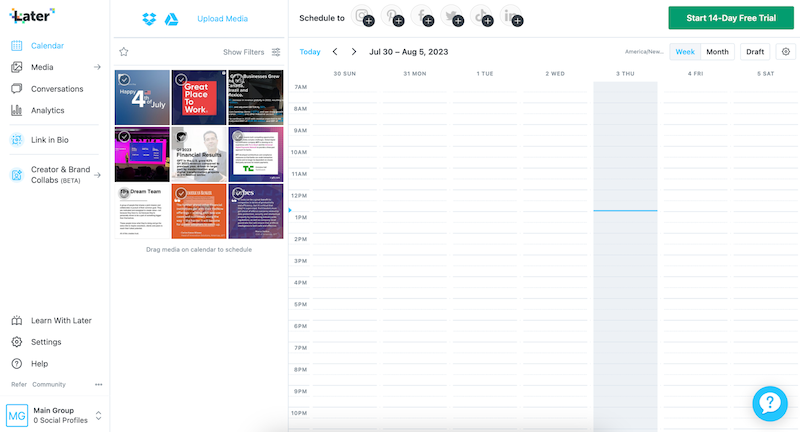 Leveraging Social Media for PR Campaigns
To create a successful PR campaign, social media can be a tactic to promote awareness and get people talking about your company. Through different steps of the campaign, social media can be used to either promote the effort itself or promote articles, podcasts, and videos where it's being discussed. Either way this will drive further engagement, making the campaign even more successful.
Creating Engaging and Shareable Content
In order to entice followers to share your company's content you need to make it both mentally stimulating and aesthetically appealing. Social media thrives on people's stories — tell compelling ones in a visual manner to align your company with a positive narrative. You want your content to be relatable, authentic, and educational to give followers as much benefit as possible.
Utilizing Multimedia (Images, Videos, Infographics)
The average American consumer's screen time is around 7 hours. Needless to say, they go through a LOT of content. One of the best ways to stop their scrolling and snag their attention is by incorporating visually appealing multimedia into your social media content. Especially with the rise of reels and TikTok, videos are a great way to get more eyes on your company.
Harnessing the Power of Hashtags and Trends
To extend your reach past your typical audiences, companies can use hashtags so that posts are put in front of anyone searching for those specific terms. For example, if you are posting about a trend in the banking industry, using #banking in the caption will increase the post's viewers.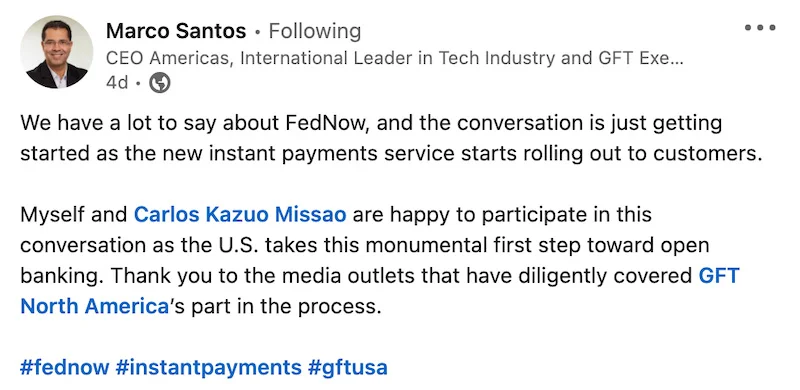 Encouraging User-Generated Content and Participation
User-generated content (UGC) is original content that encompasses everything from images, videos, audio and testimonials, created by customers of a product or service. This feedback gives your company validation from an external source and – used strategically- can incentivize others to become users.
How to Build Relationships and Engage with Your Audience
Social media is a great way to grow and nurture relationships with your audiences. You should like or reply to comments on your posts, engage in conversations with people about trending industry topics, and provide content that will both continue important conversations as well as promote your products and services.
Monitor and Respond to Comments and Messages
Always monitor the comments section on your posts and your direct messages inbox. Whether positive or negative it's imperative to reply to people in a timely manner. For those who are leaving positive feedback, replying quickly keeps you in their good graces and shows that you care about their input. Negative comments are just as important to address quickly to ensure that they don't spiral. If dealing with an influx of negative comments or posts about your company, you have to ensure that while your response is fast it is also thought out and conveys a message of stability and credibility. Respond thoughtfully to negative feedback and, when in doubt, hold your company responsible for its mistakes.
Establishing Execs as Thought Leaders Through Thought-Provoking Content
While you are using traditional PR to establish company executives as leaders in their industry through appearances on podcasts, informational interviews with reporters, and bylined articles, social media can be used to amplify those tactics. Pull quotes from podcasts and articles they are featured in and post them in a social media graphic. You can also share executive's bylined articles on the company's social channels as well as have them share it with their own network.
Collaborate with Other Influencers
One way you can maximize your company's presence is by partnering with influencers. Whichever influencer you partner with should share your company's beliefs and put forward content that aligns with your target audience. They should also be passionate about your company's products and services, that way all content is authentic.
How to Measure and Analyze the Impact of Social Media
Measuring the effectiveness of your social media posts is not just about looking at the likes, shares, comments or views. You have to analyze the data so that you can come up with ways to improve your strategy as a whole. Develop meaningful benchmarks that are attainable and that will help you grow your business.
Identify Your Goals
The ROI for social media as a PR tool doesn't appear right away. It's a marathon, not a sprint. As a company, you should focus on prioritizing lifetime value and customer retention. Define what it is that you want to achieve with your social media platforms. Is it that you want to improve brand awareness? Or that you want to generate leads? Knowing your end goal allows you to set attainable benchmarks.
Use Analytics Tools to Track Performance
Analytics tools can be helpful when you want to track your social media performance. Depending on what your company goals are, you can analyze metrics such as engagement and reach to get a better understanding of how well your posts are doing.
Instagram: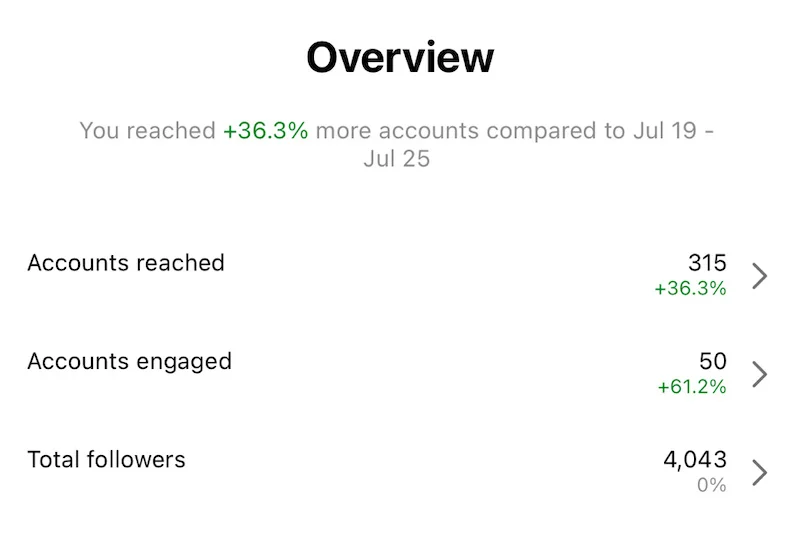 Analyze and Interpret the Data
You have to do more than monitor your social media analytics. You need to use those analytics to draw conclusions and evaluate why your numbers are where they are and – if need be – how to improve them.
Adjusting Your Plans and Approach Based on Insights Gained
Once insights have been drawn from the data, companies can use them to make adjustments to their social media strategy. You'll be able to determine which tactics are working and which to switch up. Be proactive when approaching how to move forward after analyzing metrics because it will help your social media performance in the long run. Praise on social media will only last moments, so your business needs to come up with ways to make engagement last.
Additional Tips for Using Social Media in PR
Using social media as part of your PR strategy can ensure that your company is extremely visible to your target audiences. Prospective customers, industry peers, competition and more all establish impressions of companies based on their social media presence. This can be the difference between landing a prospect or losing out to a competitor. Make sure your social media is professional, has clear messaging, and is geared towards your target audience.
Monitor Industry Changes and Platform Updates
You can monitor trending industry changes by researching key terms in the search bars of any social media platform. You can also follow industry competitors to stay informed on their next moves. As for platform updates, following news platforms and communities dedicated to keeping platform users updated is a great source for being knowledgeable about the social media you're using.
Incorporate Emerging Features into Content Strategies
As social media continues to rise in popularity, there will continue to be more features introduced and different ways to use the platforms. While this could seem daunting, it poses an opportunity for companies. When new features emerge make sure to incorporate them into your content strategy. For example, now that live videos are on the rise it could be beneficial to do a live Q&A with the CEO of your company.
Explore New Social Media Platforms
Finding the right social media platform for your business can take time to figure out. Don't be fearful of expanding into new platforms — your current and future customers are already on the platform, you just have to use the right strategy to get in front of them. If you're already on one social media platform, then you can cross promote your content onto other sites.
FAQ for Social Media in PR:
How can using social media benefit my business?
It's no longer an option to not have a social media presence. Your business should have a presence on every platform that connects you to your target audience. Social media gives your company the ability to voice and spread its message whether that be through product launches, company growth announcements or industry trend commentary. Your social media presence reflects what you're building offline, so make sure to maintain a consistent post cadence to hold your audience's attention.

How do you handle a social media crisis?
You should have a ready-to-go execution plan detailing how to confront negative social media engagement. Identify the cause of the crisis and establish next steps from there based on the route problem. Always make sure to monitor your company's mentions so you can be proactive when faced with a problem instead of letting it spiral.

How can I measure the success of social media efforts?
Depending what your goals are for your social media strategy, you can compare the success of your efforts by looking at your profile's engagement, follower growth, awareness, reach, leads, conversions, and website traffic. You can also look at how specific posts are performing by monitoring likes, comments, and shares.

How can I effectively engage with my audience on social media?
To hold your audience's attention on social media, be sure you are posting stimulating content that simultaneously is visually appealing and informative. This can include anything from graphics, videos, influencer content, industry trend commentary, and more. Using hashtags in captions is also an effective way to ensure you are putting yourself in front of the right audiences.