Public Relations
9 Advantages of PR
Public relations is one of the key aspects of any business, yet if you asked executives how PR directly translates to business growth, most wouldn't have an answer. In fact, many would most likely not even be able to describe what PR is.
Although public relations can make or break a company's success it is chronically misunderstood.
In this article, we will discuss why public relations is integral to a company's success and the many advantages having a high functioning PR team will bring, including:
Below we outline each of these advantages and explain them in more detail…
What is Public Relations?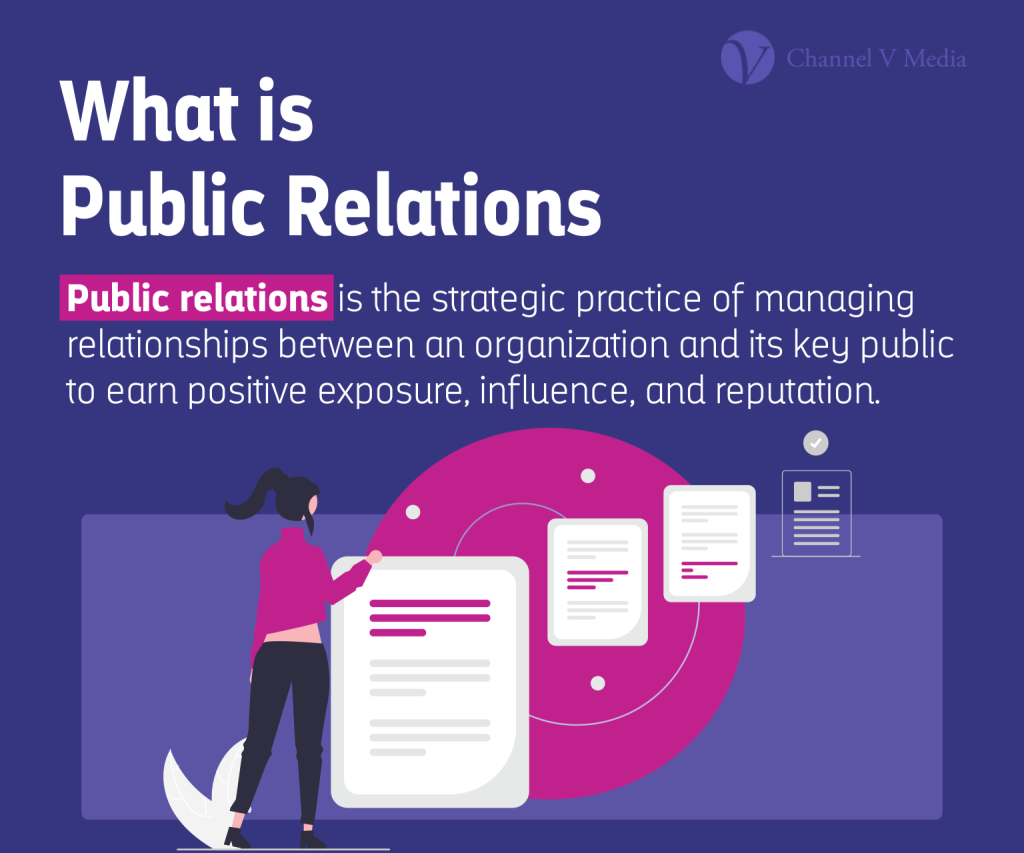 Public relations is the strategic practice of managing relationships between an organization and its key public to earn positive exposure, influence, and reputation. The field of public relations is constantly evolving, but at its core PR is about building and maintaining strong relationships. This can be done through media relations, thought leadership, brand building, and crisis management. While traditional methods like print and broadcast media are still important, digital channels such as social media and online news have become crucial for reaching key audiences. As a result, successful PR practitioners need to be proficient in both traditional and digital communication strategies.
1. Increasing Brand Recognition
It is more important than ever for businesses to stand out from the competition in today's crowded marketplace. Public relations helps them achieve this. Utilizing PR strategies can help businesses raise awareness of their brand and increase name recognition. This can be accomplished in multiple ways, whether through articles published in traditional magazines and digital media outlets or by awareness campaigns built through social media. Another way businesses can garner interest is by distributing press releases, once put across an accredited release wire, the news is sent to a wide range of media outlets. By getting the company's news in front of a large number of people, recognition will increase, which can lead to more customers and increased sales.
Of course, public relations is not a magic bullet; it takes consistency and relationship-building to see long-term results. But if the effort is applied, public relations can be a powerful tool for increasing brand recognition and driving business growth.
2. Connecting with Your Target Audience
The goal of any marketing strategy is to help a business spread awareness and increase sales. However, this can only happen if a company is able to connect to its target audience. Public relations is one of the best ways to build these connections. Carefully placed content or media materials can help companies reach their intended audiences. For example, if a retail-tech company is trying to attract new business, the perfect way to go about this would be to place a story about the success of one of their current clients in a retail outlet that is read by retail executives.
It is the PR team's job to know how to frame a story and where the best place for it is, in order to best connect with the audience a company wants to attract.
3. Building a Brand Image
A strong brand image is essential for any business that wants to compete in today's marketplace. Branding can be a complex and costly process, but public relations can be an effective tool for building a positive brand image, especially on a smaller budget. Digital marketing is typically less expensive than more traditional marketing. Brands use social media as a tool to build their brand image. They can also use their own website for content with blogs or articles, press releases, interviews, and more.
Creating a positive brand image through multiple channels can help businesses shape how they are perceived by the public, influencers, and other companies.
4. Maintaining Brand Reputation
Businesses rely on their reputation to maintain a loyal customer base and attract new business. As discussed, public relations can help businesses to protect and enhance their reputation, but it can also help maintain that reputation over time or recover quickly in the face of adversity. PR professionals can help businesses proactively manage their reputation and respond quickly to any negative publicity through strategic communications.
While many turn to PR firms and marketing after bad press or a crisis, it's advisable to use PR before the negative issues occur. This can help you build a plan and recover more quickly. By investing in PR, businesses can build a strong foundation for a positive brand image that will stand the test of time. And, by maintaining a positive brand reputation, businesses can create a competitive advantage, staying ahead of anything that comes their way.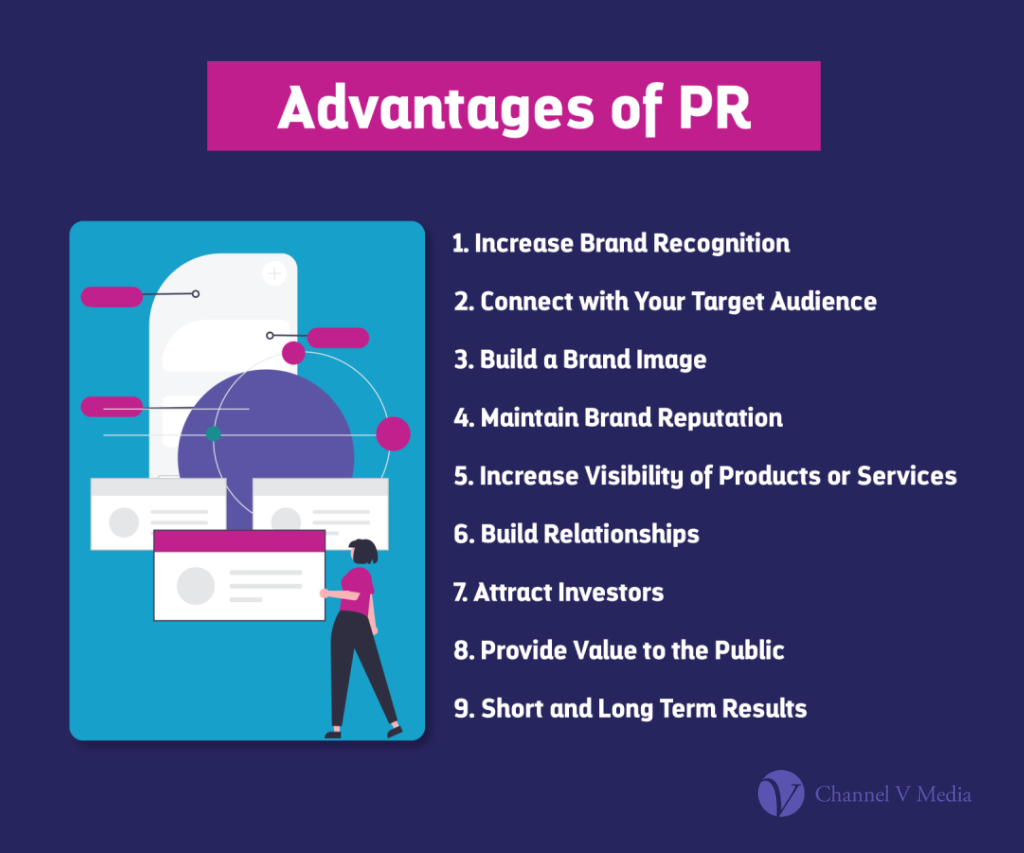 5. Increasing Visibility of Your Products or Services
When used effectively, PR can help businesses increase visibility for their products or services. In the past there were only a few outlets available; radio, print, and television. But because of the overwhelming take over of digital, opportunities are endless, with publications that were once solely print now having websites, the introduction of video hosting platforms, podcasts, social media and more. There is no limit to where businesses can promote information about their business.
And while specific outlets may only reach a certain audience, with the rise of social media, businesses can now share articles with their own network, and from there the article can be shared even further, ensuring that a company's message reaches far and wide.
6. Building Relationships
In the world of business, reputation can mean everything. A strong reputation will keep you in business, while a poor one can end it. That's why more and more companies are turning to public relations to help them build and maintain positive relationships with key stakeholders such as customers, employees, and investors, as well as with strategic partners, members of the media, and industry leaders. Properly engaging with each of these is essential to a business's overall health and growth. Through PR, businesses can control the narrative around their brand and shape public perception. Public relations ensures businesses are always top-of-mind.
7. Attracting Investors
At some point in any business owner's career, they are faced with the task of attracting investors. While there are many approaches to take, public relations is often an effective way to gain the attention of potential investors. A well-executed PR campaign can help to raise awareness of your business and generate interest in your products or services. In addition, a strong PR strategy can help to build trust and confidence in your brand. This is essential when it comes time to ask potential investors for their support. By investing in a well-crafted PR campaign, you can give your business the best chance of success when it comes time to attract investors.
8. Providing Value to the Public
A healthy business is a valuable asset to the public. It provides jobs, solutions to problems, and helps the overall economy. Public relations can help a business relay this value. But, it can also help businesses discover even more value to provide. Through relationships, PR can help a business learn from its community and build programs, movements, or charitable opportunities that didn't exist before.
This mutual benefit between a business and its community can be invaluable and further strengthen both.
9. Short and Long Term Results
A strong PR campaign can provide both short-term and long-term results. In the short term, PR can help to generate media attention, build brand awareness, and create a positive reputation. These results can lead to increased sales, higher levels of customer satisfaction, and improved employee morale. In the long term, PR can help to establish a company as an industry leader, build relationships with key stakeholders, and create a loyal customer base. By taking a strategic approach to public relations, companies can enjoy many benefits quickly while also investing in their future.
Conclusion
There are clear advantages that PR brings to businesses. But in order to take advantage of the advantages of PR you first have to focus on strategy.
Developing a solid PR strategy requires different tactics and ideas depending on your type of business and your goals.
PR FAQ: How to Run a Successful PR Strategy?
If you want to run a successful PR strategy, you need to keep a few key things in mind. First and foremost, you need to understand your goals and objectives clearly.
Ask yourself, What are you hoping to achieve with your PR campaign? 
Once you understand your goals, you need to develop a clear and concise message to communicate to your audience. Make sure that your message is on-brand and relevant to your target audience. 
Next, you need to identify the channels you will use to reach your target audience and then a plan for executing your campaign.
Finally, once your campaign is up and running, make sure you are monitoring the results to make necessary adjustments along the way. 
By following these steps, you can ensure that your PR strategy is on track for success.
Check out 10 Tips for Running an Effective Public Relations Strategy.
About Channel V Media
Welcome to Channel V Media. We're an award-winning PR and communications agency, founded in 2008.
We build market momentum for Fortune 500 and emerging companies through Communications Strategy, PR strategy, and digital marketing. We specialize in breaking clients into new markets and categories, rising to the top of crowded conversations, and reinvigorating enthusiasm for long-standing companies as they compete in new areas.
Along the way, we develop C-Suite leaders into industry visionaries, position clients to be among the most vocal in their industry, and increase their inbound leads (b2b) and new audience acquisition (b2c).
Some of our clients include Sopra Banking Software, GFT, Penn Mutual, IBM, Bluecore, Grapeshot + Oracle, Fortune & Frame, and others.