Public Relations
What is PR?
What is Public Relations (PR)?
Public relations, or PR, is a marketing practice that revolves around telling companies', brands' and people's stories, often through the lens of their news, through the media.
Rather than paying to be featured in the media, the role of Public Relations is to drive awareness of companies or individuals by getting third-party media outlets to feature them in editorial content. This is why Public Relations is often referred to as "earned media". Due to the varying definitions and specialties within the Public Relations field, there are many questions people still ask about PR:
Why do Companies Need PR?
To Build and Manage Relationships
PR enables companies to build and manage relationships with current audiences, and the audiences they want to reach. A press release announcing a company's new product, for example, can be a tool for upselling current customers.
Getting covered by the media as a result of PR also enables companies to build relationships with audiences that they wouldn't reach otherwise by speaking to them through the media publications they read and the topics that are important to them.
For example, when we started working with our client Bluecore, the company hadn't been able to get in front of prospects at the VP level or higher through their outbound sales, which tend to fall below this audience's paygrade. With consistent media coverage, though, Bluecore heard directly from VP and C-suite executives that they had read about the company in the news. This ultimately brought in over 300 leads directly attributed to PR.
Reputation Management
One key benefit of PR is that it improves a company's reputation online and offline.
With a consistent cadence of positive press coverage, PR can directly influence the public's perception of a company or individual. This is due in part to the mere exposure effect, which is the human tendency to develop preferences for things simply because we are familiar with them. Media coverage can breed this familiarity.
PR is also a way to reactively repair any reputational damages that may be affecting a companies' credibility in the eyes of the public or a specific audience. This often happens in response to crises, which we dive into more below.
Branding and Image Development
Much like marketing and advertising, PR is an integral part of brand development. With our client Meatless Farm, for example, the company was a household name in the UK, but largely unknown by U.S. media. We leveraged the company's debut across every Whole Foods storefront nationwide to Meatless Farm's brand known, both to U.S. consumers and other grocery retailers and restaurants who might carry its products in the future.
Crisis Communication
When a crisis ensues, PR is an effective tactic for reacting quickly and impactfully. A strategic crisis communication plan will often take a transparent approach to creating a central message that addresses the crisis and accepts any responsibility. Then, a PR agency can advise on appointing a team of spokespeople to speak on the crisis, training them on the most important messages to communicate, and monitoring and responding (when necessary) to any resulting media coverage.
Main Objectives of PR
Create Awareness
No matter how recognizable a company may be to its inner network, they can still have little to no awareness in the larger public. PR is a way to build this awareness—with or without news.
For example, to drive awareness of our client Infragistics as a company, as well as of their niche tool set, we determined narratives that would make their products accessible to the media and position them as leaders in the software industry. Within one month, the company had over 18 press hits and was aligned with Microsoft in top trade outlets, which immediately led to inbound demand.
Enhance credibility and trust
Because PR requires getting the attention of a media outlet and getting past its 'gatekeepers', or journalists, editors and publishers, it comes with the advantage of third-party credibility. A positive piece of media coverage from a reporter or content producer is essentially a third-party endorsement. Simply put, it is someone else saying something positive about a company, rather than the company saying something positive about itself.
Generate Positive Media Coverage
The goal of every PR program should be to proactively showcase a company's positive results and the impact it has on its customers and other stakeholders. When this is clearly communicated in press releases, media pitches and other communications efforts, it naturally results in positive media coverage.
While most companies' goal is to do the right thing, however, they can still find themselves being portrayed in the media in a negative light. When this happens, it's PR's job to reactively educate reporters and the public about companies' positive efforts to correct any situations that have—unintentionally or intentionally—been interpreted negatively.
Influence Public Opinion and Perception
PR directly influences the behaviors that your company needs from the market. Rather than taking an advertising approach to pushing out your company's name and messaging first and foremost, PR focuses on illustrating an overarching need—often a gap in the current landscape—that target audiences can relate to. Then, it uncovers how a company, product or service fills that gap.
Key Components of PR
Media Relations
Media relations is how a company goes from having news to being in the news.
A third-party media outlet like the New York Times has many different gatekeepers, including editors, reporters, a publisher, and a sales team. They decide which content the outlet will feature across its print, digital, and video channels.
PR works directly with these stakeholders to communicate a company's news in a way that is compelling to the gatekeepers, and leads them to share it with their readers. PR teams also work directly with journalists and editors to coordinate media interviews as a result of the news or story they are sharing.
Internal Communication
Internal communication is a key component of PR that deals directly with a company's executives, employees, investors or other stakeholders. Often, media coverage that is secured through PR has the added benefit of communicating news or important milestones to these groups in a way that an email blast or other large-scale announcement cannot. Increased morale and loyalty to the company tends to follow.
Social Media Management
PR is a communications channel that is normally part of a larger marketing campaign. By integrating PR into their social media strategy, companies can amplify the results of social media, PR and the overall effectiveness and consistency of their larger marketing initiatives.
Social media can bring more exposure to earned media placements, bylined articles, executive commentary and press releases by distributing it across channels like LinkedIn, X, Threads and Facebook.
PR can also bring attention in the media to companies' social media initiatives. With our client Shapermint, for example, we pulled content directly from their social media campaigns to amplify in the press and secured coverage in over 50 top tier marketing and business publications including Adweek, Adage, Glossy and The New York Times.
The external messaging framework that is created by PR teams can also be leveraged in social media copy to build additional awareness to a company's offerings.
Event Planning and Coordination
PR is essential to both executing and bringing awareness to public-facing events. A well-connected PR team will be able to identify potential event attendees, create and distribute invitations, and ensure that the event runs smoothly day-of.
We drove attendance to our client Sopra Banking Software's annual financial technology Summit by creating and distributing press releases in the months leading up to the event. This resulted in the event being featured in various 'Top Events' lists in the media before it even took place. We additionally communicated directly with journalists to secure their attendance at the event, and then liaised with them during and after as they crafted stories featuring key takeaways from the Summit.
PR Strategies and Tactics
Crafting Effective Press Releases
Press releases are a tool for communicating news to the media. But they shouldn't stop there. Effective press releases are an opportunity to communicate your company's relevance to the market.
To do this, PR should align a company's news with what's happening in the larger market, rather than use the press release as a platform for self promotion. It also provides journalists with a bigger story that clearly communicates the impact on readers, making it easier for them to lift critical messages directly from the press release into their articles. Find more tips for crafting effective press releases in our blog post.
Organizing Media Events and Press Conferences
In-person media events and press conferences are a valuable tactic for fostering relationships between clients and journalists. PR teams should take the reins on determining when a media event or press conference is appropriate, coordinating attendees, and managing the event when it takes place. Having a PR agency handle these events also ensures that your executives will be prepped with logistics and talking points beforehand, so that your company's most important messages are conveyed.
Developing Strategic Partnerships
Weaving important partnerships into your PR strategy, especially when your company is benefiting from frequent, impactful press coverage, is a mutually-beneficial way to extend the life of corporate partnerships. More often than not, we've found that our clients' partners jump at the chance for joint interviews, and the opportunity to boost their own brand recognition. Including partners in PR efforts is also a tangible way to show appreciation for the relationship, while communicating your shared vision to the market.
Implementing Influencer Marketing
PR can amplify stories that are already being pushed out to the media by treating influencer marketing as an extension of media relations. For example, PR teams can help identify relevant, meaningful influencer contacts within a company's industry, and then provide a strategy outlining how to reach them. While influencer marketing often falls under paid media rather than earned, PR can ensure that influencer marketing reaches the right audiences, and provides them with the right messages.
Engaging in Social Media Campaigns
Creating social media campaigns that support PR strategies often results in higher visibility and engagement. One of the easiest ways to do this is by promoting press releases, media coverage and thought leadership content across all of a companies' social channels. While PR campaigns puts a heavy emphasis on getting in front of expanded audiences and prospects, engaging in social media campaigns often provides a direct channel for reaching existing audiences and current customers.
Measuring and Evaluating the Success of PR
Identifying Key Performance Indicators (KPIs)
Measuring the success of PR through key performance indicators (KPIs) combines quantitative metrics, such as the number of mentions in the media and the amount of unique impressions, with qualitative analysis of the media coverage, including tone, sentiment, key messages communicated, and how well it builds a brand's reputation. Identifying which KPIs to focus on can vary between companies, and depends on their high-level goals. For example, while some companies may be primarily concerned with increasing general exposure of their brand with sheer quantity of media mentions, others are more focused on getting highly-specific messages into the market.
Monitoring Media Coverage and Sentiment
Evaluating media coverage depends on two things: quantity and quality. Quantity is much easier to measure, as it revolves around quantifiable mentions and impressions. Mentions, or press clippings, are the number of times a company or a new product is referenced in the media, providing insights into its visibility and reach. Impressions encapsulate the potential audience exposed to these mentions, taking into account the size of the viewership of the media outlets.
Assessing the quality of media coverage is equally important to understanding the impact of PR efforts. This can be done by analyzing what the media is saying about the company, and their sentiment (positive, negative or neutral) towards the company.
Combining these two metrics to measure the success of PR is a good indicator of the extent of media attention a company receives, and how it shapes awareness and adoption.
Conducting Surveys and Focus Groups
Surveys can be useful for gathering insights directly from target audiences, enabling them to assess sentiment, reputation, and awareness. This same feedback can be gathered from focus groups, or through channels such as social media and online reviews. Feedback from real users provides valuable insights into how PR initiatives are influencing market perceptions and behaviors, and helps the company identify where to adjust when needed.
Analyzing Website and Social Media Metrics
When done right, PR can lead to a direct—and noticeable—spike in website traffic. KPIs to look for and track include organic traffic to the website, total number of visits, unique page visits, and increase in referral traffic. Just ask our client Breezometer, who saw a 196% increase in website traffic in only the first month of working with Channel V Media.
The same can be said for PR's impact on social media metrics. Additional exposure to a brand through its media coverage can lead to an increase in critical social media KPIs including the company's number of followers, likes, shares and comments.
How is PR Changing?
Integration of Technology and AI
As recently as 15 years ago when we founded Channel V Media, PR was largely dependent on direct phone calls to journalists to share relevant news and stories. The rise of email as a primary business communication channel—and now things like video calls, text messaging platforms and social media—has changed this dynamic drastically, making it more important than ever for PR teams to make sure that their clients stand out in a reporter's (often flooded) inbox.
Even more recent advancements in technology and AI have also made it so that PR professionals have more informed access to the journalists that are most relevant to their clients. Various platforms now exist for sourcing media contacts and studying their interests and expertise—which can be especially beneficial when companies need to reach new markets or geographic regions.
Personalization and Targeted Messaging
Broader access to journalists and more ways to get in contact with them through technology also means that personalized, targeted messaging is crucial to any PR strategy or campaign. This is how PR teams ensure that they're a valuable resource to journalists, rather than spamming them with press releases and email pitches that have no relevancy to them. While technological advancements in PR offer many benefits, it's still—and will continue to be—a practice that is rooted in human communication. Personalization and targeted messaging go hand-in-hand with this.
Rise of Influencer Relations
Influencers on social media and other digital channels are quickly becoming a resource that the public looks to for opinions and recommendations as much as they do the media. While this has made influencer relations into a close cousin of public relations, PR still produces outcomes that influencer relations cannot.
For example, many influencers require payment in exchange for positive product reviews or other favorable content for a company or brand. Even though most influencers will only promote a brand that they feel aligns with their personal brand, the paid nature of the content dilutes the validity of the review. PR, on the other hand, will always prioritize earned content, which can be harder to obtain, but often holds more value and credibility than paid content.
Importance of Data-Driven Insights
Journalists and media outlets often include third-party, data-driven insights in their content for additional support and validation of the news they're reporting on. For PR, this means that any messages or stories that are being communicated should also be backed by data-driven insights in order to entice the media to cover them.
PR teams can guide companies through sourcing these insights in two ways. First, staying abreast of any industry or analyst reports that can provide context around a company's key messages. A few examples of analyst content to follow include Gartner, Forrester, McKinsey and CB Insights. Second, a PR agency can advise—and even execute—on companies creating their own third-party research reports that the media will come to depend on for external insights.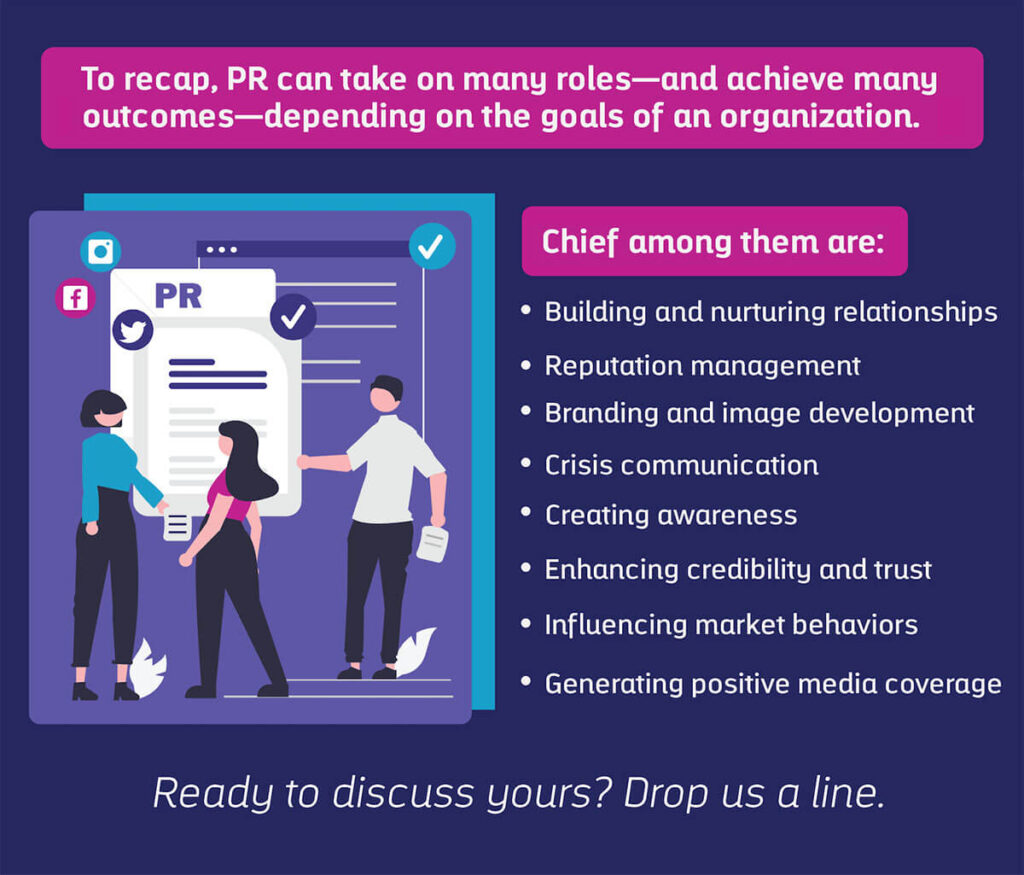 FAQ:
What is the role of PR?

At its core, the role of PR is to build authentic and compelling narratives that go beyond traditional marketing and advertising language. While advertising is often known for telling you how good or likable or necessary something is, PR dives in deeper. PR tells you why something matters and why you should care about it.

Narratives become the basis of a "pitch" or other touchpoint designed to entice media. The aim is for reporters, producers, and other content creators to want to learn more about your product or company. This will encourage them to share your story—through their perspective—with their audiences.

How does PR differ from advertising?

There are three primary differences between PR and advertising.

The first is that Public Relations is earned media, while advertising is paid media. In order to be featured by the press, a company or its PR agency has to create a compelling story that makes the media want to write about it for their readers. Advertising, on the other hand, simply requires a company to pay for the content they'd like to be featured in, and then create the messages themselves.

PR also tends to result in longer-form content, whereas advertising is often as simple as a headline with brief supporting copy and graphics. There are, of course, video and broadcast equivalents of each–an on-air interview with the founder of a company (PR) vs. a commercial about the company's product (advertising).

In the case of PR, a media outlet is the one writing or producing the content. In advertising, the content producer is the company or brand—or its advertising agency. In PR, media outlets are not paid by the subject of their content, and in many cases, the content producer has become aware of their stories through the aid of a public relations firm or a person who represents the company or brand.

How is social media used in PR?

Social media provides opportunities for additional exposure of media coverage that comes as a result of PR. Sharing a story in The Wall Street Journal that features your company LinkedIn, for example, will get the story—and your name—in front of both current and potential followers that wouldn't see it otherwise. It also provides these followers with third-party validation that can't be achieved through advertising.

PR, social media and marketing campaigns will generate the biggest impact when they work together seamlessly to share the same messages, at the same time, across multiple channels. This will ensure that your brand is consistent across all of its platforms, making your core offerings clear and memorable to as many target audiences as possible.

What are some ethical considerations in PR?

Ethical considerations in PR center around the PR industry's code of ethics, as well as the values of the organization that is being represented through PR efforts. On a high level, these considerations are most often associated with veracity (telling the truth), non-maleficence (doing no harm), beneficence (doing good), confidentiality (respecting privacy) and fairness (being impartial and socially responsible).

PR programs should advocate for the company or brand that they're representing while maintaining the highest standard of accuracy and honesty. Communicating false information to the public, or even bending the truth, can raise ethical concerns.

Historically, PR has led to ethical considerations around a concept known as "muckraking," or, publicly exposing real or apparent misconduct of a prominent individual or business. An effective PR program should be able to communicate the value of the company or individual it is representing without dragging their competitors through the mud.