Public Relations
How to Improve Your PR
The benefits of PR are often confused with deliverables such as press releases and earned media coverage. The true value of PR is how it can influence business goals and positively impact a company's bottom line. (Read more about what the benefits of PR look like in this blog post).
While business goals may vary from company to company, though, the telltale signs that a PR program isn't working are more universal.
The first, and what's often the most obvious sign, is that PR efforts aren't driving results—whether those are in the form of media coverage, thought leadership opportunities, or a general return on investment. An effective PR program should always prioritize results, whether a company has news or not.
On the flip side, concerns can also arise when PR puts a disproportionate focus on driving results and loses sight of telling stories that actually move the needle. For example, you can get mentioned in the media every week, but if the surrounding messages about your company don't accurately illustrate your value, driving readers to seek out your services—or if those mentions aren't getting your name in front of the right readership at all—companies will see very little return.
Companies can additionally encounter issues of outgrowing their PR program, in which case they may be looking to reach new audiences as they eye an IPO, or expand their visibility into international markets as they grow their client roster. While a PR strategy should evolve alongside your brand, that's not always the case, and could be a sign that it's time to switch things up.
If any of these scenarios sound familiar, here are a few tried-and-tested ways to improve your PR:
9 Tips to Improve Your PR:
1. Have a Plan
To know that their PR efforts are successful, companies need to first identify what they want to achieve. This can include asking questions such as, 'what stories do we want to tell?'; 'what publications do we want to be in?'; and, 'what audiences do we want to reach?'. Then, they can measure against how well they've delivered on those achievements.
It's equally important to determine where company priorities lie in terms of enhancing brand awareness, managing potential crises, or establishing executive visibility through thought leadership. Laying these goals out with self-awareness and transparency enables companies—and their PR teams— to create bespoke, tailored PR strategies that match each of these goals. And, as a company's goals change, their PR plan should, too.
2. Identify the Gaps your Company Fills in the Market
One of the best ways for a company to break into a market is to showcase how it's different from other industry participants that, to the general public, look and sound the same. If a company feels that its PR program is falling flat, it's often because they aren't effectively communicating these differentiators to the market.
To improve their PR strategy, companies should reverse engineer their key differentiators by first identifying where the gaps are in the market, and then determining how their brand, service, product or other offering fills those gaps. From there, they'll be in a better position to communicate with the media and other target audiences about their importance.
3. Rework your Core Messaging
…Or build it from scratch, if you haven't yet.
Once companies have identified their key differentiators, they should form those into a few central, overarching messages that tell their story best. Every conversation with a journalist, analyst, influencer or other audience should point back to those messages to ensure that they make their way into the larger market.
At CVM, we take a narrative-driven approach to identifying and communicating the top messages that the market needs to hear about a company in order to drive the behaviors that company needs from the market. Our narratives are consistent, relevant, and further at least one marketing goal.
Different audiences and business goals may require different narratives—which is why it's so important to think through these, and revisit them regularly. Thinking in narratives ensures that all content is created with the narratives in mind, also that the strategy is aligned with the goals of the business.
With narratives at the heart of a PR strategy, every piece of media coverage or published content about will include these narratives, and ultimately influence companies' bottom line.
4. Interweave Marketing Campaigns with PR
Amplifying marketing campaigns, such as product launches, case studies, or data reports, with PR provides an opportunity to enhance visibility of content that has already been created. This means that PR teams will not only have new content to communicate to the market, but will attract new eyes, on new channels, to material that is already being pushed out through marketing efforts.
In addition to keeping PR teams in the loop on marketing initiatives, by running marketing ideas through PR teams before implementing, companies can gather a unique perspective on how they might be able to make an even bigger splash by integrating their communication efforts.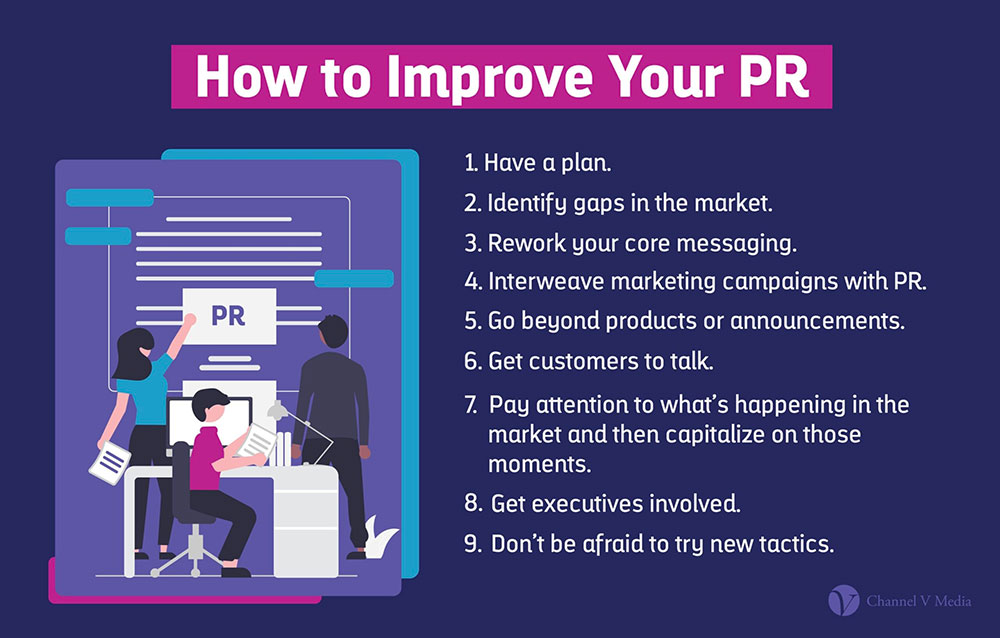 5. Go Beyond Products or Announcements by Focusing on Their Larger Surrounding Stories
With any press release, pitch, or other proactive communication tactic, it's crucial to tie company news into the larger market landscape. While the news on its own might be monumental to your company, the rest of the world needs to know why they should care.
Especially in the technology industry, an announcement that seems like it would have a general knowledge around it may be entirely new to a majority of audiences. Companies provide this context by using PR to tell a larger story about why their news matters.
To do so, ask questions like, 'why is this significant to the industry?'; 'why hasn't it been done before?'; and, 'why is my company in the unique position to offer this?' when creating announcements.
6. Get Customers to Talk
Oftentimes, third parties can do a better job of communicating messaging than a company can on its own. Because they provide external validation, the third-party opinion of a customer carries more weight than self-proclamation, and leads the market to put more trust in the source.
When speaking with customers, or engaging new ones, it's important to get their buy-in on PR and communications efforts so that both companies are able to share big milestones with the market along the way. It's a win-win for both parties, as the providing company will benefit from external validation of their services, while the customer benefits from increased exposure and visibility of their brand.
7. Pay Attention to What's Happening in the Market, and then Capitalize on those Moments
Especially during quiet periods with no company announcements, the process of responding to relevant, timely moments in the media can provide a boost to PR results. This process, known as 'newsjacking', involves reacting to trending topics and stories in the press with expert commentary or insights.
Newsjacking is mutually beneficial to journalists and organizations. On the media's side, newsjacking provides additional context, color and on-the-ground perspectives to journalists around trending topics. On the organization's side, newsjacking connects what a company is doing to what's happening in their larger industry or market.
8. Get Executives Involved
Putting a face to the name (whether it belongs to the company as a whole, or a specific subject matter expert) makes companies more human and relatable—and more attractive to the media. Executives can also provide valuable soundbites and visionary statements that no one else in the company has, which is why it's crucial to have them involved in interviews and thought leadership content.
Oftentimes, as soon as executives see the direct results of their involvement in PR activities, they can't stay away!
9. Don't Be Afraid to Try New Tactics
While it can be easy to get into the rhythm of putting out a regular cadence of press releases, this tactic on its own won't always achieve the results a company needs. To mitigate this, a successful PR program should always include a balance of press releases, proactive media outreach and thought leadership content.
It's also important to leverage a variety of media outlets, including traditional newspapers, magazines, and TV, as well as digital platforms like blogs and podcasts. To see success across each of these, companies should tailor their messaging for each of these channels, rather than trying to make a blanket campaign work for all of them.
Summary
Have a plan that you can measure against to ensure your PR program is working—and rework that plan when it's not.
Identify gaps in the market and then communicate to target audiences about how your company is filling those gaps.
Rework your core messaging with a narrative-driven approach to finding and communicating the top stories you need to tell to drive desired behaviors in the market.
Interweave marketing campaigns with PR to get more eyes on your efforts, on more channels.
Go beyond products or announcements by focusing on their larger surrounding stories, and why it matters to your audience.
Get customers to talk about their work with your company for third-party validation and mutually beneficial media coverage.
Pay attention to what's happening in the market, and then capitalize on those moments by connecting what your company is doing to what the larger industry is talking about.
Get executives involved to provide a human, personalized touch to your work.
Don't be afraid to try new tactics, and ensure that PR programs are executed with a balance of these tactics and channels.
About Channel V Media
Founded in 2008, Channel V Media is an award-winning PR and communications agency.
We build market momentum for Fortune 500 and emerging companies through Communications Strategy, PR strategy, and digital marketing. We specialize in breaking clients into new markets and categories, rising to the top of crowded conversations, and reinvigorating enthusiasm for long-standing companies as they compete in new areas.
Along the way, we develop C-Suite leaders into industry visionaries, position clients to be among the most vocal in their industry, and increase their inbound leads (b2b) and new audience acquisition (b2c).
Some of our clients include Sopra Banking Software, GFT, Penn Mutual, IBM, Bluecore, Grapeshot + Oracle, Fortune & Frame, and others.