Public Relations
The Value of PR for Tech Companies: Shaping Perception & Driving Growth
PR is the driving force that shapes how a company is perceived by its stakeholders. PR's value goes beyond simply raising awareness; while strategically positioning a tech company, it crafts a narrative that amplifies the right messages, building trust and credibility along the way.
Let's explore how PR brings immense value to tech companies:
1. Guides the Conversation
A strong PR strategy puts a technology company on the map of industry leaders by leveraging media opportunities, contributing to publications, and securing speaking engagements.
PR agencies also work closely with you to develop content for industry-specific media outlets, expanding the audience and validating the company as a thought leader. The combination of thought leadership content and exposure on well-known media outlets, such as the Wall Street Journal or Techcrunch enhances reputation, creates awareness, builds trust and attracts inbound leads, investment and partners.
2. Improves Awareness and Adoption
PR drives product awareness and increases visibility by crafting compelling narratives, giving strategic advice, and securing media coverage. But that's not all there is to it: a PR agency also helps with transforming the product from being perceived as a complex, technical tool to becoming an accessible and essential solution for businesses.
Let's look at our collaboration with Mobile DevOps company, Bitrise:
With its holistic platform, Bitrise competes strongly against legacy technologies and point solutions. Bitrise brought in CVM to position it as more than a tool for the mobile industry. Our work has grown Bitrise's presence across industries and solidified them as a leader in the mobile landscape.
Our work helped position the company as an authority in the mobile development space, gaining recognition from executives as well as developers.
The media has taken notice, resulting in a remarkable
1240% increase in coverage,
20+ C-Suite thought leadership articles, interviews, and podcasts in publications, and
over 75 pieces of press coverage in the U.S.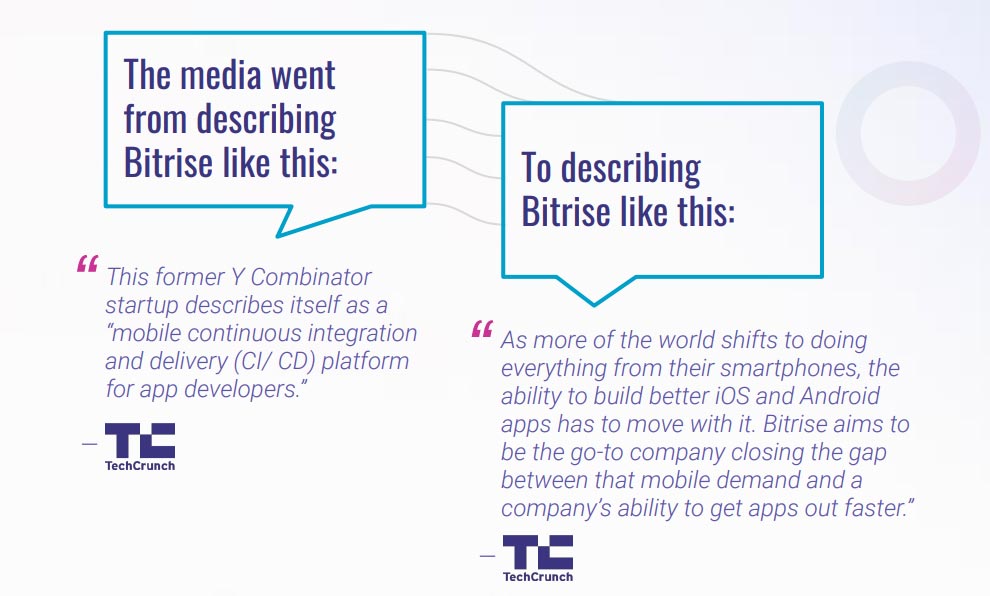 As a result, Bitrise has become a trusted barometer of the mobile industry and a go-to source for Mobile DevOps insights, earning acclaim from both mainstream and trade media.
Read the full case study: Transforming Bitrise: From Developer Tool To C Suite Growth Weapon.
3. Drives Revenue and Expansion
In the digital age, where buyers extensively research before any purchase, PR creates awareness and facilitates visibility. A PR agency works with you to generate meaningful content that supports the buyer's journey, empowering customers with relevant information to make informed decisions.
Well-informed leads are more likely to make larger purchases. By prioritizing lead nurturing through relevant content, PR campaigns help you attract, engage, and educate potential customers. Aligning PR efforts with sales objectives enables technology companies to shape purchasing decisions and achieve accelerated growth.
4. Strategizes Product Launches
The outcome of a product launch determines the trajectory and future of a tech company. An inadequately managed or poorly-received launch damages a brand's reputation and can be a catalyst for detrimental consequences, leading to the company's downfall.
PR agencies collaborate with the company's internal marketing and product teams to plan and execute a successful go-to-market strategy. They identify key communication channels to reach the target audience, arrange interviews to secure media coverage of the launch, and give you an unbiased, third-party perspective on how the key messages around the new product align with the company's broader goals. A PR agency will also organize launch events, such as press conferences, product demos, or virtual webinars, to showcase the new product to media, industry analysts, and potential customers. The guidance of PR plays a pivotal role in generating awareness, building anticipation, and driving the success of a product launch for a tech company.
5. Navigates Industry Challenges
Tech companies facing crisis events such as data privacy breaches, cybersecurity, and ethical concerns that can destroy their reputation and public perception and in extreme cases, even result in the company having to cease operations.
In a crisis situation, the value of a PR agency is threefold. Firstly, they provide a valuable third-party perspective. Secondly, they take charge of managing the company's reputation and ensuring that the appropriate message is conveyed to stakeholders. Lastly, they effectively handle any misinformation circulating in the market.
6. Uses PR as a Marketing Channel
Public relations acts as a communication channel through which a tech company shares its news with all essential stakeholders. When companies engage in Public Relations to communicate with their key stakeholders, the information is circulated through a third-party source. This elevates the news by transforming it from internal information to industry-wide news. This heightened visibility raises the company's profile, attracting attention and generating opportunities for the organization.
Let's consider the example of a tech company and one of its important target audiences: investors. From day one, tech company founders engage in fundraising activities and meet with various venture capital firms. An article on a platform like TechCrunch that shows the value proposition of the company will play a vital role in attracting VC firms and serve as a warm introduction for companies actively seeking new investment opportunities. For existing investors, this article effectively communicates significant company updates. It not only validates their investment decision but also generates enthusiasm and confidence in the company's progress.
7. Attracts Talent
In tech companies, the ability to attract and keep high-quality employees is one of the most important factors for sustained growth and innovation. PR helps position the company as an attractive employer and craft brand messaging that resonates with the right candidates.
Appearing on platforms like Forbes Tech Council and being perceived as a thought leader makes a tech company a magnet for job seekers. The ability to choose the most qualified candidates results in an organization that experiences dynamic growth, constantly pushing boundaries and creating a lasting impact in the industry.
As Rik Haandrikman, ex-VP of Bitrise explains:
"Our releases and stories are being placed in the right publications, and audiences are engaging with them. Our CEO is regularly featured in several publications, and it's great that they've been featured in TechCrunch multiple times. We've received several job candidates who now know us as an exciting firm — multiple candidates have mentioned our press releases and Series C funding news during interviews. The Series C funding press release Channel V Media published has generated a significant bump in applicants for core roles. Channel V Media has exceeded our expectations."
8. Elevates Influence
It can cost up to twice as much to sell to someone who isn't familiar with a company. Selling to someone who's already read about a company in industry publications is easier, as there is no need to educate them about the company and the products to such an extent.
Public Relations have the potential to reach the highest-level decision-makers, such as VPs, C-level executives, and board members. This top-down approach makes it easier to positively influence the outcome of new deals by eliminating the need to sell from scratch and cutting through the red tape of buying decisions.
Summing Up
The value of PR is how the messages that a company puts out can influence the company's trajectory. When done well, PR is a strategic advantage that can enable a tech company to stand out from the crowd, establish trust and credibility, drive product adoption, navigate crises, and forge strong relationships with investors.