From Developer Tool To C Suite Growth Weapon
Transforming the Media's Perception of Bitrise
1,240%

Increase in U.S. media coverage

20+

C-Suite thought leadership articles, interviews and podcasts in publications

75+

Pieces of company coverage in 2 years
Channel V Media has really helped us grow and build our capabilities — their team understands our business, and they're making plans to help us further our goals as a company via our PR. Channel V Media has been a strategic partner since day one — I've never experienced this degree of partnership before.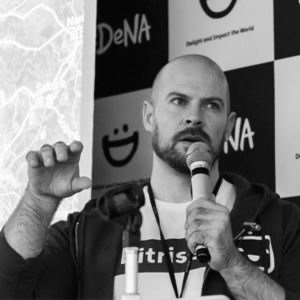 Rik Haandrikman, VP of Growth
Bitrise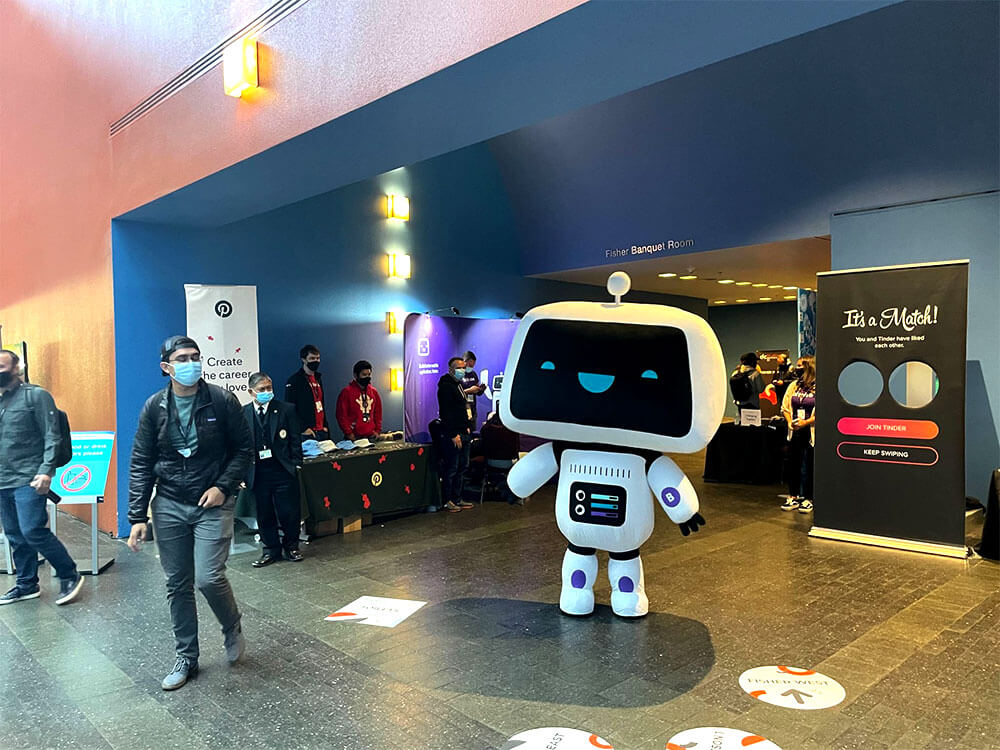 To get attention from a broader audience we needed to make Bitrise less technical and more accessible.
Before CVM began working with Bitrise, there was minimal awareness of the Mobile DevOps company among broader business audiences. While they were well known as a great tool to use in the developer community, there was a lack of context around how this could drive larger business impact.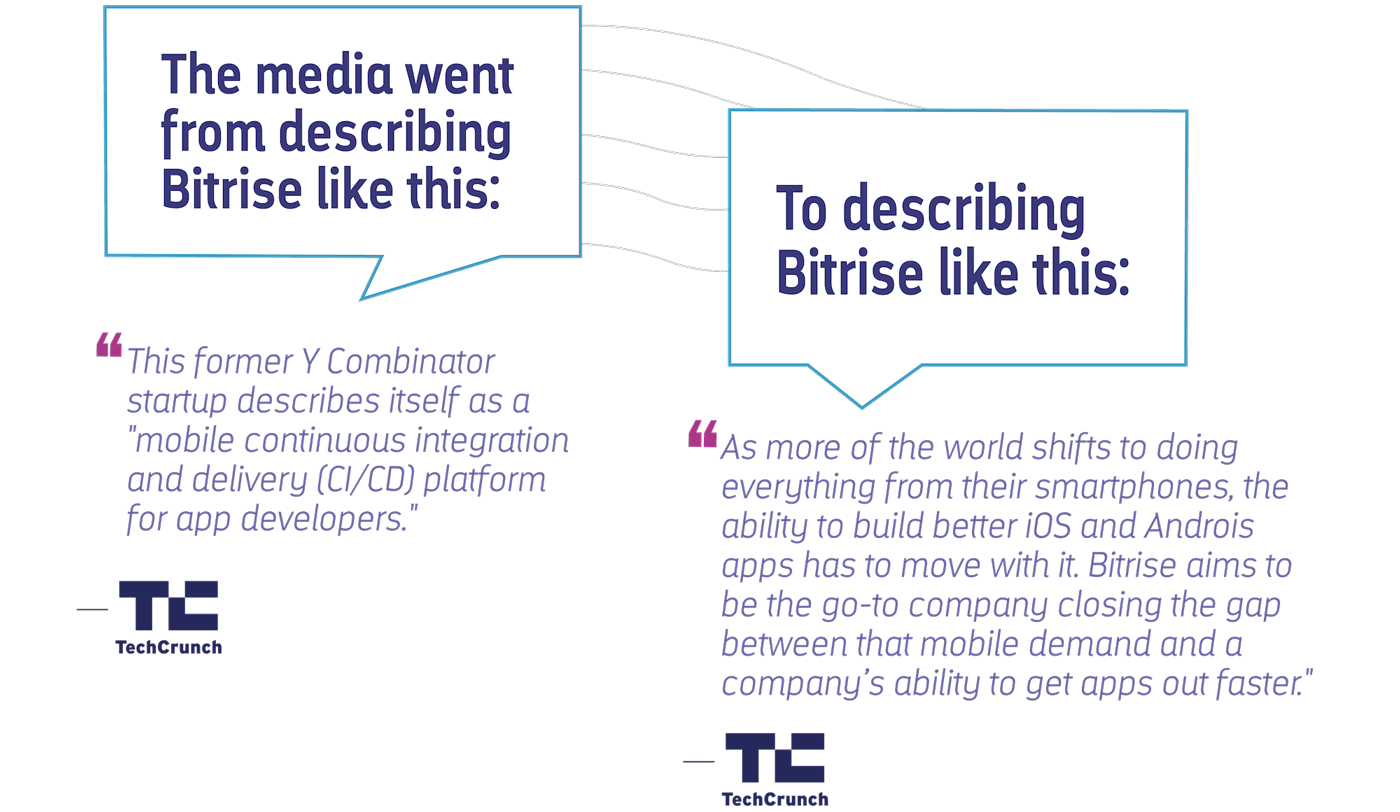 Within only a few months, we transformed Bitrise from an unknown name to a mobile authority in the media.
We worked with Bitrise to map out how PR could directly influence its business goals. We then reverse-engineered these goals into a series of stories and narratives we would need to put into the market to drive executive awareness of Bitrise.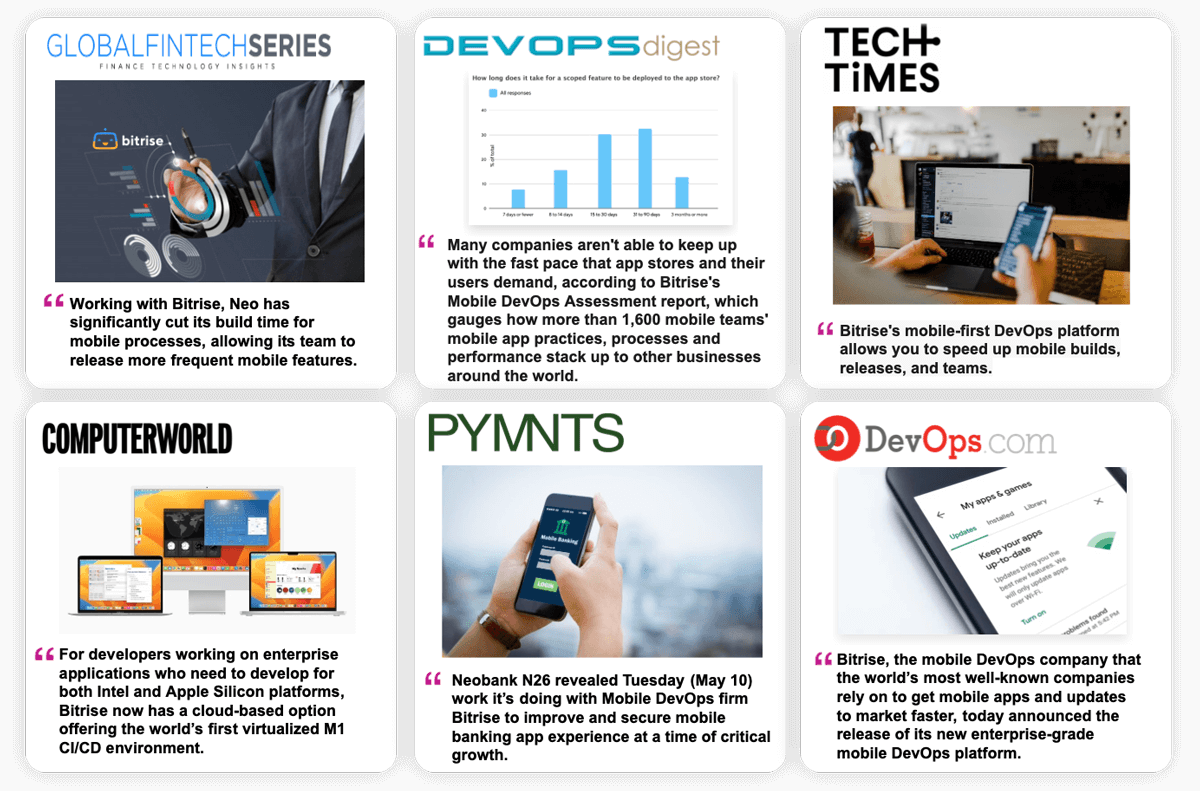 We aligned Bitrise with the world's leading mobile companies.
With mobile revenue having the potential to account for almost 75% of business's overall business revenue, Bitrise needed to take credit for the role it plays in automating the processes and challenges that end up costing companies hundreds of thousands – to millions- of dollars.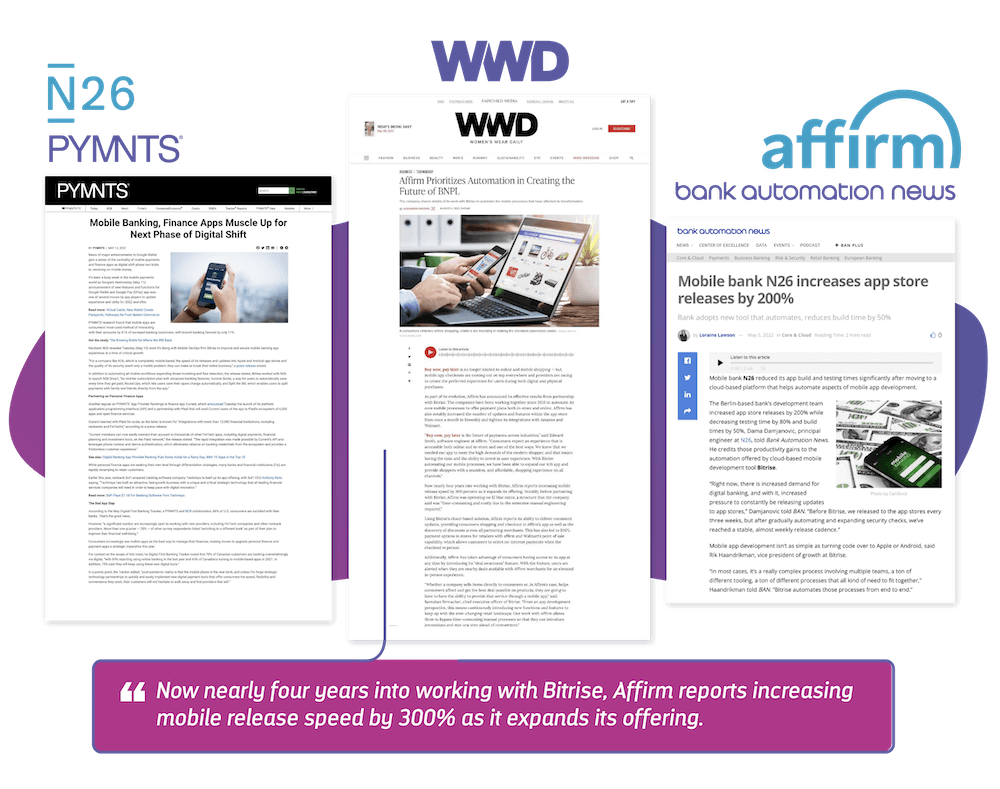 We've leveraged Bitrise's work with leading companies in the media.
We showcased Bitrise's work with companies like Affirm and N26 to make a direct connection between how their platform and mobile in general, has a significant impact on revenue in the cutthroat payments and digital banking space.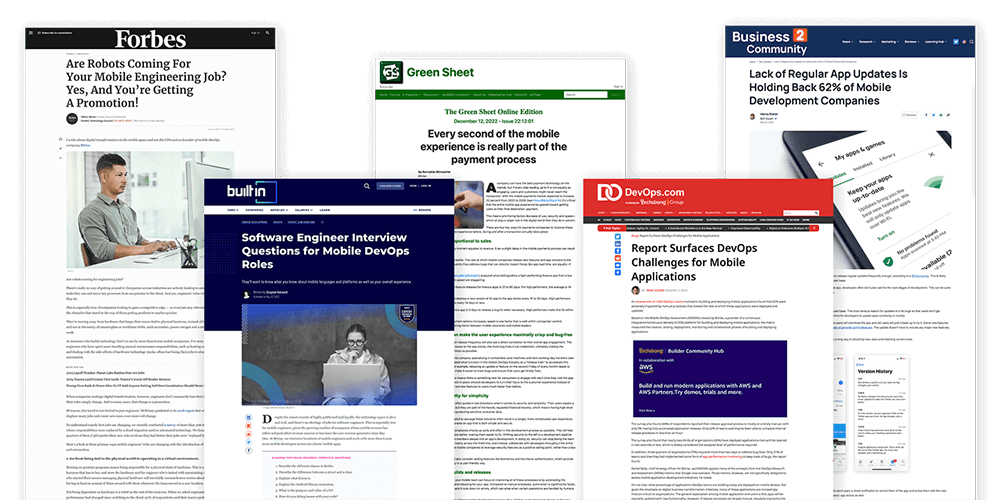 We positioned Bitrise at the forefront of the mobile market.
Bitrise works with the biggest mobile organizations around the world, enabling them to automate the most labor-intensive and time-consuming challenges in the Mobile DevOps process — often solving industry problems before they become widespread.

We used this foresight and industry knowledge to position Bitrise as a company shaping the future of mobile.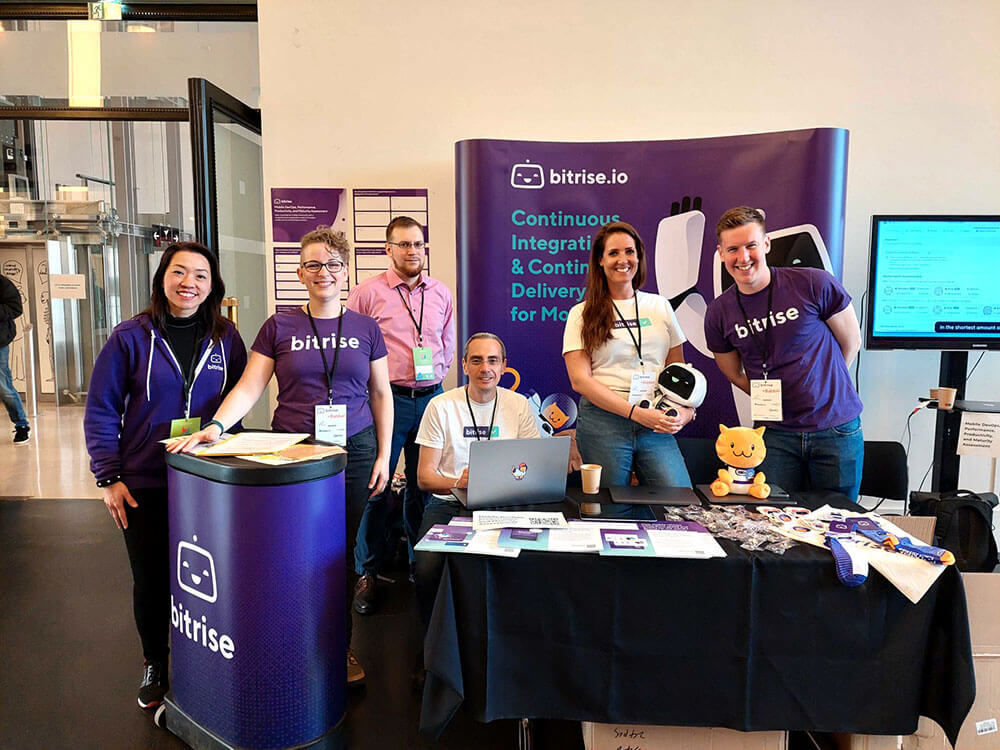 We showed the world Bitrise can predict mobile industry shifts before they happen.
We've showcased Bitrise's industry-first solutions for major mobile challenges through multiple defining product launches and their acquisition.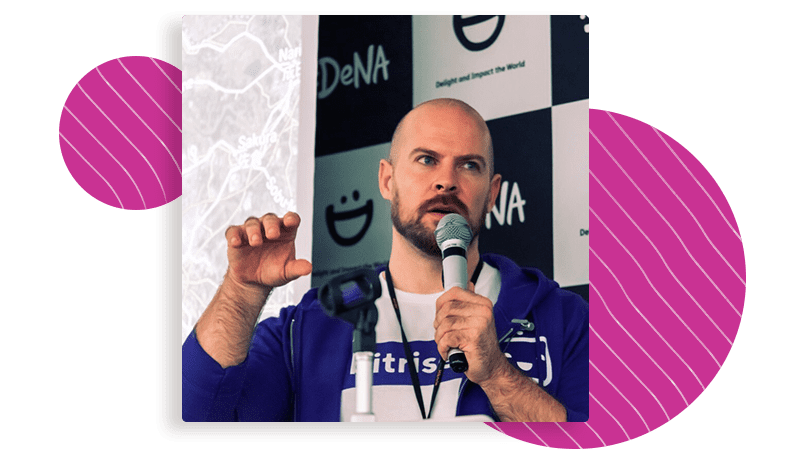 We've established Bitrise's leadership as authorities on how mobile operations directly impact bottom line business revenue.
Bitrise's top executives are now on the front lines of the mobile conversation.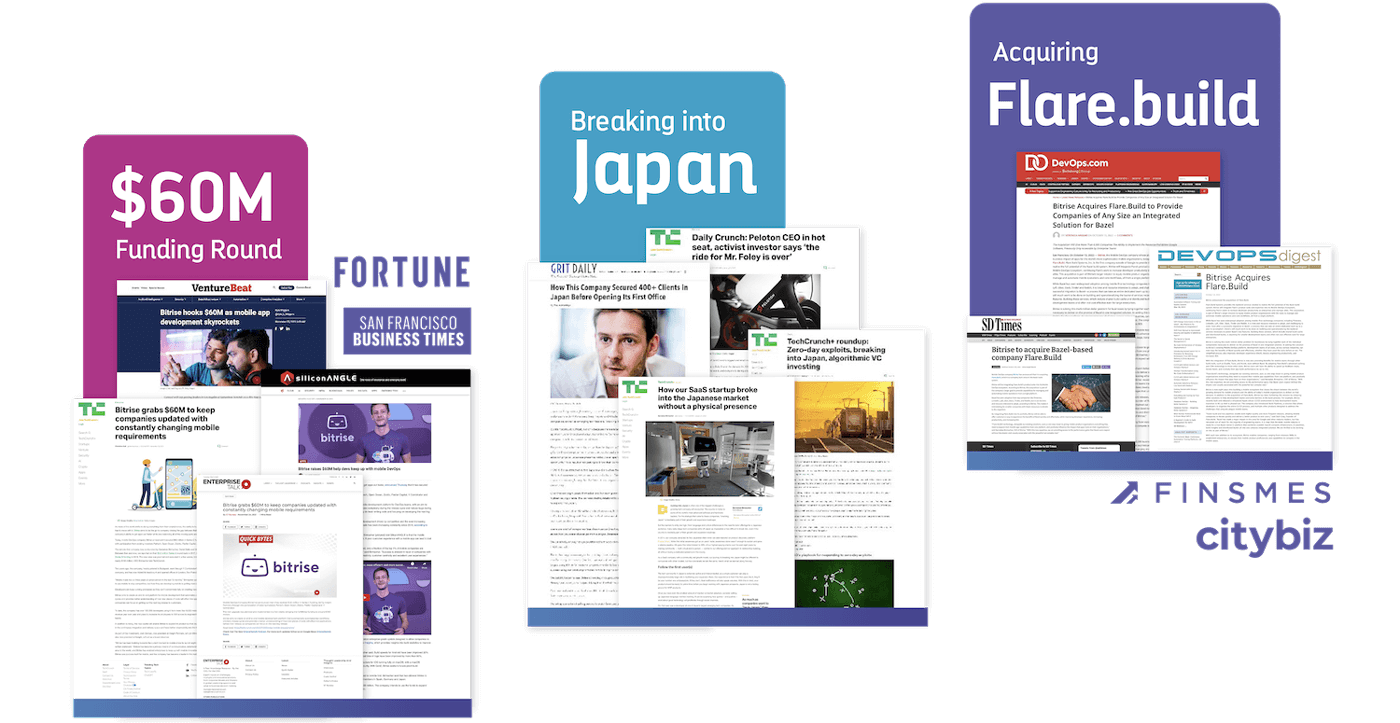 We highlighted Bitrise's rapid growth.
In order to appeal to market leaders we needed to make it clear that Bitrise itself was a market leader. We capitalized on the company's funding round, expansion into Japan, and acquisition of Flare.
Build to demonstrate to the media Bitrise's rapid expansion and value in the mobile industry.
Channel V Media acts more like an extension of our own team than an external agency. Their team keeps tabs on every open project and their objective on a Google Sheet, reporting to us on our weekly calls on progress and next steps. Communication between us is constant via Zoom calls and our Slack channel.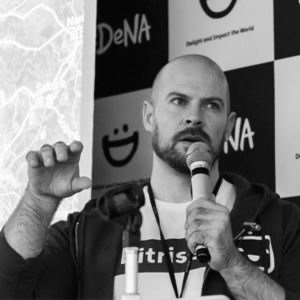 Rik Haandrikman, VP of Growth
Bitrise
Want Results like Bitrise?
Contact us to learn more about how we work with companies with or without marketing leadership.