Public Relations
How to Design and Create a PR Media Kit
Sometimes a pitch alone isn't enough to hook a reporter on your company. When you're looking to give something a little extra to lock-in a story, a public relation media kit is an excellent option.
Assembling and publishing a media kit ensures reporters are working from accurate information and using the most high-quality photos your company has to offer, helping them write the best story possible and helping you drive the narrative.
Like everything else in communications, press kits, which were once physical, exist in a digital space. To put your best foot forward and increase your chance of receiving media coverage, take the time to assemble and design the ideal public relations media kit.
In this article:
What is a Public Relations Media Kit?
What Are Digital Press Kits Used For?
What Should a Media Kit Include?
Additional Things to Include in a Press Kit
How to Design a Digital Public Relations Media Kit?
How to Promote Your Press Kit?
What is a Public Relations Media Kit?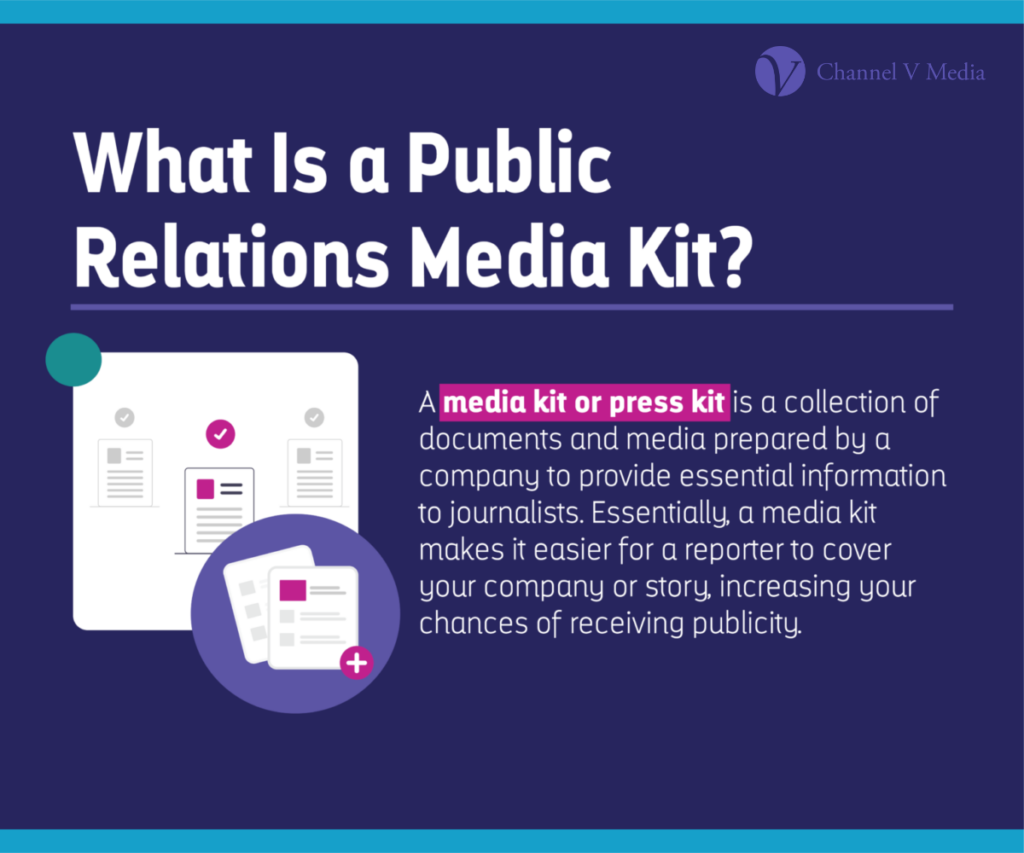 Let's start at the beginning. What does "media kit" mean?
A media kit or press kit (we use these terms interchangeably) is a collection of documents and media prepared by a company to provide essential information to journalists. Essentially, a media kit makes it easier for a reporter to cover your company or story, increasing your chances of receiving publicity.
So, when do you need a public relations media kit? Journalists usually write or create stories about a company when something newsworthy happens or will happen. There are several types of newsworthy events, but the most crucial factor is that they're timely. News is only news if it's relevant to the public at the time of release, whether it's an upcoming event or something that just happened, timing is a necessary consideration.
Companies assemble press kits for many reasons, including:
To provide general information to reporters
To bring awareness to a new company
To promote an upcoming or new product or service
To raise awareness of an event
No matter the reason for assembling your press kit, you want to ensure you include the right items for journalists to use when covering your story.
What Are Digital Press Kits Used For?
You'll find that press kits are often tailored towards a newsworthy event: something that's time-sensitive that media outlets will want to cover. While some companies keep a standard media kit or newsroom available to offer reliable company information, most assemble them ahead of product launches, events, or organizational changes.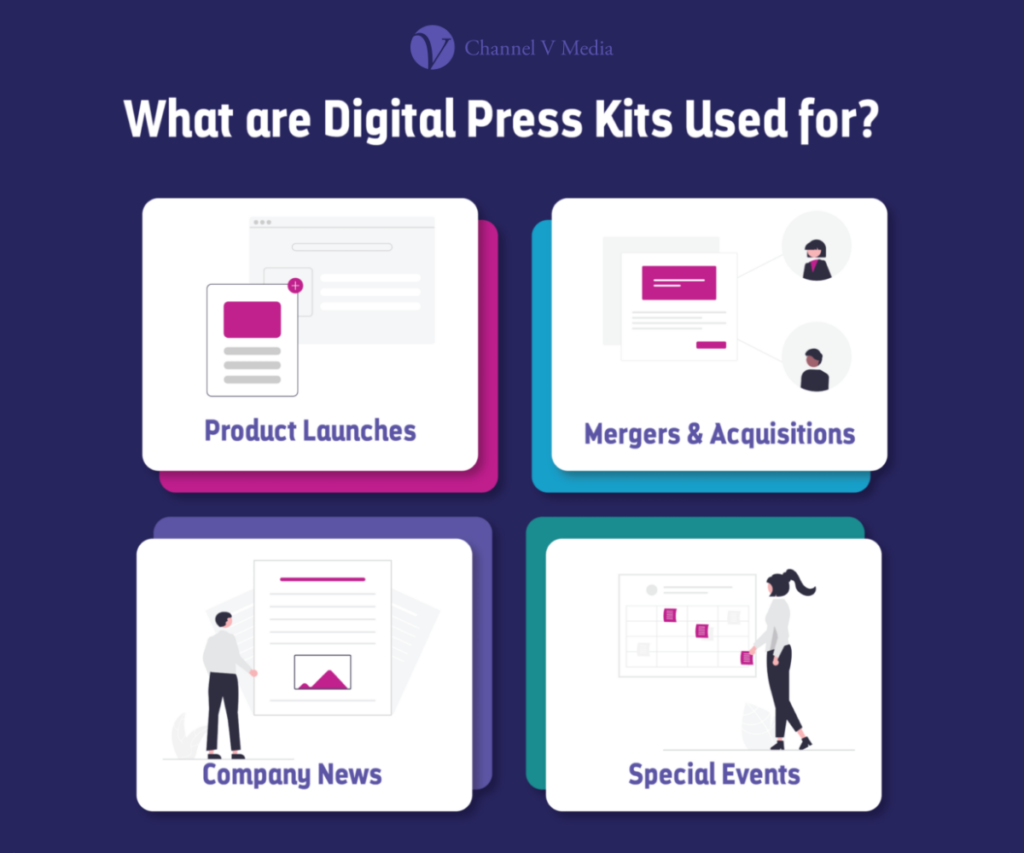 Product Launches
Product launch media kits provide the information journalists need to cover new products before they hit the marketplace to drive anticipation and sales. In addition to essential company information, product launch kits can include product specifications and material information, pricing, purchasing, and pre-ordering information, as well as sale locations. Providing high-quality product images also ensures the media has access to clear product images to share with their readers.
Mergers and Acquisitions
Company mergers and acquisitions can be murky. It can be helpful to reporters to clarify the terms, key players, and company outlook with a press kit. You can also provide contact information for specific questions, and designate a press contact to streamline communication with journalists.
Company News
When a company is often in the news, having a press kit or newsroom that is updated consistently can be ideal, both for journalists and for your company. When reporters have a central location to check for company news and updates, they're more likely to provide coverage outside major launches and milestones. In addition, having a central newsroom means you're not creating kits from scratch when major events arise for your company.
Special Events
Having a digital press kit for an event increases your chances of media coverage and helps get the word out to potential attendees. For upcoming events, press kits should include event details that are important to potential attendees, like location, date, cost, and activities, so that reporters can include them in their coverage. Additionally, you'll want photos and information on performers or speakers, pictures from past events, and key event branding elements.
If you're assembling a digital press kit for an event that just happened, include the best photos from the event, critical statistics like attendance and compelling quotes from attendees or stakeholders for reporters to use.
What Should a Media Kit Include?
Figuring out what to include in your media kit is arguably the most challenging part. First, you'll want to make sure you're providing enough information for journalists to work with – without making the information package overwhelming or confusing. This means you'll be relying on some common document formats to include in your media kit to make the journalist's job easier.
So what ARE the contents of a media kit? That depends on your company and the media kit's purpose. Here are some ideas for items to include along with their general purpose.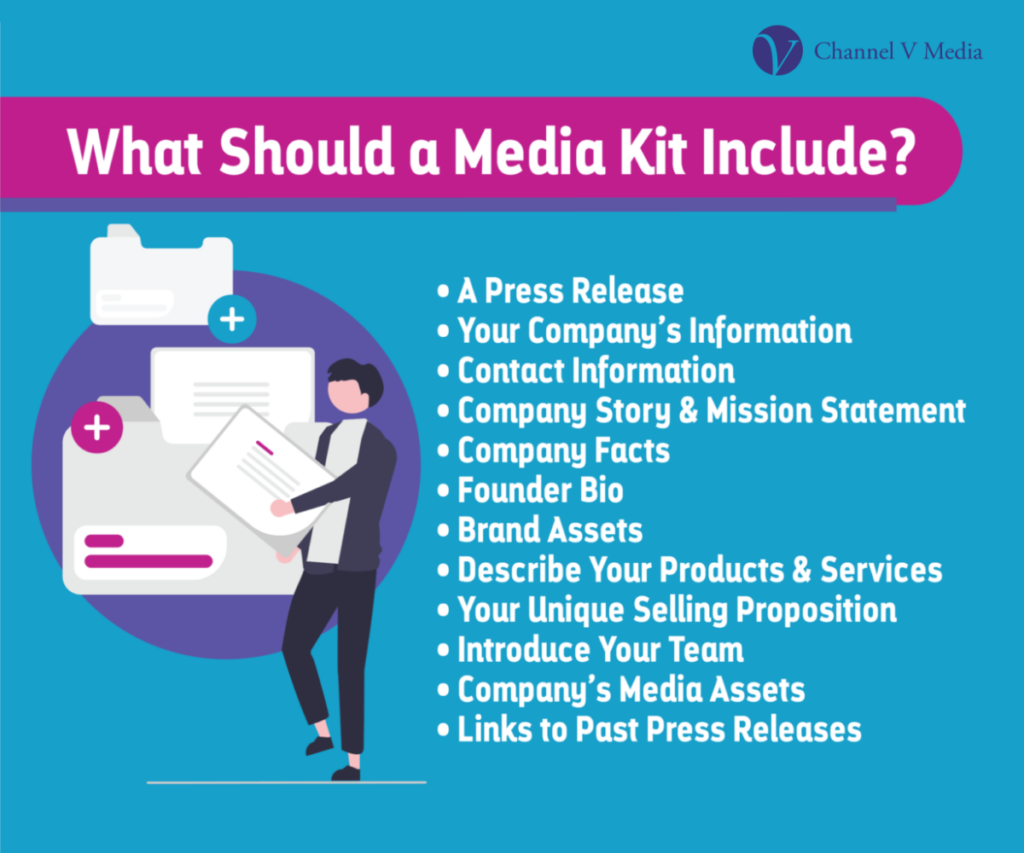 A Press Release
The most critical piece of information in a press kit is a press release explaining the news you are seeking coverage for. A press release includes a broad overview of the outgoing news as well as important details to make the case that your story deserves valuable press coverage and time.
For more information on writing press releases, take a look at our 9 Tips to Write the Best Press Release
Your Company's Information
One of the first considerations for a media kit is providing company information. This ensures anything written about your company outside of the newsworthy event (launch, event, etc.) is covered accurately. It also helps give journalists context for what they're writing. Some items to consider include:
Contact Information
Before releasing it to the media, ensure your press kit contains accurate contact information. Whether you have a designated press contact to handle or schedule interviews or that responsibility falls to someone in a different role, always make sure it's clear who the journalist should email or call to get additional questions answered or to get an exclusive quote.
Share Your Company Story & Mission Statement
A backgrounder containing essential company information allows journalists to include snippets of your company's history and values in their work. To keep things simple, always have a backgrounder on file, and update it every six months to a year so you can easily include it in media kits when the need arises.
Company Facts
A fact sheet containing statistics and key bite-sized information about your company can be a crucial reference for journalists. Fact sheets can include company size, location, essential industry information, mission statements, leadership information, and more. Like the backgrounder, keeping a fact sheet current with updated information can make assembling a media kit that much easier.
Founder Bio
As the old saying goes, people buy from people, not companies. When profiling or writing about your business, journalists will often want to include information on the founder and their story to give the coverage a human element. Including an essential bio on the company's founder(s) makes the journalist's job easier and makes the company's founder(s) seem more human. Including an updated bio and current headshot is vital, especially if your founder is an integral part of the publicity you're seeking.
Brand Assets
Media coverage often utilizes a company's brand assets. To ensure your logos, colors, and fonts are shown accurately, provide a streamlined brand guide for reporters to use, including high-quality, downloadable assets.
Include various file types for brand assets, including JPEGs, PNGs, and SVGs, so journalists and their designers can select the ones they need. This helps eliminate any compression or conversion issues that may alter your assets when designers must change file types or resize too-small assets.
Describe Your Products & Services
Product and service descriptions are critical for press kits assembled for launches. However, even if you're not releasing a new product, including this information can give reporters context into what your business offers. If you're not in a launch cycle, include a list of your flagship products or services and their key features and benefits.
If your company is launching a new product, include a complete fact sheet on the latest product(s) with a summary sheet of your other previously established products to provide background and context.
Your Unique Selling Proposition
Every business is unique. Including your unique selling proposition as part of your media kit ensures the reporter understands what makes your company different from others in your industry. This can be its own document or included in the fact sheet or backgrounder, depending on how much information you would like to provide on your differentiating factors.
Introduce Your Team
Even if you're including your founder's bio, building a document with headshots and brief biographies of key team members is essential to provide context and ensure team members are recognized for their work wherever possible. Keeping an up-to-date team member fact sheet is another great way of making future press kits easy to assemble.
Provide Company's Media Assets with Professional & High-Quality Photos
Having media assets and high-quality photos ready for journalists to utilize is an excellent way of ensuring the visuals accompanying your coverage are top-notch. This applies to product and service photos, headshots, and standard company photography.
Ensure journalists have access to the original files and not just the ones on your website, as image quality is often reduced online. This allows the media outlet to compress and crop the images to suit their needs instead of presenting low-quality visuals sourced online.
You can include quotable interview clips, product videos, and B-Roll to ensure journalists have enough to work with for video coverage as well.
Include Links to Past Press Releases
Including previous press releases provides reporters with background content of earlier events and launches, making it easy to track your successes and growth. Provide links to past press releases to provide additional information and for transparency.
Additional Things to Include in a Press Kit: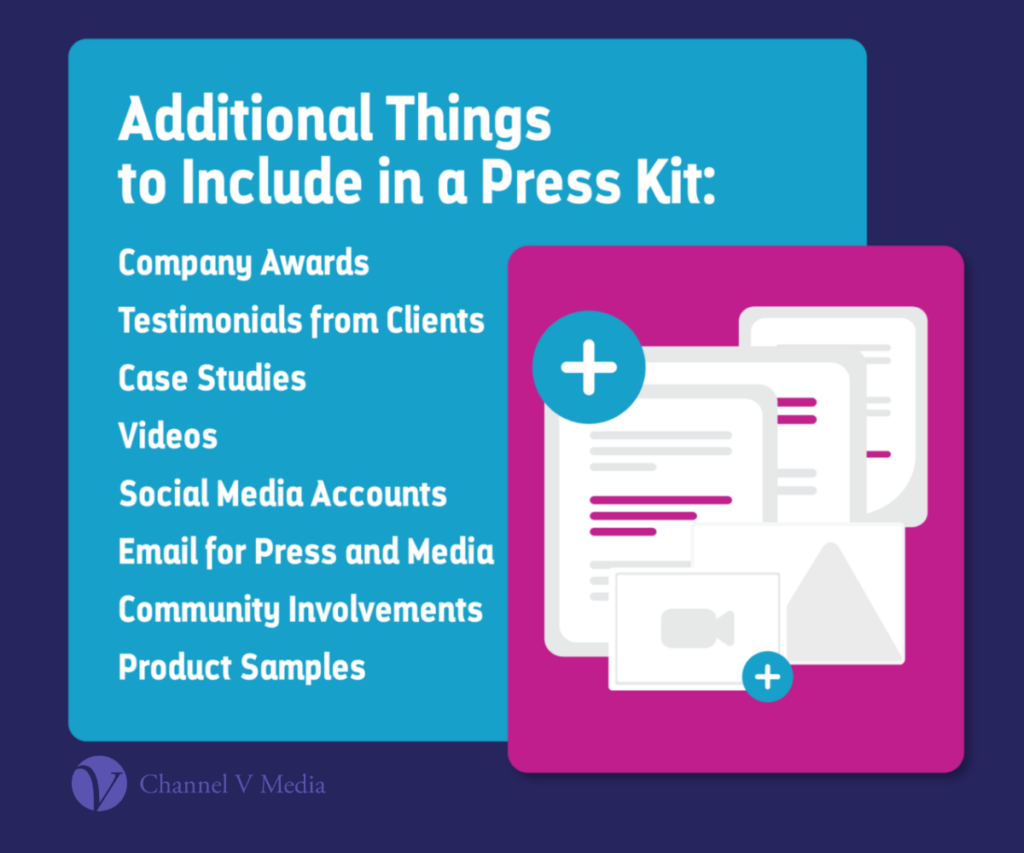 Company Awards
Awards, specifically from your industry's governing bodies, go a long way to helping your company stand out and establish you as an authority in your space. You can provide award names, dates, and the awarding organization in your fact sheet. In addition, if there was coverage of the award or ceremony, include links to the original articles in your digital media kit.
Testimonials from Clients
In a world that's increasingly dependent on consumer-generated information, providing unaltered testimonials from clients is a great way to show the success of your products or services. If possible, embed these testimonials or reviews directly from their source, or include a link to the original testimonial where it was published for maximum transparency.
Case Studies
Including relevant case studies in your press kit helps establish your company as an authority making an impact. If you have case studies related to the newsworthy event you're assembling the press kit for, then include links to them complete with high-quality media to support your company's performance.
Videos
Including videos is an excellent way to show your products and services in action. For example, if you're launching a product, include videos that showcase its features and benefits for reporters to use in their coverage, so their audience can fully appreciate the product that is going to market.
If your press kit is assembled for another purpose, you can include videos for support, like clips from previous events, introductory clips from company leadership, and high-quality B-roll footage.
No matter the footage or purpose, make sure you're providing the highest definition video available, and provide a link to download the original file in your press kit.
Social Media Accounts
Links to social media accounts increase the odds that your company's profiles will be included in your press coverage. It also gives journalists a place to research your company and learn more about your overall culture, offerings, and community. Adding links to your profiles in your digital press kit is a simple way of providing additional information that doesn't take up too much real estate.
Separate Email for Press and Media
Make it simple for a reporter to get in touch with your primary press contact. Whether this is someone whose sole responsibility is to answer press inquiries or someone who is temporarily filling that role, make sure you provide an accurate email address and phone number so journalists can fill in any gaps and get fast answers to their questions.
Community Involvements
Providing information on any social responsibility efforts can help reporters support their coverage and build goodwill with their audience. If your company gives back to the community, make sure you include this information in your backgrounder or fact sheet.
Product Samples
If possible, provide a link to request product samples for reporters to try. Allowing journalists to try your product for themselves gives them more information for their coverage and can help build a longer-term relationship with them that can lead to more coverage. Depending on your product and logistics, you may be able to include a product sample request form in your digital press kit to streamline requests and delivery.
How to Design a Digital Public Relations Media Kit?
So how do you make a media kit? Your first step will always be to decide what to include in the kit. Take time to identify the overall goal of your digital press kit and then mindfully select the preexisting items that you want to include to support that goal.
After identifying what you will include, collect what already exists and create the new content necessary. This may mean working with writers and public relations designers to craft press releases, gather photos, and more, so ensure you have enough time to complete these tasks before your digital press kit needs to be published.
Designing a digital press kit may seem daunting, but with the help of some strategic templates, you can create a beautiful, functional online press kit that impresses and informs journalists looking to offer coverage.
Find a Template or Choose Design
After deciding which items to include, it's time to begin designing your digital media kit. Since reporters receive many media kits and press releases each week, make sure yours stands out amongst the pack by selecting a professional media kit template that showcases what your company has to offer.
Both Canva and Adobe, leaders in the digital design space, have several customizable templates that take the guesswork out of designing your media kit. These professionally designed templates streamline creating your media kit so you can focus on what really matters; the content.
If you're not comfortable with the design tools Adobe and Canva offer, Xtensio offers a modular media kit builder that guides you through the process of adding content and branding the kit.
Customize the Template with Your Company's Information
Any digital press kit should be a branded, streamlined experience for journalists and anyone who stumbles upon the information. Whatever template you choose, make sure you customize it with your company's brand colors, assets and fonts (if they're available).
How to Promote Your Press Kit?
The first step to promoting your digital press kit is ensuring it's easy to find on your company's website. You can achieve this by adding a press link to your navigation or footer.
Adding your press kit and resources to your website is only the first step to getting media coverage. Next, you will have to make sure journalists see your press release and digital media kit. Here are some tried and true methods of getting coverage.
Utilize a Press Release Distribution Service
Services like BusinessWire allow businesses to publish press releases to their platform. Journalists can then sift through releases to find stories to cover. Publishing your well-crafted press release to one of these services allows you to get in front of many reporters across media outlets and present the essential facts of your story. Include a link to your website and digital press kit so interested journalists can investigate further.
Contact Media Outlets that Cover Your Niche
If your company provides products or services specific to an industry, consider reaching out to industry publications and media outlets covering your niche. Using this method, you will likely encounter journalists familiar with your industry seeking new stories to share with their audiences.
Contact Local Media Outlets
If your story has a local angle, make sure you contact local media outlets to present your digital media kit. This way, your story can be seen by those in your community who would be most interested in your company's news.
Share Your Press Kit on LinkedIn
Since LinkedIn is such a hotspot for companies to share news, journalists often seek new stories from the network. Share your media kit on LinkedIn so those who follow you have access to information, and to increase the chances of an interested reporter seeing your media kit organically.
Conclusion
As you can see, there are several ways to design a digital press kit to drive media coverage for your company. Anything you can provide that will make a journalist's job easier on providing coverage for your newsworthy event increases your chances of earning coverage and getting your story in front of more potential customers or clients.
Our biggest tip for designing your digital press kit is to be mindful of what you're including and ensure each piece of content supports the overall goal of your business and the press kit. Remember—you're not starting from scratch and the internet is full of templates and inspiration to help you develop this vital collection of public relations material.
About Channel V Media
Welcome to Channel V Media (CVM). We're an award-winning PR and communications agency, founded in 2008.
We build market momentum for Fortune 500 and emerging companies, advising and executing on Communications Strategy, PR strategy, and digital marketing. We specialize in breaking clients into new markets and categories, rising to the top of crowded conversations, and reinvigorating enthusiasm for long-standing companies as they compete in new areas.
CVM builds awareness for companies and their products, develops C-suite leaders into industry visionaries, positions clients to be among the most vocal in high-value conversations, and drives inbound leads.
Some of our clients include Sopra Banking Software, GFT, Penn Mutual, IBM, Bluecore, Grapeshot + Oracle, Fortune & Frame, and others.