Launching a Personal Finance Brand
Introducing the market to myWorth by Penn Mutual
200+

media stories in our first 1.5 years of working together

#1

Female Executive of The Year in Stevie® Awards for Women in Business

30+

speaking opportunities for Penn Mutual VP, Ande Fraize

100+

NYC attendees at myWorth's first Financially Rising event

85,000

women engaged with myWorth's online personal finance content

11

money conversations we started among women and media as part of Ande's book, Fin(anci)ally Free
We hired Channel V Media to launch personal finance brand myWorth and increase my visibility among the business community. I have never seen anything like it before, the CVM team got our brand covered everywhere and I became a national thought leader on personal finance.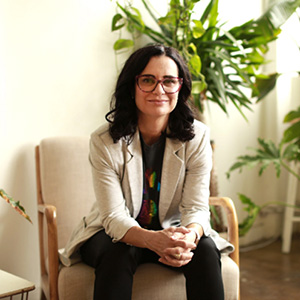 Ande Fraizer, CEO
myWorth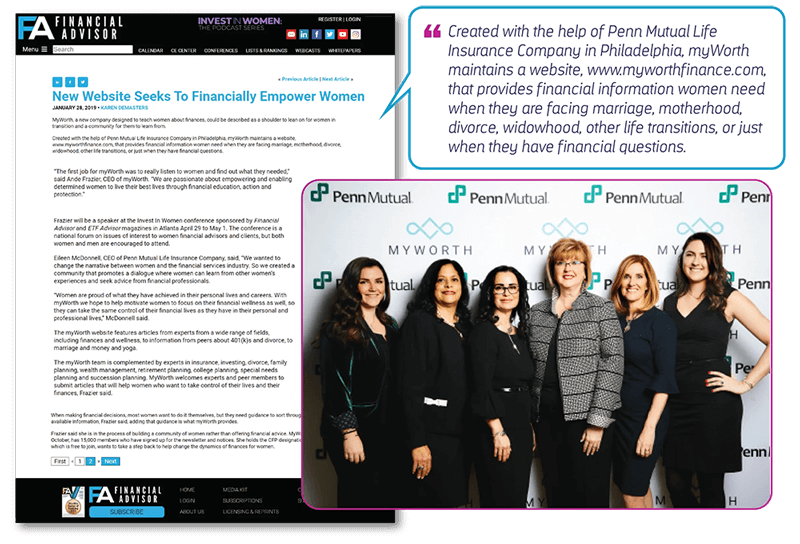 We launched Penn Mutual's first personal finance company dedicated to women into the market.
We launched myWorth into the market and positioned it as a trailblazing platform for women that was dedicated to bridging the confidence gap between women and their money.
Women often express a lack of financial preparedness due to their unique set of financial hurdles and because, at some point during their lifetime, majority will be solely responsible for navigating their finances. 
We discussed the need for a voice like myWorth in the financial industry and showcased how the myWorth platform offers the resources women need to build strong financial foundations.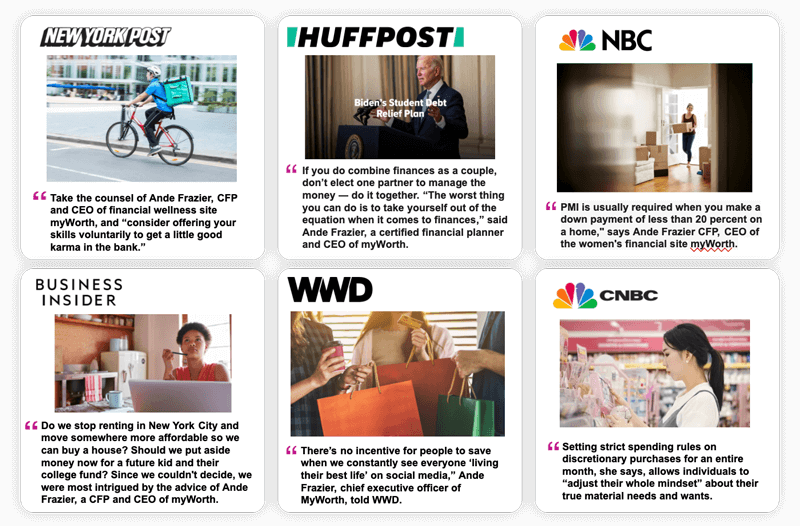 We made myWorth as a household name.
We quickly made myWorth a known name in the media. 
We secured over 200 press hits, including top-tier business and lifestyle media and on-air broadcast appearances, that point to the personal finance expertise of myWorth and CEO Ande Frazier.
We positioned CEO Ande Frazier as the go-to expert source on trending personal finance topics.
We leveraged CEO Ande Frazier's decades of financial experience for media opportunities. 
Ande offered her expertise and advice on personal finance topics–on everything from unemployment and retirement to overspending and getting out of debt. Ande's expertise became heavily sought out by media.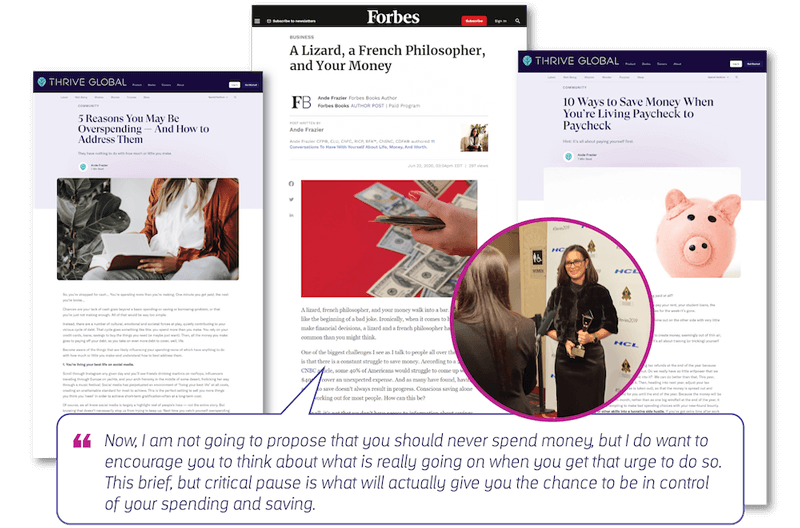 We transformed CEO Ande Frazier's unique insights into thought leadership moments.
As we grew Ande into a personal finance mogul, we extended her voice in the market beyond trending topics.
We transformed her unique insights into actionable thought leadership articles on personal finance and women in business. Our work led to Ande being honored with the Gold Stevie® Award For Women in Business in their Female Executive of The Year category.
We expanded CEO Ande Frazier's brand beyond personal finance expert–to author and show host.
We drove awareness of Ande's personal finance book, Fin(anci)ally Free, and transformed her '11 Conversations to Have With Yourself About Life, Money & Your Worth' into media opportunities. 
We also launched Self Rising–a video series hosted by Ande and dedicated to honoring the women shaking things up through entrepreneurial adventures. Every episode featured a conversation with a woman entrepreneur.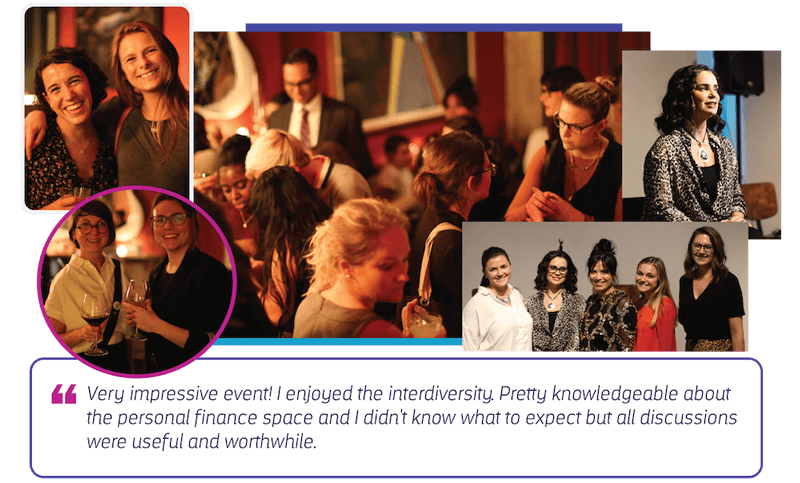 We created an in-person event dedicated to opening up personal finance conversations among women.
We took myWorth's mission from its digital platform to the real world with the Financially Rising event series. We created the series as a way to tackle topics across the financial spectrum through immersive experiences around money.
The first event in NYC gathered over 100+ women attendees, ready to expedite their personal finance journeys with the help of myWorth. 
'It's not a how-to book,' Frazier said.

It's a series of 11 conversations.'

Those conversations run a wide gamut of issues, from a core mindset about money as a youngster growing up to adult relationships with money.
Want Results like myWorth?
Contact us to learn more about how we work with companies with or without marketing leadership.